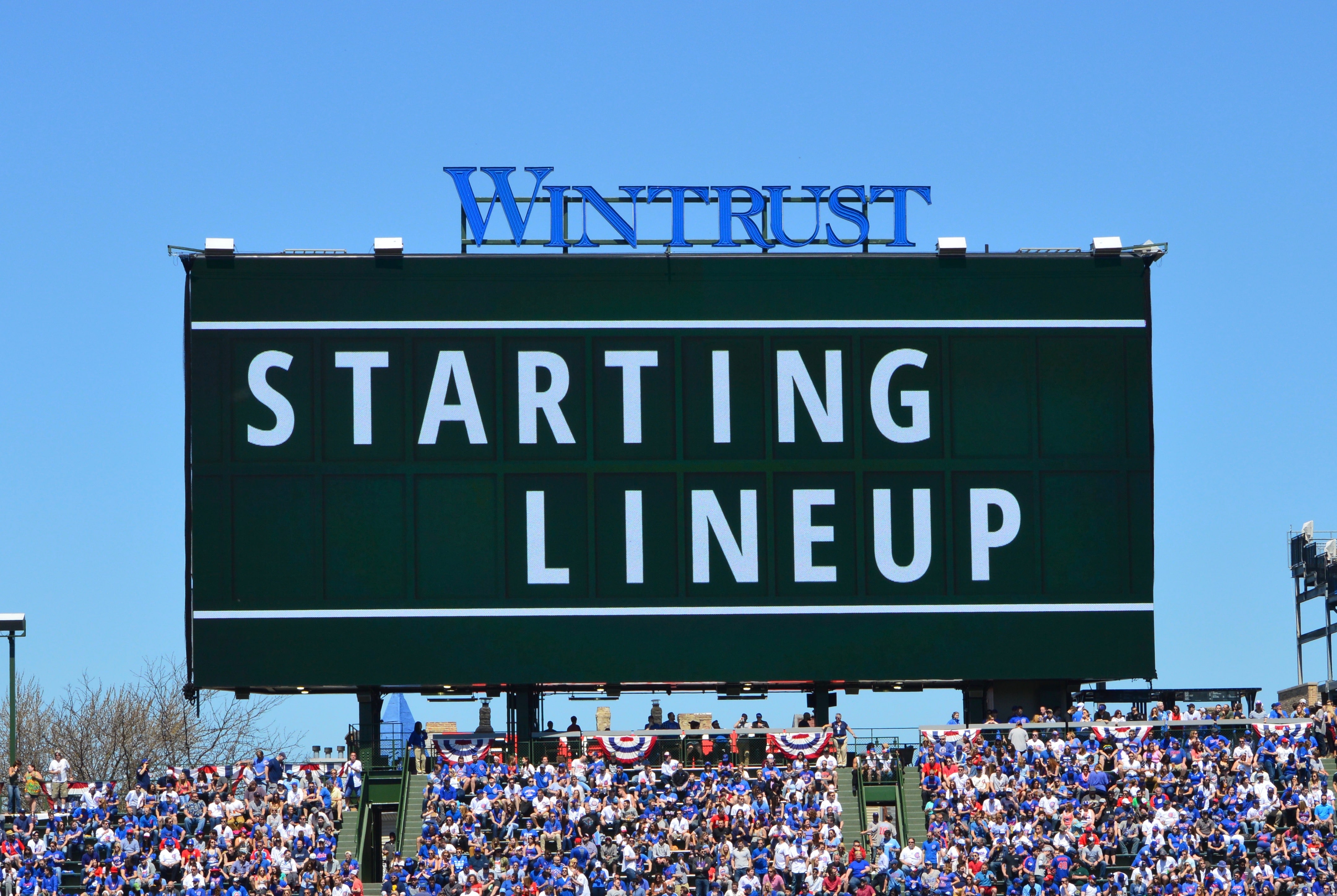 Chicago Cubs Lineup: Zo and Bryant at 1 and 2, Almora at 6 Behind Q in Saint Lou
This will be the Cubs' first trip to St. Louis since Sept 28, 2017, which you might remember as the series in which the Cubs clinched the NL Central and subsequently eliminated the Cards from playoff contention in consecutive games. There's no reason to dwell in the past with so much of the current season still ahead, but you'll be forgiven if you choose to revel in it just a little longer.
A teammate just asked me… what's that smell in our clubhouse. I told him it's a smell that I haven't smelled in a few years. It's the smell of all our champagne pops over the years and the faintest hint of mildew. It's one of my favorite smells in the world. #12happensin2018

— Adam Wainwright (@UncleCharlie50) April 25, 2018
Hey, Waino, maybe try the visitor's clubhouse.
As Joe Maddon alluded to recently, it is indeed Ben Zobrist leading off against a right-hander tonight in St. Louis. Albert Almora Jr. will still be in the lineup and play center, but he will hit sixth as the Cubs look for more consistency atop the lineup in an effort to break out of their offensive funk.
Bryzzo, Willson Contreras, and Kyle Schwarber make up the meat of the order after Zobrist. Rounding out the lineup after Almora will be Jason Heyward and Javy Baez in front of tonight's starter Zobrist will play second and Baez will be at short, meaning Maddon has decided to give Addison Russell and his .569 OPS against right-handed pitching a night off.
Jose Quintana is looking for his second straight quality start as he takes the mound for the Cubs. He's pitched in St. Louis twice before, but the first time was as a rookie in 2012 and the second came in 2015. He also made two starts against the Redbirds in Chicago after his trade to the Cubs, allowing three earned runs in each.
The real key for Q in this one is going to be command and the feel for his breaking stuff. That's been a theme for Cubs starters as a collective, what with all the changes in weather conditions they've experienced since spring training. We really saw how the curve failed him in Denver's thin air, but having that bender spinning like it's supposed to will be a big help.
On the mound for the Cards will be offseason acquisition Miles Mikolas (MY-koh-lahs), who shares his Lizard King nickname with Jim Morrison but has more in common with Ozzy Osbourne. The righty, who was in the Padres organization at the time, once ate a live lizard on a dare in exchange for his teammates paying his Arizona Fall League dues. Yet another example of why baseball needs to pay these minor leaguers more damn money.
http://www.youtube.com/watch?v=tVfnAZBOT5U
Mikolas had a really rough start in his return to MLB after three seasons in Japan, giving up four earned runs in each of his first two starts. Since then, however, he's given up a total of four runs in three starts and has worked his ERA down to 3.27 with a 3.79 FIP.
Most notable about his overall performance is the utter lack of walks. Mikolas has only handed out two free passes, both in his third start, and sports a sparkling 0.55 BB/9 mark that is lower than any pitcher in baseball with at least 17 innings under his belt. As you might imagine, this has allowed the mustachioed 29-year-old to pitch efficiently and give the Cardinals' bullpen plenty of rest.
Mikolas employs four pitches with fairly similar usage, throwing the four-seam, curve, slider and sinker for over 90 percent of his total offerings. He's also got a changeup that he'll throw in for good measure, though it's really the slider and curve that do the most damage.
Cubs hitters are really going to need to be disciplined in this one because Mikolas has mastered the ability to throw pitcher's strikes. He starts batters with a first-pitch strike nearly 66 percent of the time (13th in MLB) so you'd think hitters would just jump all over him. Except they don't, and the numbers are borderline shocking.
Though he works in the zone more than all but six other pitchers (48.4 Zone%), his 62.3 percent Z-swing% (swings at pitches in the zone) ranks 109th in MLB. What's more, his 39 percent O-swing% (swings at pitches out of the zone) ranks highest in the game, but his 67 percent O-contact% (out-of-the-zone contact) ranks 54th.
In short, hitters don't swing at his strikes but they do swing at his non-strikes. I was going to say they swing at his balls, but that just sounds weird. What it amounts to in the end is guys not drawing walks because they can't let borderline pitches go by.
It's all about changing velocity and eye level for Mikolas, who boasts a 95 mph fastball with a power slider that comes in around 88 and a curve that averages 78. He'll try to bury that slider down and away to righties or at the back feet of lefties, but most of his other stuff lives high in the zone. The four-seam is particularly elevated, but even the sinker stays up and relies on arm-side run to entice bad swings.
This could be a really tough matchup for a Cubs team that has struggled with high strikes in the past, though Brandon Morrow's tutelage may help them in that regard.
First pitch is set for 7:15pm CT and can be seen on NBC Sports Chicago. Here's to hoping their first game in front of a crowd that's not openly pro-Cubs will wake this offense up a little.
Here is tonight's #Cubs lineup in St. Louis. #EverybodyIn

Stream on @YouTubeTV: https://t.co/t4XvcdoeJc pic.twitter.com/LhqjKZVd1x

— Chicago Cubs (@Cubs) May 4, 2018