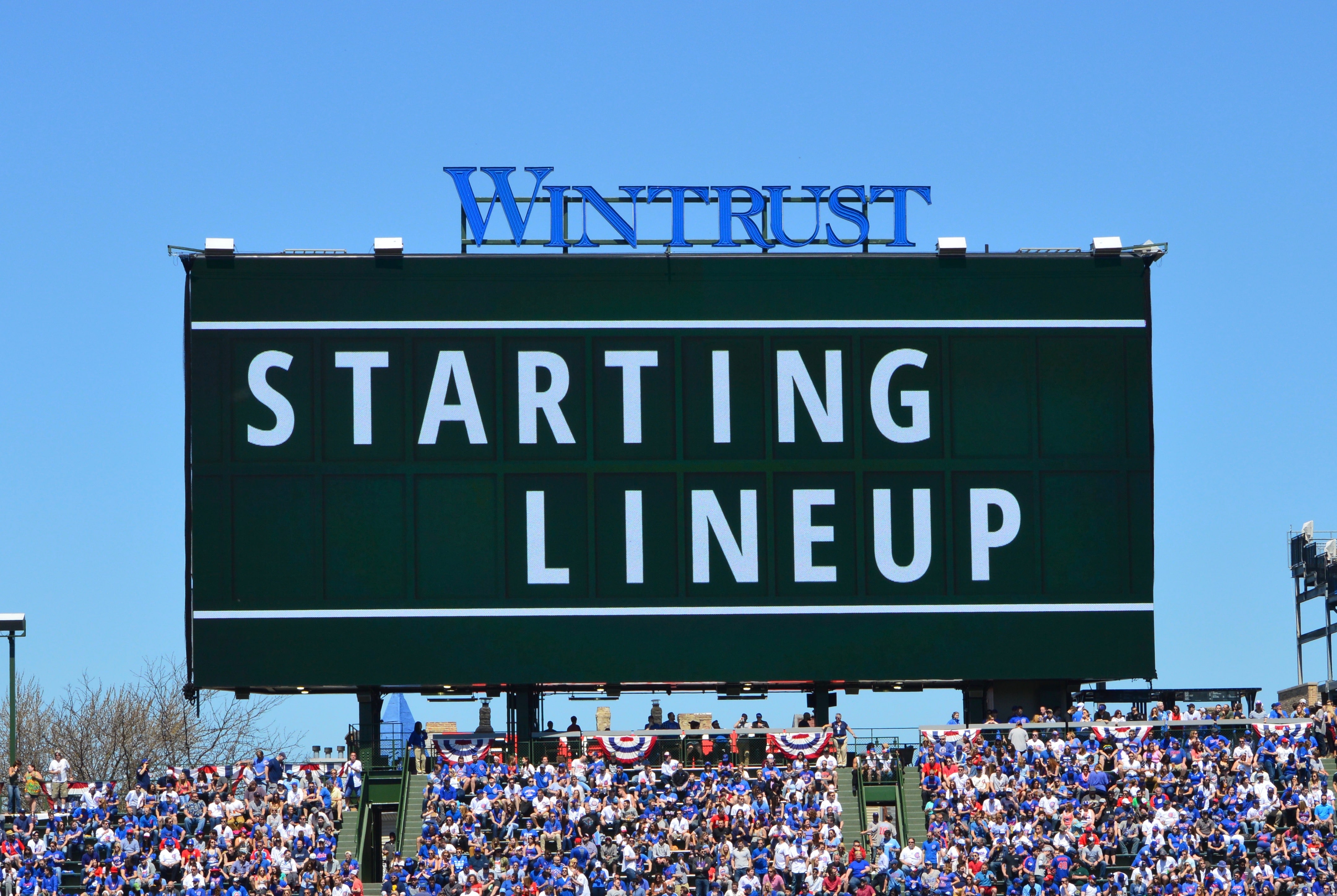 Chicago Cubs Lineup: Al Mago Combo at Top, Bryant Third, Chatwood Tries to Complete Sweep
The combo of Albert Almora Jr. and Javy Baez has been firmly established atop the order and has keyed recent success. If Al Mago can collect hits in this one, they may go from Daily Double to Dirty Dozen, as both are riding 11-game hitting streaks.
Kris Bryant is back in the lineup, followed by Anthony Rizzo, Willson Contreras, and Kyle Schwarber. Addison Russell is back in there at short as he looks to find an offensive groove. The defense is better with him at short and Javy at second, which will Work we'll with a groundball pitcher on the mound.
Jason Heyward is in right as usual, rounding out the order and providing that elite defense we've come to expect. The sun's going to be out again, though, so watch out for that.
Imagine, if you will, a world in which a pitcher's best performances come when he walks at least five batters. Tyler Chatwood is absolutely an ace Little League pitcher, a dude who's just letting it go and kind of hoping it's close enough to the plate to get bad swings.
He's given up only nine hits and four runs while issuing 18 walks in 16.2 innings across three solid starts. But in the start in which he walked only one batter, he gave up five earned on nine hits. Baseball, man, it ain't predictable. Or maybe it is. Chatwood has yet to face the Brewers, but Cubs pitching has dominated their northern rival all season.
It should also be noted that Chatwood started an active streak of five quality starts by the rotation when he took the mound in Cleveland. Not that that's a guarantee of anything, just that you get the feeling these guys are really vibing.
Discount Kyle Hendricks will be pitching against the Cubs for the second time this season after a no decision on April 7 at Miller Park. The starter's real name is Zach Davies, but he sort of resembles Hendricks in terms of appearance and approach. Were it not for the Seattle skyline tattooed on his left forearm, the two might be indistinguishable.
Okay, that's not really true. Davies generally sports a little facial fleece as well. In any case, the soft-tossing righty allowed only one run on four hits and three walks in that first go against the Cubs. He's been using the curveball and sinker a lot more in the three games since, which has accounted for a big uptick in grounders.
Davies has given up a ton of hard contact, though, so the Cubs can make him pay if he leaves anything up in the zone. He doesn't generate many strikeouts and won't walk many either, so this one is going to come down to making the most of their batted balls. Hey, maybe the Cubs can just keep hitting high flies that the Brewers lose in the sun.
The Cubs have lost a couple of their own up there in this series, perhaps because actually having sunshine during a ballgame is a foreign experience at this point in the season. We've already seen outfielders at all three positions lose fly balls in the sun, so I think the next step is to have it happen to the rover in an extreme pull shift.
If you're heading to the game today and you're on of the first 10,000 adults, you'll get a super comfortable Cubs/Jim Beam stocking cap. Temps are supposed to reach the low 50's but it'll probably feel more like 20 below if you're in the shade, so get there early and get a hat.
First pitch is at 1:20pm CT and NBC Sports Chicago. The Cubs are going for a sweep of the Brewers and the possibility of taking seven of eight from their division rivals. It doesn't help Milwaukee that they've essentially been the visiting team in all of those games, but they aren't looking like the contender they thought they'd be when they chose to add 15 outfielders while failing to adequately address their weak rotation.
Here is today's #Cubs lineup! #EverybodyIn

Stream on @YouTubeTV: https://t.co/t4XvcdoeJc pic.twitter.com/RwKB2S3ltc

— Chicago Cubs (@Cubs) April 29, 2018