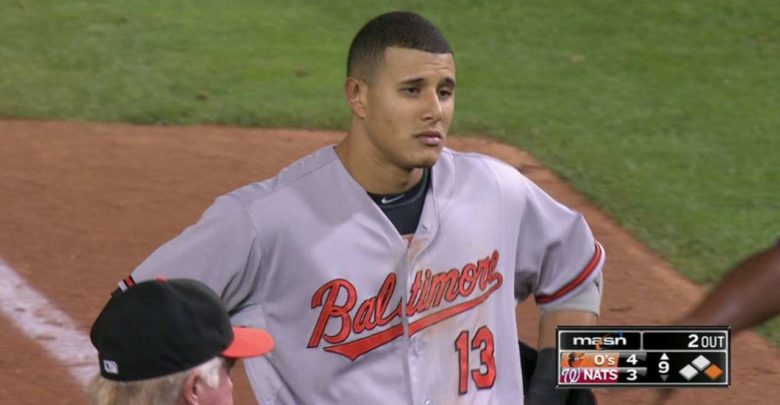 Cubs Trade Rumors: Fresh Logs Thrown on Machado-to-Cubs Fire, Russell Again Named as Piece
Of all the rumors involving the Cubs this past winter, the one that had the most legs and generated the most intrigue was a move that would have brought Manny Machado to Chicago in exchange for a package headlined by Addison Russell and Mike Montgomery. The Orioles were being a bit unrealistic in their demands, particularly the one about getting teams to pledge that wouldn't turn around and flip Machado to the Yankees, and nothing materialized.
It seemed as though that particular set of coals from the hot stove had been banked and were completely out, but some national baseball writers have re-stoked it by throwing a few logs back on. Ken Rosenthal made note of the possibility of Machado ending up in Chicago and Jon Heyman wrote a column about it as well.
That Machado will be traded somewhere seems inevitable at this point. At 6-18, the listless Orioles are already 12.5 games back in a division that features three of the top five records in the AL at this point. Given that they'd have to settle for a single compensatory pick should they hold onto Machado and give him a qualifying offer, they might be a little less heavy-handed with a deal during the season.
There's also the matter of their failure to deal closer Zach Britton at either last year's deadline or this offseason. They put the kibosh on a deal with the Astros that would have included corner infielder Colin Moran — who went to Pittsburgh in the Gerrit Cole trade — and the Cubs were also rumored to have been in talks for Britton on more than one occasion. Then the shut-down reliever tore his Achilles and fell off the table as a trade chip.
Of course, the O's figure to have no shortage of suitors for Machado, who is slashing .344/.430/.677 with eight home runs and nearly as many walks (14) as strikeouts (15). It's still very early in the season, but those are monster numbers and represent huge improvements over last year's sub-par performance. Which, how good is Machado when hitting 33 homers with a .782 OPS is disappointing?
Heyman lists the Yankees, Red Sox, Cubs, White Sox, Dodgers, Diamondbacks, Indians, Cardinals and Phillies as teams believed to have contacted Baltimore about a trade, so perhaps there's still a fair bit of leverage after all. But because Heyman's column is focused on the Cubs, and because that's sort of our focus here as well, we're going to dispense with those other teams for now.
As was the case in the offseason, Russell is named as the key piece of the return for Machado. Not only would he offer a direct replacement, at least positionally, but he'd give the O's a little additional value in terms of his three years of control beyond this season. It wouldn't just be a one-to-one swap, but the Cubs might be able to get away with less than Russell, Montgomery, plus, plus.
So let's turn this over a little bit and look at a few of the angles from the Cubs' perspective and how it might make sense for them.
First and foremost is the immediate offensive upgrade. Let's disregard the idea of control for a moment and think about replacing Russell's production at the plate with Machado's. I mean, the Cubs' lineup is already one of the best in baseball as it is, but this would further insulate it against the occasional swoons they've experienced over the past few seasons.
And even if we do circle back to the idea of losing all those years of control, it's possible the Cubs aren't very concerned with that. I know Brendan Miller isn't going to want to hear it, but there comes a point at which you get tired of waiting on a breakout from a young player with tons of potential. Russell might be two birds in the bush, Machado would be one in the hand. And it's not as though the Cubs are hurting for middle infielders.
Perhaps the Cubs view a move like this as a win-win situation for all parties involved. Russell has certainly been at the center of more than his share of controversy, to put it mildly, and there has long been talk that the Cubs would like to see him tone down some of his off-field behavior. We saw how a change of scenery helped Jake Arrieta when he came to Chicago from Baltimore, maybe the same could be true for Russell in the opposite direction.
That's a gross oversimplification of what are myriad factors, but I think you get the general idea I'm putting forth.
The other thought is that the Cubs would want to extend Machado prior to trading for him, something the Orioles weren't willing to facilitate this winter. To clarify, they were not going to let interested teams engage in the traditional 72-hour negotiating window with Machado prior to making a trade. Which is kinda dumb when you think about it, since an extension would mean keeping him away from the Yankees that much longer.
Anyway, the Cubs might look to lock Machado up, which would completely eliminate the issue of the control they'd have lost with Russell. I did not hear or read Rosenthal's thoughts on the matter and could be speaking out of school here, but my understanding is that he posited that a Machado extension could help protect the Cubs against Kris Bryant possibly leaving after 2021.
Except that you'd have to think Machado would get some sort of opt-out in a new deal that would likely come after three years or so. Then you consider that he and Bryant would have been playing together for at least three years at that point, so a loss of either would be just that: A big-ass loss.
Much more than what it would mean for 2022, extending Machado would have serious implications on the Cubs' moves next winter. I'm speaking, of course, of what has felt for some time now like the inevitable pursuit of Bryce Harper. So would the Cubs really try to sign Machado at the expense of Harper?
If given my druthers, I'd go with Bryant's buddy all day long. But if we're talking about birds in bushes and hands again, there's something to be said for locking Machado up and not having to engage in a bidding war that has the possibility of turning into mutually assured destruction. You've also got the resurgent play of Jason Heyward, the most likely player displaced by the acquisition of Harper. Not that Heyward at his best could ever equal Harper, just birds and bushes and hands again.
On the other hand, one without a bird, the Cubs could just pick up Machado for the remainder of the season and sort of see how things go. Then they could still break the bank on Harper if Machado is intent on hitting free agency and/or if Heyward comes back to earth. And that brings us around to the idea of payroll and what the Cubs are willing to do this year and beyond.
Machado is due $16 million this season, so picking him up would push the Cubs past the luxury tax threshold by about $3 million or so. But let's see, Addison Russell is set to earn $3.2 million this year. Those salaries would of course have to be prorated*, thereby shifting the figures above, though the Cubs adding in another player with a non-minimum salary would probably keep them under the cap.
And maybe they don't care about the competitive balance tax in this scenario. Even though they've talked a lot about staying under it, you know darn well that they'd blow past it if they felt Machado appreciably improved their chances at winning another World Series. Add in the BAMTech windfall that could net them from $53-68 million — to say nothing of their already-massive revenues — and you've got plenty of reason to believe that maybe those CBA-induced penalties aren't that scary.
In all likelihood, though, the desire and willingness to increase the payroll in a meaningful way will come after this season. If they manage to extend Machado or sign Harper — which, for what it's worth, one MLB exec believes is going to happen…for the Phillies — it'll be without a care in the world for how much they'll have to pay in penalties.
So now that I've rambled on much longer than I'd intended when I started, I suppose I should wrap this up. Were this taking place in a very binary vacuum, I believe the Cubs would prefer to have Harper over Machado. But given air and a slightly more variables, they're going to explore every avenue to see which one leads to best result. Hypothetically speaking, of course.
The moral of the story here is that Manny Machado is almost assuredly going to be on the block prior to the deadline and he may well be in play for the Cubs. And if that's the case, they're going to have to give up at least one big-time player to get him, not to mention what the move could mean for the payroll. It could be a huge move, too, unless Machado tears his groin a few games after the trade.
*Cot's Contracts actually projects the Cubs to have $13.9 million remaining under the cap, so a straight swap of Machado and Russell would still keep the Cubs under by more than $1 million. There's even more room once you factor in proration of their salaries, since Machado's decreases by more than Russell's. So while there was a $12.8 million gap between the two on Opening Day, that amount has dropped under $11.3 million as of April 22. The specific details were provided to me by our resident financial writer, Moshe Wilensky, who wrote the BAMTech piece linked above.