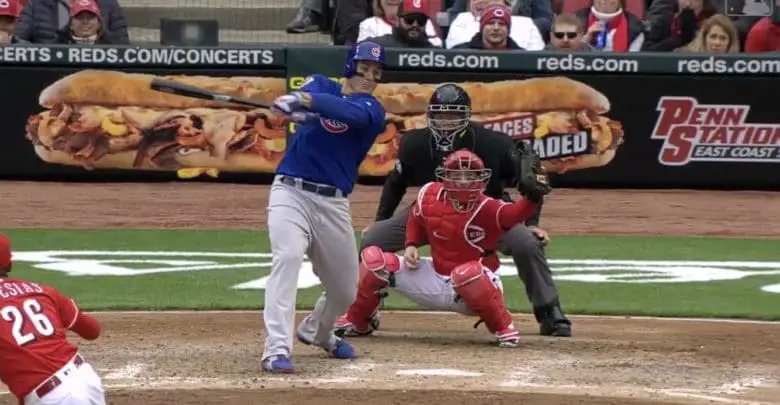 The Rundown Lite: No O, New Wizard of Oz, Cubs Playoff Odds, Hitting Stats
Let's dispense with the hollow pleasantries and get right to it: The Cubs have not been much fun to watch thus far. They've been shut out three times, held to one run two more times, and have scored five or more runs in back-to-back games only once. But there is still reason for hope.
Despite the overall weak offensive output, the Cubs have outscored their opponents by nine runs on the young season. That gives them a Pythagorean record of 7-6, which, while still not great, shows you that they could have parlayed their play into a winning record. There's also the matter of simple logic, which holds that they can't keep playing this poorly for another 149 games. Right?
We can only hope at this point since the early returns aren't great. The Cubs are 10th in the NL with an 8.7 percent walk rate, which you'd like to see come up to be more in line with 2016 (10.4) or last season (9.9). But remember even earlier in the season when some folks were kind of freaking out about the strikeouts? The Cubs' 22.3 percent K-rate is better than all but four teams in the NL and is equal to last year's mark.
Those things should stabilize in time and we should even see them improve, same for their overall .286 BABIP (11th in NL). If you've watched the games and lamented that an inordinate number of hard-hit lines manage to find gloves, you're not being paranoid. Or maybe you are, but there's reason to believe you're at least justified on this front.
Wizard of Oz
I could have sworn Ozzie Albies had 14 hits against the Cubs in Friday's game, but a look back at the box score tells me it was actually only two. Seriously, I was surprised to see that he just tallied a pair of doubles in back-to-back at-bats. Dude looks like he can fly, though, like he just hits it and shows up on second base.
That's probably why he's got a .644 slugging percentage, currently sixth best in baseball. And he just turned 21 in January, so this young man could be in for quite a career.
Cubs playoff odds
I suppose this could have been included in the earlier section, but the Cubs' 89.5 percent playoff odds top the NL and their 12.6 percent World Series win odds are higher than all but the Astros. So, like, the Cubs don't suck. Now if they could just do a better job of trying not to.
Quick stats
Kris Bryant's .469 OBP is fifth in MLB and he has more walks (9) than strikeouts (8)
Bryant's 0.8 fWAR is also fifth in baseball
At 23.7%, the Cubs have the fourth highest line drive rate in MLB
The Cubs' 39.3% groundball rate is second lowest in MLB
That leaves a 37% fly ball rate, 11th in MLB
Unfortunately, 13.7% of those fly balls have been on the infield; that's eighth in MLB and one such ball in play ended up getting Clint Hurdle the Pirates all salty.
As another example of tough luck, the Cubs' 10.7% HR/FB is 21st in MLB
The Cubs have the third-highest pull rate (44.2%) and fourth-lowest oppo rate (23.1%) in MLB
One way to interpret the team stats above is to say that the Cubs are not doing many things right. Another way would be to say that they're still working through some of the changes implemented by Chili Davis. Or it could be purely a matter of poor fortune and bad timing, which was the case with a couple of hard-hit balls Friday afternoon.
Tbf they'll both be homers if they get hit again in June: pic.twitter.com/PGXtMCNbjf

— Matthew Trueblood (@MATrueblood) April 13, 2018