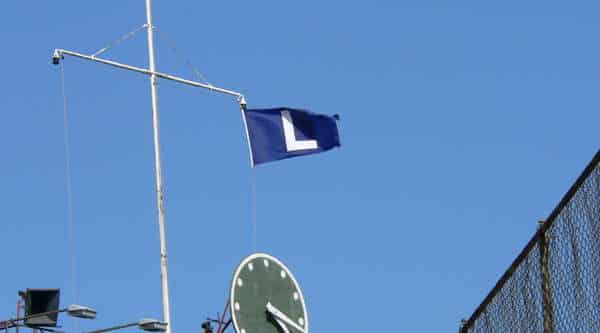 CI Recap (4/13/18) – Braves 4, Cubs 0: Cubs Offense Remains Frozen, Sanchez Strong for Braves
The Cubs' sluggish start continued into this weekend series against the Atlanta Braves with today's shutout. Yu Darvish made his third start of the season and struggled with his command throughout much of the outing.
All of the scoring in this one came during the top of the 5th inning, capped by a three-run shot by Preston Tucker of the Braves off of Darvish. On the Cubs' end, the team could only muster up four hits in a forgettable day at Wrigley Field. (Box Score)
Why the Cubs Lost
The Cubs were unable to get anything going offensively in this one, which is becoming a frustrating trend to begin the 2018 campaign. Darvish was overall ineffective and struggled with his command all day. His inability to paint the corners of the strike zone was the driving factor behind his four-walk day.
Key Moment
Ozzie Albies led off the 5th inning with a double to right field that kick-started the Braves' only scoring outburst on the day. Nick Markakis and Kurt Suzuki followed this up with a single to center and double to left field, respectively. The Braves got on the board when Albies scored on a wild pitch, then jumped out front in a big way on Tucker's home run.
Stats That Matter
Darvish didn't last long in this one and struggled to find the strike zone on a consistent basis (4.2 IP, 9 H, 4 ER, 4 BB, 4 K).
The Cubs didn't get many opportunities with RISP, and they were ineffective when they did.
Ian Happ posted a second straight multi-hit game and finished the day 2-for-4 with one strikeout. This is a promising short stretch of success for Happ that can hopefully lead to a permanent remedy to his poor first few weeks.
The Cubs' bullpen saw extended action today due to a short outing from Darvish. They tossed 4.1 innings, only giving up three hits and notching three strikeouts.
Bottom Line
There was very little, if anything, positive to take away from this game. The bullpen remained lights-out as it has all season and Happ has looked better at the plate over the last two games.
On Deck
Jose Quintana gets set to take on Sean Newcomb Saturday in the second game of this weekend set. The Cubs will look to get the bats going despite the dreadful weather that is expected for the remainder of the weekend. The game can be seen on NBC Sports Chicago with a scheduled first pitch of 1:20pm CT.