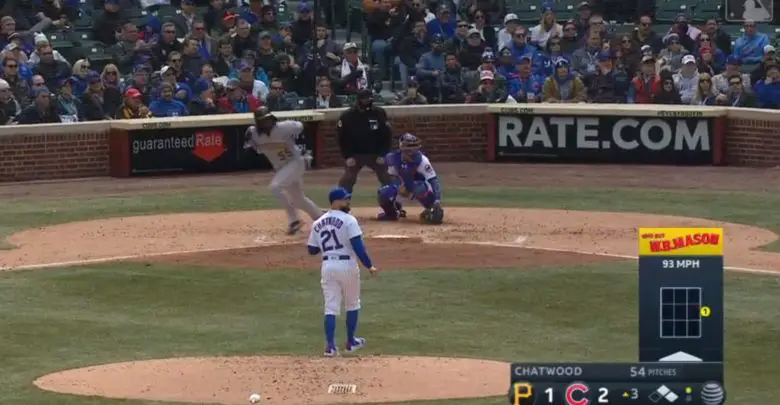 Chatwood Displays New Brand of Control Problems in Home Opener
If you read his line from Tuesday's game left to right, you might be fooled into thinking Tyler Chatwood pitched well. The same would have been true had you watched only the first two innings of the game. After walking six Reds and striking out only four in his Cubs debut, Chatwood sat seven Pirates down on strikes and walked only one.
He needed only 10 pitches, all of them strikes, to breeze through the 1st inning against Pittsburgh and came back from 3-0 to strike out Josh Bell to open the 2nd. But there's an old baseball adage that goes something like: "Fool me a dozen times with the elevated fastball, shame on me. Try to fool me 15 more times, shame on you." You've all heard that one, right?
Twelve of Chatwood's first 16 pitches were four-seamers, only two of which were located in the lower third of the zone. And while he did introduce a bit more variety to the pitch mix as the game went on, the fastball was a squatter that had established unwelcome residence in the upper end of the zone. Sure enough, the Pirates quickly took action to evict Chatwood and his offerings.
When a guy who walks more than four men per nine innings goes out and throws strikes, you'd expect to be pretty stoked. Same can be said for any pitcher, really. And Chatwood throwing 36 of his first 46 pitches for strikes should have been something to be excited about. On paper. In practice, however, it wasn't quite as neat.
The wheels really came off for Chatwood in the 3rd, when he gave up five hits — four consecutively over a 12-pitch stretch — and issued his only walk to give the Pirates a lead they would not relinquish. Throwing strikes wasn't a problem, throwing them in the right place, however, was very much an issue.
He also seemed to be struggling with the feel for his secondaries, namely the curveball. Chatwood has always been a fastball-heavy pitcher, but there has been a hope that mechanical changes would increase the efficacy of the bender. Whether it was the cold weather or just tweaks to his delivery of the pitch, its usage and results were spotty.
It's only been two starts, but we've seen two equally frustrating sides of Chatwood's coin here to open the season. On one, you've got a guy who walks a ton of batters but allows only one run. On the other is a guy who walks only one batter but gives up a ton of hits and runs. In a vacuum, you'd take the first option every time. Thing is, walking that many batters isn't going to fly long-term.
Ideally, Chatwood finds a way to marry these first two performances and be a whole lot less heavy-handed when it comes to pounding the zone. Or maybe it's better to say that he needs to be heavier in a metaphorical sense, getting more sink and keeping his pitches lower. If he's gonna miss as often as he has, it's much better to miss down. Or if he's gonna work up, it's gotta be markedly higher in the zone to where it won't result in all that hard contact.
And who knows, maybe that's what happens from his third start onward and Chatwood becomes a lights-out starter at the back of the rotation. More than likely, he'll continue to wrestle with consistency as he adjusts his new situation and those aforementioned mechanical changes. Here's to hoping he pins them to the mat and gets a three-count.