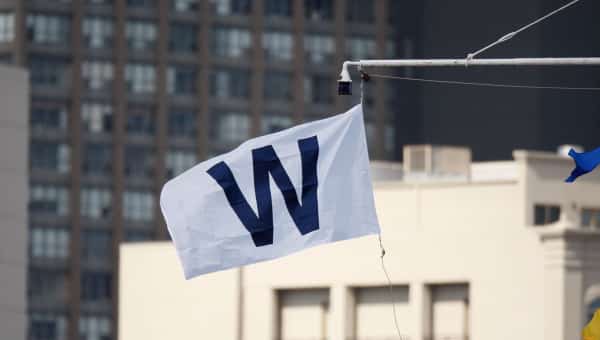 CI Recap (4/7/18) – Cubs 5, Brewers 2: Brewers' Defensive Collapse Gives Cubs Comeback Win
After a hard-fought loss Friday, the Cubs looked to get back to .500 in the standings Saturday in Milwaukee. Yu Darvish was much sharper in his second Cubs start, going six strong innings. The Chicago offense was kept at bay most of the day by Zach Davies and the Brewers pen.
It looked like another close loss when the Brew Crew took a one-run lead in the 8th inning. Just when it seemed all hope was lost, the home team's defense fell apart, allowing the Cubs to snatch victory from the jaws of defeat in the final frame. (Box score)
Why the Cubs Won
The Cubs seemed to be unable to plate the many runners they had in scoring position all day long. When the Brewers gave them one more chance with several misplays in the 9th, they made it hurt by scoring four runs in their final turn at bat.
Key Moment
After an infield hit, a walk, and two errors loaded the bases, Ben Zobrist came to bat with one out in the 9th and Milwaukee up 2-1. Zobrist squibbed a ground ball to first baseman Eric Thames, who seemed unsure whether to go home or get the out at first. By the time he decided to go to first, Zo beat it for a single to tie the score.
Ian Happ, who had three strikeouts at that point, followed by singling to left off of new closer Jacob Barnes. Two runs scored to put the Cubs ahead 4-2. Jon Lester came on to pinch hit and laid down a perfect safety squeeze to make it 5-2.
Stats That Matter
Darvish was terrific on Saturday: 6 IP, 1 R, 2 H, 9 K, and 1 BB. His only mistake was a solo home run to Thames in the 4th. Darvish had much better fastball command than his first effort in Miami.
Kris Bryant just keeps getting on base to start the season. A long home run, a triple, a single, and two walks were good for five more times on base. He's literally reached base on half of his plate appearances in 2018.
Your eyes weren't deceiving you in the 9th inning, as Brandon Morrow did make an appearance. Before Saturday he had faced one batter the first week of the season. He looked good pitching around a one-out single for the save. It's clear the Cubs are going to be careful with Morrow like they were with Wade Davis last year.
Bottom Line
It's amazing how the perception of a game can change so quickly. It looked for all the world like this was going to be another frustrating Cubs loss. Then a Brewers meltdown allowed the Cubs to take advantage and flip the script. Milwaukee's defense could be a major issue for them, as they have committed errors in all but one game this year.
On Deck
Jose Quintana faces Chase Anderson as the Cubs look for the series win Sunday afternoon. The 1:10pm CT time start is available on WGN and 670 The Score.