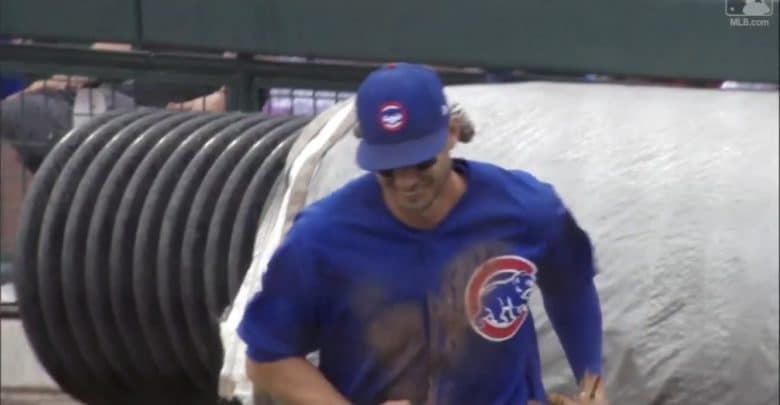 Ryan Says: Rooting for Ryan Court, Replacing Justin Grimm, and a Giveaway
We're under two weeks until Opening Day, baseball fans. Are you excited yet? I can't wait, to be honest, mostly because I'm taking a trip to Las Vegas in early April. But baseball, too. Anyway, let's go over some notes while the Cubs continue to battle hard for the oh-so-important Cactus League Championship.
• Ryan Court. You've heard the name this spring on TV and in the radio broadcasts. You've seen it in the box scores. But who is this non-roster invitee who might as well have "Minor League Guy" written on the placard above his locker? Court is a career minor leaguer who will turn 30 in May. He was drafted in the 23rd round by the Arizona Diamondbacks in 2011 and bounced around their system until his release after the 2014 season.
Court went to Sioux City, Iowa to play in the American Association and was outstanding, hitting .331/.400/.474 and helping lead the Explorers to a 75-25 record. His performance in the independent league earned him a chance to play in the Boston Red Sox org the last two years, where he made it as high as Triple-A.
Did I mention that the utility-infielder is a native of Elgin, Illinois, attended Illinois State University, and grew up a passionate fan of the Chicago Cubs? Court's favorite player was Derrek Lee, and he even attended the championship rally in November 2016. So as you might imagine, being with the Cubs now is a dream come true.
Court is hitting .364 so far this spring, going 12-for-33 with three home runs and five stolen bases. Barring an injury to an infielder, there is zero chance that he finds his way onto the Cubs' roster on March 29. Even then, Court would need to be added to the 40-man roster and work his way past infielder David Bote, who is having a nice spring of his own. But this is the kind of guy that we root for. I really hope we see him at Wrigley Field at some point in 2018.
• Justin Grimm was somewhat unceremoniously released on Thursday after a rough spring (and an awful 2017). He last appeared with the Cubs on Sunday against the Oakland A's, allowing three hits and two earned runs. Grimm pitched four innings this spring, allowing four runs in total to go along with six hits, four walks, and two home runs. Given that he was out of minor league options, Grimm's time was very clearly running out in Chicago.
Because of rules relating to arbitration salaries, the Cubs will avoid paying $1.67 million of the $2.2 million Grimm was set to make this year. That may seem petty for the Cubs, considering what a drop in the bucket $1.6 million is for Tom Ricketts – that's like 12 bleacher tickets plus beer sales – but every dollar matters for Theo Epstein, who needs all the room he can muster as he works to avoid hitting the luxury tax this year.
The savings on Grimm's deal puts the Cubs closer to $12-13 million away from the tax, which gives them plenty of wiggle room to make an addition (or two) at the trade deadline. As for the roster, there could truly be two spots available. Pedro Strop has yet to pitch this spring, and although he's likely to return somewhat soon, it may be wise to put him in the 10-day DL to start the season and let him take extra time getting ready.
At this point, I think Eddie Butler has a spot in the bullpen locked up. He has commanded his pitches well so far, which was a major concern for him last year. Butler is also out of options, and the least likely time for the Cubs to try to sneak him through waivers will be the last few days before the season. That other spot? Up in the air right now.
Dillon Maples was an early possibility and could have benefited from working with pitching coach Jim Hickey and the rest of the Cubs' staff, but Maples was recently optioned to Triple-A. Shae Simmons, Randy Rosario, and even Alec Mills – who has yet to stretch out as a starter this spring – have a shot too, but are less likely.
• Finally, it's shameless plug time! I have a giveaway going on with my podcast, Locked On Cubs. You can read about it here, but the nuts and bolts of it are that you can enter to win a mint-condition Sammy Sosa rookie card, a sweet Wrigley Field water color, and possibly more cool items that will be added at a later date. Check it out.