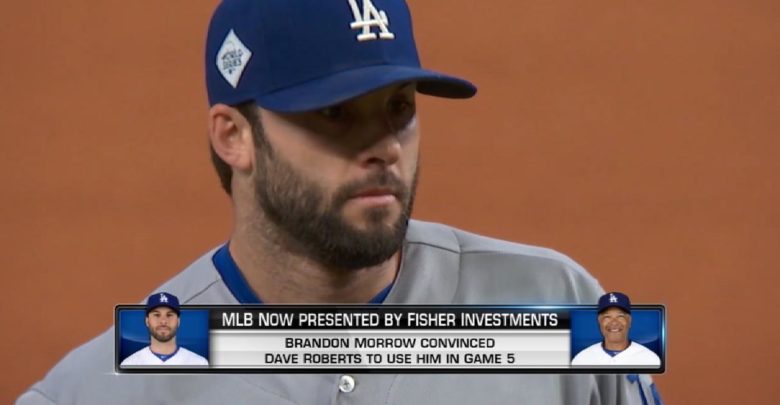 Morrow Helping New Teammates Figure Out Dodgers' High-Strike Strategy
Yu Darvish was the most prominent former Dodger the Cubs signed this winter, but Brandon Morrow could be even more important from a strategic perspective. That's because the reliever whose dominant performance helped to bounce the Cubs from the NLCS is now teaching his new teammates exactly how the Dodgers were able to shut them down.
"(The Dodgers) put a big emphasis on it and they scout for it," Morrow shared with the Tribune's Mark Gonzales. "For me, it was learning how low you can go, where you're still above the barrel. Throw a high strike that doesn't have to be at the eyes and working down, finding where you can get guys to swing."
That seems elementary, and it is to an extent, but it's not simply a matter of throwing high fastballs or changing the eye level of a given hitter. The Dodgers had what may have been the NL's best pitching staff last season, and their bullpen was particularly lethal during their run to the World Series.
When great pitchers are executing their pitches properly in terms of both movement and location, it's incredibly difficult for hitters to succeed against them. Unless, of course, those hitters are going in with a strategy of their own.
"A pitch up looks good to hit, but it's tough to square up," Kris Bryant admitted to Gonzales. "I felt we could get better at it. We know how to approach the Dodgers this year because that's what they do. The book's out, and there's no secret anymore."
While the disappointing NLCS performance wasn't responsible for John Mallee's departure, the Cubs' poor approach against the Dodgers may have played a part. More accurately, though, it was the clear need for changes to their preparation and adjustments that led the Cubs to bring Chili Davis aboard.
We've talked a lot here about the primary differences between Mallee and Davis, with the latter being more adept at helping hitters to understand what to look for and where to look for it. With help from a little inside info from Morrow and Darvish, a new set of eyes and a revamped philosophy will factor heavily in the growth of the Cubs' young hitters.
"We'll look at videos, see how their pitchers attack our hitters and how maybe we'll try to adjust to some mistakes their pitchers make," Davis said. "Because they (will) make mistakes."
It may seem a little premature to be talking about how to attack a team in a potential playoff rematch, let alone to do so in a manner that makes the Dodgers aware of it, but there's more than a little gamesmanship involved here as well. It's not just about the Cubs telling LA that they won't be fooled by the same strategy, it's a matter of laying down the gauntlet and making a statement of confidence.
Not only are the Cubs ready for what the Dodgers did, they're going to be ready for what the reigning NL champs will do. And that's not by mistake. Not that the Cubs brought in Morrow, Darvish, and Davis just to beat the Dodgers, but you know Theo Epstein and Jed Hoyer had that embarrassing defeat in mind when they made those moves.
That isn't to say that the Cubs are looking past the rest of the league, mind you, just that gaining ground on the top team means ostensibly gaining it on everyone else. Or further distancing themselves from other teams, however you choose to look at it.
I don't know about you, but I love seeing how this front office plays 3D chess and makes sure every move is made with multiple subsequent moves in mind. Or maybe you think they're just lucky and keep falling bass-ackwards into serendipitous outcomes. Either way, I'm interested to see how these moves play out and how a more mature group of hitters is able to put new strategies into practice.