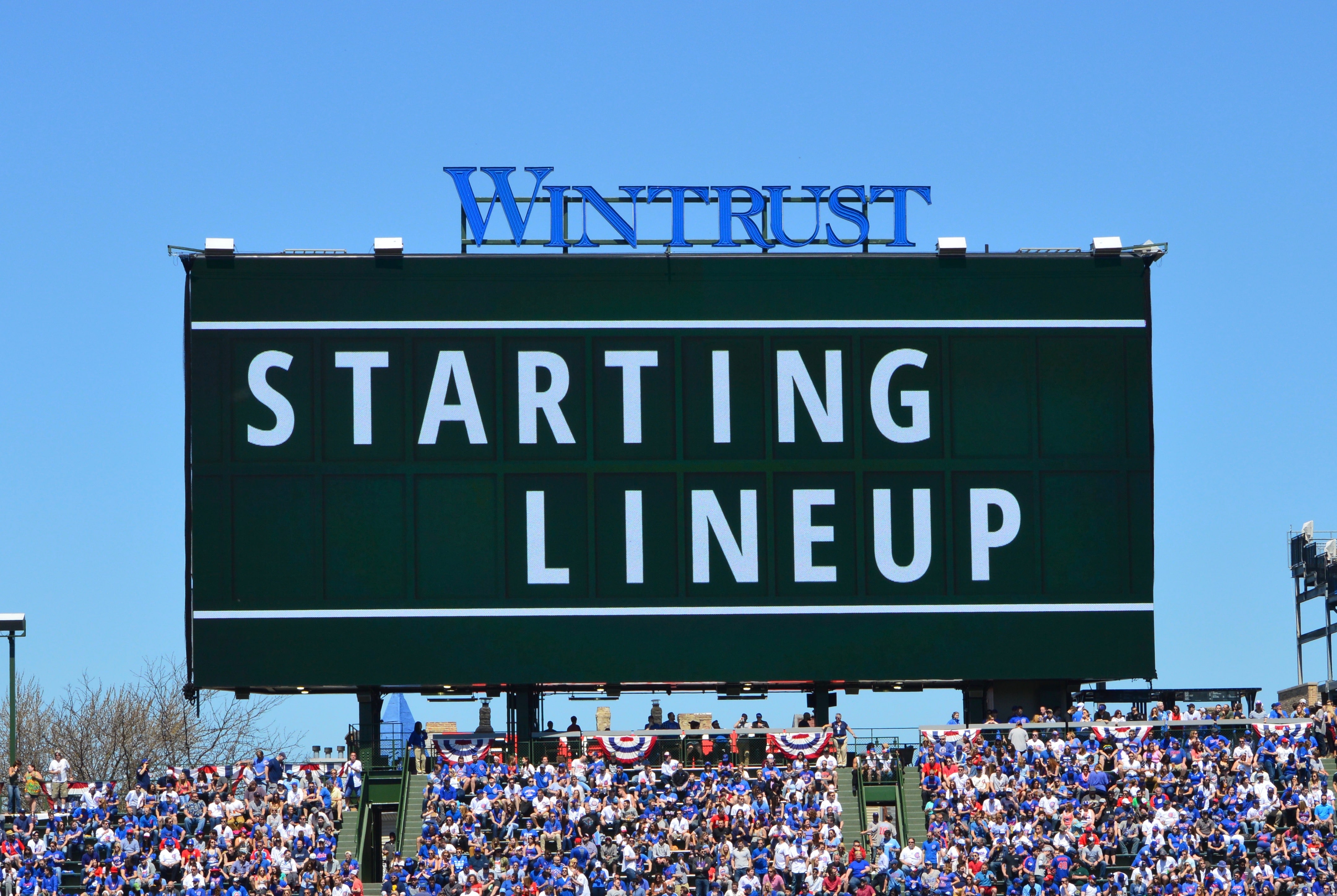 Chicago Cubs Lineup: Happ Leads Off in CF, Schwarber Second in LF, Roth on Mound
THE CUBS ARE PLAYING A BASEBALL GAME TODAY!
The specifics of today's matchup with Brewers really don't matter since it's the first game of spring and the Cubs have a non-roster invitee on the mound. But like waiting in a long line for an incredible roller coaster, this is the moment where we've finally reached the actual ride and are getting strapped in. It's real, even if it's not quite really real just yet.
There's not a whole lot to be excited about when it comes to the bottom half of the order this afternoon, but there's certainly some fun up at the top. Ian Happ will be leading off and playing center, followed by an incredibly trim (see below) Kyle Schwarber in left. Tommy La Stella will be batting and playing third with Victor Caratini behind the plate.
The angles/speeds are not exactly the same, but I think this side by side view of Kyle Schwarber from last August and today (via @cubs) illustrates just how big a transformation he has made this offseason. pic.twitter.com/Hpt5u1tfsq

— Cubs Insider (@realcubsinsider) February 22, 2018
Efren Navarro is across the diamond from TLS, with David Bote at second, Jacob Hannemann in right, and Mark Zagunis at DH (check out this CI-exclusive interview with Zagunis at Cubs Convention). Mike Freeman, who quickly became a favorite of CI's Brendan Miller following his call-up last season, will handle the duties at short.
Lefty Michael Roth takes the bump for the Cubs in an attempt to carve out a spot in the organization or garner a little exposure for himself. A veteran of six professional seasons, Roth has bounced around between six different teams since being drafted by the Angels in 2012. He's only managed a total of 36 MLB innings, posting an 8.50 ERA with a 4.95 FIP in that limited time.
Don't expect much in the way of secondaries in what is sure to be an abbreviated outing, but Roth does feature six different pitches. He deals with Hendricksian velocity, barely breaking 90 with the fastball while sitting in the low-to-mid 80's with other offerings. Primarily a sinker-baller, Roth also has a slider, change, four-seam, cutter, and curve.
You can expect to see several different pitchers in this one, many of whom are in that NRI boat with Roth. The Cubs are going to ease their core staff into these games slowly, which is what we saw from them last year as well.
The Brewers will be sending a southpaw of their own to the mound, one who actually projects to be in their rotation. Brent Suter has a career 3.40 ERA and a 3.88 FIP over 103.1 innings in a swingman role. Only 16 of his 36 MLB appearances have been as a starter, but Suter should get an opportunity to change that ratio quite a bit this season.
Possessed of a fastball/slider/change repertoire, Suter makes Roth look like a flamethrower. His four-seam averages just under 86 mph, his change is around 80, and his slide-piece creeps toward the plate at only 75 or so. I like the idea of having some Cubs hitters facing this stuff early, and I'm sensing a Schwarbomb or two.
Though the results of this game won't matter in the grand scheme, the important thing here is that THE CUBS ARE PLAYING BASEBALL!
The game will be taking place at the Brewers' Maryvale Baseball Park at 2:05 pm CT and you can watch or listen to an exclusive audio webcast at MLB.com or you can watch on MLB Network at 3 pm CT.
#Cubs baseball is back. The spring opener against the #Brewers kicks off in a few hours. Here's the lineup. pic.twitter.com/Ho0FPsujS5

— Gary Cohen (@GaryCohenVL) February 23, 2018