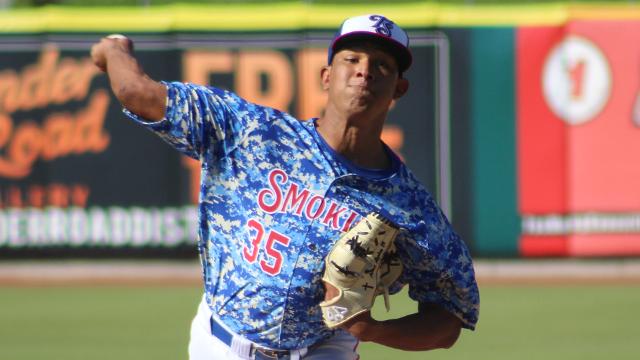 MLB.com's Prospect List Does Not Surprise Much
Today was an exciting one for prospectniks as MLB.com Pipeline released their Top 30 Cubs Prospect List. There weren't too many surprises, but it was dominated by young players. As expected, Adbert Alzolay was ranked No. 1, followed by Aramis Ademan, Oscar de la Cruz, and Jose Albertos.
More than two-thirds of the ranks were taken up by pitchers (21 to be exact), which is a testament to the organization's shifting focus. Among the nine hitters, Ian Rice was the only serious prospect left off.
What I found most interesting about the list was the depth the Cubs have and how there's not much differentiation between the prospects right now. By the end of the summer, however, there will be. I have a feeling most prospect lists will look totally different a year from now. Between international free agency, the draft, and geberal development, there will be some major shift stuff in who is ranked and where they are ranked.
Back to the list…
While Alzolay was ranked No. 1, he's only got a couple of months at AA and he still needs to work on his changeup quite a bit. I see his long-term potential more as a reliever, though he was able to stay in the mid-90's into the 6th and 7th inning last year. He just needs to continue to build up more innings to maintain his viability as a mid-rotation starter.
Ademan did well at Eugene on both sides of the plate, but he struggled offensively at South Bend in his short time there. The Cubs will more than likely be aggressive with him this year and he will be assigned to Myrtle Beach. Oscar de la Cruz missed most of 2017 but still has a powerful potential in spite of being oft-injured past two years.
When it comes to Jose Albertos, I just love the potential he has. By the end of the year he could take over the top spot and I am looking forward to watching him do it at South Bend in the first half of the year. If all goes well, the 19-year-old righty could end up in the pitcher-friendly Carolina League for the second half of the year.
Rising Stars
Catcher Miguel Amaya shot up to No. 11 and if his bat comes along at South Bend, he could rise even more. David Bote (15) went from organizational depth guy to a player with bat to make it as a utility infielder in Chicago.
Recent draft picks from the past two years dot the list, with Alex Lange (5), Brendon Little (6), and Thomas Hatch (7) looking to impress this season. Three 2017 draft picks also got some praise; Jeremiah Estrada (17) is well liked along, with Erich Uelman (18) and Keegan Thompson (19), the latter two college starters who only saw brief action in relief last year at Eugene.
Pitcher Michael Rucker moved all the way up to 21 and Zack Short made his first appearance on the list at 23. Pitcher Javier Assad, who I am looking forward to watching throw at South Bend, is at 24. That's a very good sign, as he is only 19 years old. Meanwhile, lefty starter Brailyn Marquez (also still a teenager) debuted at 27. He is still very raw but he does miss a lot of bats.
Who is still in?
Most of the usual suspects in the Cubs system still made the list, though it is quite clear that they have lost some of the former luster. MLB Pipeline's is slow to change, so one bad season doesn't usually tank most prospects. That said, there was some slippage this year. Trevor Clifton (28) and Duane Underwood at (30) still made it, but they have their work cut out for them.
Names to know for the future
Danis Correa is one of several young Latin pitching prospects who could break out in 2018. He throws in the mid to upper 90's but needs some work on his command. I think Bailey Clark will turn some heads this year as he is now done with his degree at Duke and is over minor injuries. Carlos Sepulveda was not on the list this year after missing almost of 2017, but could return later. The big breakout could be OF Fernando Kelli, who will arrive from the Dominican Summer League after stealing 58 bases there last year.
Personally, I like the bats of infielders Austin Upshaw and Jered Young. Then there's pitcher Jesus Tejada, who threw a no-hitter in the Dominican last summer.
It should be exciting as the Cubs system is remade once again. Trades thinned it out, but the farm is getting much younger and it's bursting with talent.
The final rankings list
I assigned point values to seven prospect lists — Fangraphs, John Sickels, Baseball Prospectus, Baseball America, Keith Law. MLB.com, and Cubs Central — this winter. A player received 10 for being named No. 1, 9 for No. 2, etc, so I put together aggregate scores.
Here are the final top 10 prospects.
Adbert Alzolay – 66
Aramis Ademan – 64
Jose Albertos – 57
Alex Lange – 42
Oscar de la Cruz – 38
Brendon Little – 33
Victor Caratini – 28
Thomas Hatch – 23
Jen-Ho Tseng – 12
Dillon Maples – 7