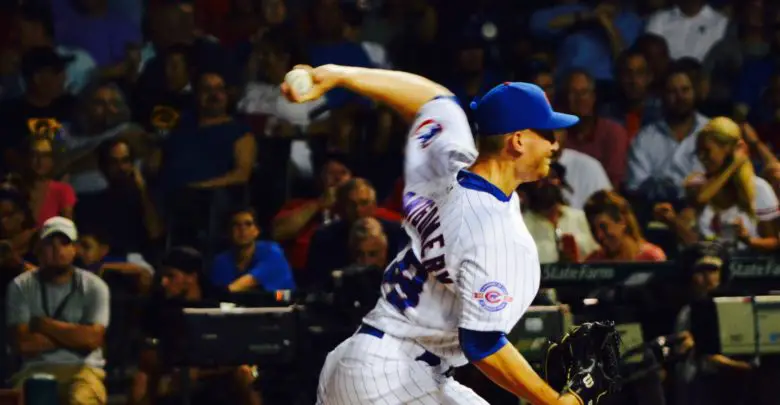 Six Appeal: Cubs Say Mike Montgomery to Work as Starter in Spring Training
Mike Montgomery has been vocal this offseason about his desire to start, but we've assumed this whole time that adding another starter would relegate him to the bullpen once again. Based on what Theo Epstein and Joe Maddon had to say at Tuesday's press conference (skip to 1:01:00 mark for this specific portion), however, the Cubs plan to work Montgomery out as a starter this spring.
"We're approaching spring training as if we have a six-man starting staff, and Mike Montgomery is part of those six," Epstein said. "So if everyone stays healthy and we decide looking at the schedule that we want to go with five, then we'll whittle it down to to five and Mike will join the bullpen.
"But as of right now he's a starting pitcher. You need more than five to get through the course of the year so we're looking at it as if we have six right now and we'll see where we go from there. Not saying we're going with a six-man rotation, but for spring training, he's part of that group."
This is really a no-brainer when you think about it. Given all that can happen over the course of the spring, let alone the regular season, it only makes sense to keep Montgomery stretched out. Even if they somehow manage to continue their uncanny run of good health, three straight NLCS appearances have taught the Cubs a little something about the value of keeping gas in the tank.
So rather than a way to pacify Montgomery, this is really just a matter of common sense. Well, maybe there's a small measure of mollification going on.
"This guy's a tremendous team player," Maddon said. "Of course he's capable of starting on the major league level; he knows that and we know that. There's gonna be plenty of starts, actually, by the end of this season for him. We really believe that, we know that. It's really a matter of conveying that to him, he's gotta know.
"Stuff happens, guys are needed, people are thrust into different roles."
What Montgomery also must know is that not all of the five primary starters are considered workhorses. Last season saw Jon Lester dip below 200 innings for only the second time in the last decade, while Jose Quintana failed to hit that mark for the first time since his rookie year in 2012. Kyle Hendricks has never gone beyond 190, Tyler Chatwood maxed out at 158 in 2016, and Yu Darvish hasn't cracked 200 IP since 2013.
Rather than push any and all of those to set new career highs or get back to their previous ways, the Cubs figure to be a little judicious this season. That's where Montgomery and the rest of their retooled bullpen come in, allowing Maddon a little more leeway when it comes to managing his pitching staff.
That task could get a little more interesting next season, or so Jed Hoyer indicated.
"Drew Smyly was a guy that we were excited when he was non-tendered," the Cubs GM explained. "He may be able to help us at some point this year in the bullpen. But he's a guy that we have very high hopes for in 2019 in the rotation."
Wait, they've already got all five main starters under contract for at least three years and now they're talking about possibly adding another lefty swingman type to the mix? Does that mean the Cubs are thinking about a seven-man rotation? Of course not, but having a contingency for your contingency doesn't hurt. And you never know, there could be another team out there willing to give up a lot to acquire a lefty starter with several years of team control remaining.
But neither the Cubs nor Montgomery can bother with those sorts of hypotheticals right now, not with the task at hand requiring all their attention. So for now it's just about working as a starter in Mesa. Then it'll be about working out of the bullpen and being ready for whatever the role is each given day. Then, I don't know, maybe closing the World Series.
And hey, even if things go completely sideways and pitching doesn't end up working out, perhaps Montgomery can try catching. Footballs, that is.
"He looks great, like a thinner version of Rob Gronkowski," Maddon quipped.