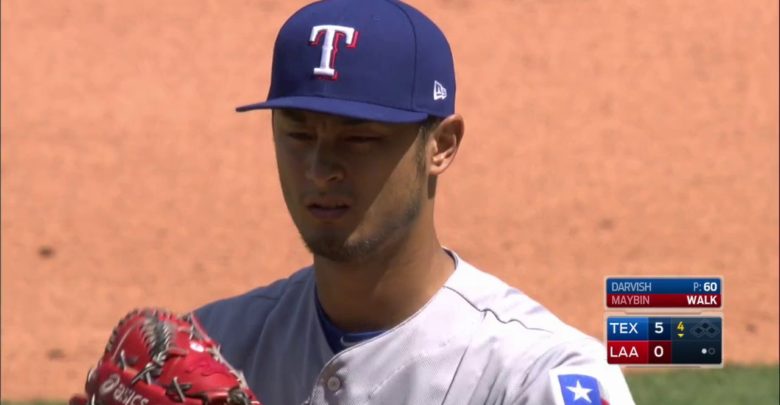 Report: Brewers and Twins Would Have to Blow Darvish Away, Cubs Still 'Clear Favorite'
Warning: The following contains Yu Darvish content and may not be suitable for those who are sick and tired of hearing about the drawn-out saga of his free agency. For those of you who can't get enough of the story, however, this may connect a couple more dots or provide another little wrinkle.
We had heard a few days ago from Robert Murray of FanRag Sports that the Brewers had the highest offer on the table for Darvish, but that it would take "a good amount" to lure him to Milwaukee. The report was very brief and offered no further information on the numbers involved, but Murray was able to expound on it when he joined Ryan Davis for Episode 17 the Locked On Cubs podcast.
"I've personally heard, I have not gotten it confirmed yet, but there's been rumblings that the Brewers have made the best offer," Murray hedged. "I don't know the exact terms, I've heard a different variety of terms, but from what I understand Milwaukee is not Darvish's favorite spot and he'd have to be blown away to go there.
"And right now, he has not been blown away by an offer. I'm not sure how much higher the Brewers can go, and we have other teams like Texas that's been mentioned, the Yankees, the Dodgers. I think all those teams are highly unlikely as well. So that really leaves us with the Twins, who are not exactly the most desirable spot either. They're kind of like Milwaukee in the sense that they're going to need to blow Darvish away.
"So I think that leaves the Cubs as the clear favorite. I think the Brewers are being aggressive with Darvish, I think their offer is really good to him, I don't think he can do much better. But in the end, I think familiarity is huge with him, so I think the familiarity card will trump the most money for him."
Hey, that sounds like pretty much exactly what we've been saying here at CI for a while now, whether it's our own speculation or when examining reports from Jon Morosi and Mark Feinsand. That isn't a slight of Murray, mind you. In fact, it's quite the opposite. He's been very accurate in the past and his reports here echo what other, more established writers are putting out there.
And as I've continued to say throughout this whole process, these overlapping reports aren't just a matter of getting redundant information from different bylines. There are little differences in each, so my goal in all this has been to put them together like a Venn diagram in order to determine what's relatively ironclad and what we can really dig into as new or unique.
Case in point, Murray proceeded to offer up some news on the figures being discussed and how far off the Cubs are from the competition, which to this point have come to us in only the most generic terms.
"Based on what I've heard, the Cubs are maybe about 20 or so million away in their total offer from the Brewers, so if they close the gap by about $10 million or so, that could possibly get the deal done. Maybe he seeks a little bit more money or another year, because I think the common number we see for him now is five years.
"So maybe if you go five years with a club option or five years with an option in general, or even six years, you could see the deal get done."
Okay, that's maybe not the most eye-opening tidbit, though it does reinforce what most of us have been thinking and saying the whole time. And that is that the Cubs understand they've established the high ground here, so they're willing to let this thing play out on their terms.
That said, I can't believe they'd be willing to walk away from the best pitcher on the market over a matter of $2 million AAV over five years. That just seems like a pittance, particularly when you consider that the deal is probably going to end up being much less than anyone would have assumed at the start of free agency. Then again, this is the same team that went to arbitration with Justin Grimm over $275,000 this week.
Murray and Davis get further into the offseason talk, with particular focus on Jake Arrieta (Murray pronounces it like "ARE-ee-etta," which grinds the hell out of my gears, but whatever) and the Cubs in general. For a bit of additional depth, I'd recommend you check out Michael Cerami's piece at Bleacher Nation about how the Cubs distancing themselves from their former ace may be negatively impacting the overall perception of him.
I'd also recommend listening to the rest of the Locked On Cubs podcast to get all of that juicy knowledge, since my patience for transcription is running thin.
What are your thoughts, dear reader: Are the Cubs silly to have this come down to $10 million, or are they so confident that Darvish won't go to Minnesota or Milwaukee that they are right to sit back?