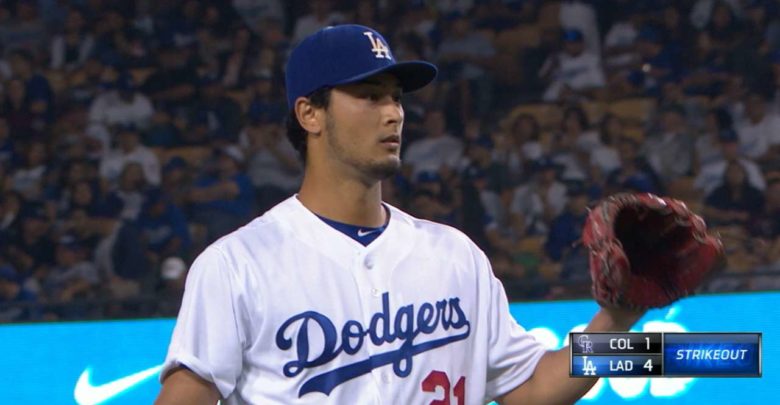 No Cheap Trick: Cubs Sign Yu Darvish for 6 Years, $126M
I want Yu to want me.
I need Yu to need me.
I'd love Yu to love me.
I'm beggin' Yu to beg me.
There's a latter-day urban legend (that I just started) that tells of how Jed Hoyer and noted Cheap Trick fan Theo Epstein performed a duet of the above power-pop standard in order to pump themselves up for their December meeting with Yu Darvish. It took a little longer — okay, a LOT longer — than pretty much everyone expected, but it must have worked because they ended up agreeing to sign the coveted righty for $126 million over six years (though it could jump as high as $150 million with incentives).
Again: Darvish to #Cubs, six years, $126M, pending physical, sources tell The Athletic. Chance to get to $150M range through incentives.

— Ken Rosenthal (@Ken_Rosenthal) February 10, 2018
Folks, this is an insanely great deal from pretty much every angle. Getting Darvish for $21 million AAV is just tremendous. The 31-year-old righty has been very consistent throughout his time in MLB, posting a career 3.42 ERA with a 3.30 FIP and a 3.24 xFIP. He's also got a little less mileage on his arm than you'd expect for a pitcher of his age, though that's kind of like saying a patched-up tire is still showing very little tread wear.
While major league innings are considered more stressful, and thus deleterious, that doesn't mean previous experience doesn't count. And Darvish logged roughly 1,268 innings over seven in Japan before being posted following the 2011 season. Since NPB generally utilizes six-man rotations, Darvish made more than 26 starts in a season only once prior to his MLB career, notching 55 complete games in 164 starts. I don't care what league you're in, that's a fair bit of work.
Darvish was shut down in early August of 2014 after experiencing elbow inflammation, which eventually led to Tommy John surgery in March of the following year that kept him out of game action until late May of 2016. But the extended convalescence may have had an unanticipated benefit, as Darvish's fastball velocity actually increased upon his return. He maintained it this past season, though some of that may the result of a change in the way velo is measured.
The big righty changed up his pitch mix a little bit in 2017 as well, throwing fewer fastballs than in either of the past two seasons, relatively speaking. That's probably a good idea, since the fastball has been his worst pitch and only produced positive value during that abbreviated 2016 season. The curveball dipped the negatives last year for the first time in his career, but was still decent. The slider and cutter easily remained Darvish's best pitches, picking up the slack and then some.
No talk of negatives and pitch selection without discussing that disastrous World Series performance in which Darvish twice failed to go beyond the 2nd inning. SI's Tom Verducci confirmed the theory that the then-Dodger was tipping his pitches, but the fact that it's now public knowledge means that Darvish should easily be able to fix it.
Opponents have traditionally needed all the extra help they can get because the big righty has such similar release points on his numerous offerings, as we can see from the GIF below.
Even though the overlaid images above come from 2013, a diverse repertoire has always been one of Darvish's calling cards. The fastball, slider, sinker, cutter, and curve account for a vast majority of his offerings, then he'll toss in a change and splitter from time to time. He's even got a variation of the curve that he throws a little slower than the standard version.
Then there's the eephus pitch, which I want to see far more often.
There's valid reason for concern when it comes to the playoff performances and a probable velocity dip in the future, but Darvish has pitchability for days. And that's what the Cubs are banking on from the man who will be replacing Jake Arrieta at the top of their rotation for the next few years. Even if his ceiling is lower than a typical ace, his floor is much higher than other options. This is a very definitive win-now move and raises expectations and payroll alike in Chicago for 2018 and beyond.
Between Darvish and Kyle Hendricks at the top, Jose Quintana and Lester falling in behind, and a big-time bounce-back candidate Tyler Chatwood, the Cubs have the makings of a fantastic rotation. And they've assembled a very solid bullpen as well.
Yu gotta like how this team looks heading into 2018. Also, big thanks to Chris Gimenez.