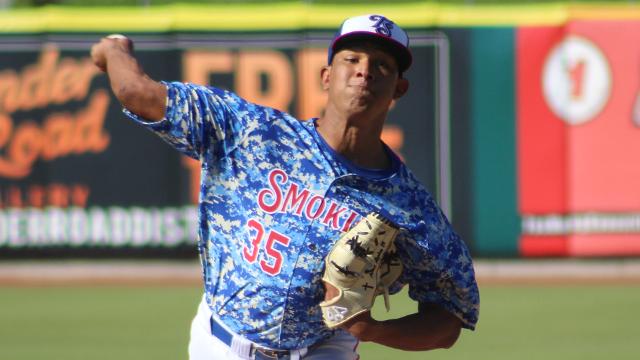 Where Will the Cubs Turn for Emergency Rotation Depth?
The Cubs have had an uncanny run of good health in the starting rotation the last few seasons. The most severe injury involving a starter the last three years was Jake Arrieta's month-long absence due to a hamstring strain late in 2017. Whether they ever add another starter or not, it might be helpful to look at their overall rotation depth.
After all, counting on a continuation of their nearly impeccable injury record is a risky proposition. Like riding a heater at the blackjack table, you're bound to bust eventually. And even if their core five arms all remain healthy, there will be times — long stretches without off-days or emergency double-headers — when a spot-starter is needed.
The most obvious possibility is Mike Montgomery, who started 14 times out of his 44 appearances for Chicago in 2017. He fared much better as a reliever, largely due to the fact that he struggled mightily the second time through an opposing lineup. Opponents' batting average against Montgomery jumped from .188 in the first plate appearance to an ugly .290 the next time up.
But there is an outside chance the Cubs don't add a free agent pitcher, in which case Montgomery becomes the fifth starter. So who are some of the other options at AAA Iowa or perhaps even lower in the system that could fill the need for an emergency starter?
Eddie Butler was acquired from the Rockies prior to last season and started 11 games for the Cubs before the Jose Quintana trade forced him back to Iowa. The sinker specialist showed brief flashes of competence during his major league stint, but control issues (11.8 percent BB-rate) and an inability to miss bats (12.6 percent K-rate) ultimately prevented him from being effective.
Butler did post improved numbers in Iowa at the end of the season, and could very well be a viable option should the Cubs need a little help.
Alec Mills came over from the Royals in a separate trade before last season, but only pitched two games at Iowa before injuring his ankle and missing most of the season. Another pitcher with ground-ball tendencies, he was able to make a few rehab appearances in the low minors and then got one more AAA start. The Cubs sent him to the Arizona Fall League to make up for lost time, and he posted a 3.91 ERA over 23 innings.
Mills has yet to make his MLB debut and will probably need to prove himself further, but could make his presence felt as the Cubs look to conserve energy in the second half.
That's exactly what brought Jen-Ho Tseng to Chicago late last year. The Taiwanese import was effective for most of the year in AA before having a breakout performance in AAA after a mid-season promotion. Even though his 1.80 ERA at Iowa is slightly diminished by his 4.13 FIP, he was impressive nonetheless. Tseng got roughed up for five runs in a start against the Mets, but he did pitch three scoreless relief innings against the Cardinals during the last week of the season.
A possible dark-horse candidate for a spot-starting role is top prospect Adbert Alzolay. The Cubs are very excited about the hard-throwing right-hander who split time between high-A and AA in 2017. Alzolay was added to the 40-man roster in November to protect him from the Rule 5 draft, so he is eligible to pitch in the majors this season.
Still, most expect Alzolay to start in AA this season as he continues to work on perfecting his changeup. Even if he gets that third pitch figured out, his first MLB appearance could well be from the 'pen.
As you can see, the Cubs' starting pitching depth isn't what you'd call an organizational strength. Even if they round out the rotation with a free agent, the few internal reinforcements they have are mostly untested. Montgomery and Butler have the stuff to be quality starting pitching options, but neither has shown the consistency to really be a stalwart.
Mills and Tseng are question marks at this point, and Alzolay is probably a year away, at least when it comes to anything resembling a permanent role.
This lack of depth makes it clear the Cubs will add one more starter before the season. When that signing actually happens is anyone's guess, but it will happen. Not doing so will leave Chicago very vulnerable to any starting pitching injuries.