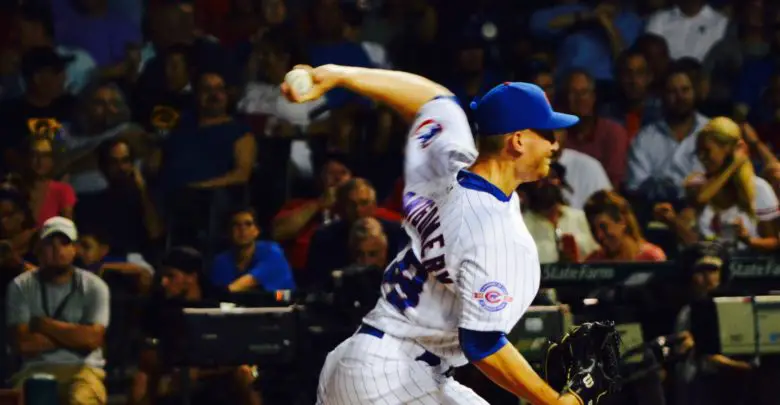 Mike Montgomery Still Wants to Start, Laments 'Weird Offseason Market'
Mike Montgomery made waves earlier this offseason when it was reported that he might want to be moved elsewhere if he wasn't able to start for the Cubs. While any potential for a trade demand was quickly dispelled, Montgomery has remained vocal about his desire to start and his belief that he's earned a spot in the rotation.
"I'm not in a position right now to demand anything," Montgomery recently told The Athletic's Patrick Mooney (subscription required, 20% off). "But I wanted it to be known that I want to be a starter. I want it to be known — not only with Chicago, [but in] the baseball world — that my goal is to be a starter. And I think I've proven that I'm capable of that.
"My goal and my mindset right now is to be a starter and get in that routine. And if something changes, it'll change. But for now, I'm ready to take that starting role."
That quote actually came in the context of the greater issue of MLB's stalled free agency and how that impacts Montgomery both now and in the future. If the Cubs indeed add another frontline starter, it relegates the lanky lefty to the 'pen for at least the next three seasons, at which point he'll only have one more year to go before he gets his first crack at the open market.
Baseball will be operating under a different CBA by then and the game's economics may have undergone further shifts, but it figures that starters will still be seen as far more valuable commodities than relievers. As such, you can imagine why Montgomery might want to do everything he can right now to maximize his earning potential for 2022.
You'll want to check out Mooney's piece in its entirety to see everything Montgomery said about the "things that are wrong with baseball," but I did want to share one more quote that kind of struck me. Viewed as a standalone statement, it's completely innocuous and even borderline trite. Placed in the light of his stated desire to start, however, it may cast a small shadow.
"But, look, I want to win another World Series, so I want the best team possible," Montgomery said. "I want to be on the best team, and be a part of it. We'll see how that plays out."
The Cubs have already added one starter in Tyler Chatwood and they've been active all winter in the pursuit of another. Which means they feel their best team is one with Mike Montgomery in the bullpen, something a really awesome blogger guy has been saying for a while now.
One way to interpret Montgomery's statements, then, could to be to see them as either hypocritical or downright critical. If he feels his best spot is in the rotation, perhaps he'll be upset about the Cubs bringing in Yu Darvish or Alex Cobb or even *gasp* Jaime Garcia and will see it as the team lacking faith in him.
On the other hand, it could be a simple matter of Montgomery expressing disillusionment with the current state of affairs in the league while also resigning himself to a less desirable role should the Cubs sign someone. It's obvious that he wants to start, but it's even more obvious that he just wants to be part of a winner.
At the end of the day, though, I really don't think Monty put much conscious thought into how people like me would parse his words in search of their greater implications. Weird, right? The good news for him is that he's in a win-win situation: either he gets the chance to start or he's playing on the best possible team.