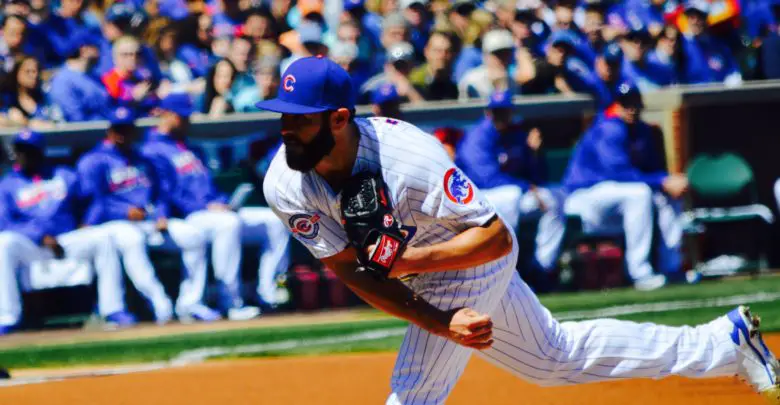 Arrieta Has Six 'Overpay' Offers, Darvish Hilariously Announces He's Also Down to Six Teams
If recent reports from the world of free agency are accurate, still waters really do run deep. They're also pretty narrow, at least if we're talking about depth being average annual value of a contract and width being its term length. The Cubs in particular have been reticent to go more than three or four years for anyone, opting instead to stick with a relatively high AAV in order to protect themselves from paying for diminished performance on the back end.
But they're not the only ones. Gordon Wittenmyer was told by a source close to Jake Arrieta that the pitcher has six offers in hand for "overpay" AAV over three or four years, with one team perhaps close to making a five-year offer. The Cubs, Brewers, and Cardinals are among those teams, and I'd imagine we could add three more from a group that includes the Rangers, Astros, Twins, and Phillies.
Though he presented it as a hypothetical, Ken Rosenthal threw out the possibility of the latter trying to entice Arrieta with an offer of $90 million over three years. And we already know that the Cubs are reportedly willing to go as high $110 million over four years. Both represent at least nominal overpays compared to the six-year, $160 million deal Arrieta was said to have been seeking back in November.
There's a lot yet to figure out, but two things are certain here: 1) Arrieta and Scott Boras aren't about to settle for a three-year deal at this point; 2) even if they do have to agree to a shorter term, it's going to have to be more a lot more than the $26-27 million AAV they were initially looking for. That combo doesn't bode well for the Cubs, though they might be willing to reach a little if it's truly for an even shorter period that they'd first offered (it won't be).
As our Brendan Miller brought up on Twitter, it's possible that Arrieta could take a deal something like the one Yoenis Cespedes signed with the Mets in 2016. In a somewhat unorthodox move, the Mets structured his three-year, $75 million contract with a player option after the first season. Cespedes indeed opted out, then re-signed in New York for four years and $110 million (hey, that number looks familiar).
I wouldn't be surprised if Darvish and Arrieta take the Cespedes contract structure route, taking something like a 3 year, $80 M contract with an opt-out after a year — get a decent $ amount guaranteed if disaster strikes, but basically trying the market next year again year

— Brendan Miller (@brendan_cubs) January 10, 2018
Again, that seems like something of a last resort, since Arrieta can't guarantee a return to form that would make it worth his while to jump back into a market that could be headlined by Clayton Kershaw next winter. Then again, he can opt back in if his performance doesn't merit a bigger, longer deal.
Miller also mentioned Yu Darvish in his tweet, which offers a perfect segue to the pitcher's continued Twitter shenanigans. You may remember when he took to the social media platform in late December to summarily shut down an erroneous report that he had signed with the Cubs, pending a physical. Darvish also corrected a report from Japan that he was going to make his decision by Christmas.
Well, he was back at it again Wednesday night, first questioning and then amending a report that he'd narrowed his list to five teams.
— ダルビッシュ有(Yu Darvish) (@faridyu) January 11, 2018
I know one more team is in. https://t.co/exxubGP7Qo

— ダルビッシュ有(Yu Darvish) (@faridyu) January 11, 2018
I'm not sure how reliable Darvish's source is on this one, but he seems to have a firm grasp on the situation and I'm willing to give him the benefit of the doubt. Assuming there's some pretty solid overlap in the teams connected to both top pitchers, might we assume that the mystery team is the Phillies? Perhaps the Cardinals or Brewers would be interested in one of those overpay deals as well.
Ed. note: It's likely the more obvious Dodgers that are in on Darvish as the sixth team. 
Given all we know about the two pitchers and how nearly everyone but a segment of Cubs fans values them, it's hard to imagine Darvish being in the same situation as Arrieta. Which is to say that he's perhaps looking at four- and five-year deals and maybe getting a team to push to six. The AAV might actually be lower than Arrieta's if the contract runs that long, but the guaranteed money would obviously be more.
Yet another dynamic to this whole situation is the Gerrit Cole business from Wednesday afternoon. In a matter of an hour or two, if that long, the reports shifted from an imminent trade between the Pirates and Astros to Houston GM Jeff Luhnow basically disavowing a deal. I mean, the whole thing just vanished like a fart in the wind, and this was after the likes of Jon Morosi and Ken Rosenthal had reported that it was close. They were so far off that Rosenthal even tweeted an apology.
Could it be that developments in the Darvish situation scuttled the talks? Maybe it was the very high asking price for Cole, who, even though he's coming off of his worst season in the majors, is only 27 and has two years of team control remaining. Oh, he's also a Boras client. Then there's the matter of the Pirates threatening to cut his pre-arb salary in 2016, which means he's probably not trying to do them any favors with the impending negotiation of his second arbitration raise.
In any case, it feels like we're at least starting to get a little more clarity as to what the market looks like. Resolution, however, still appears to be a fair ways off.