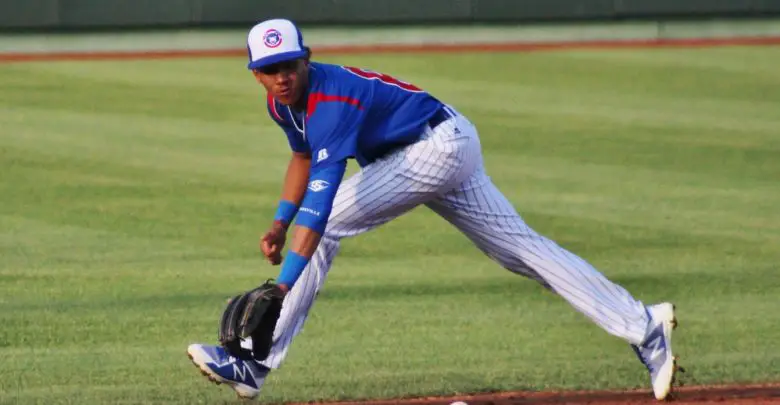 Cubs System Position-by-Position: Young Shortstops Still Far Away, Starting to Make Turn
A few years ago, it seemed as if the Cubs had all the shortstops. In a couple more years that could be the case again. But today, I struggled just to put this list together. While the Cubs do have at least one shortstop on every affiliate, it is worth noting that not all of them are worthy of being labeled as potential major leaguers. Then again, the bottom end of the system might be worth talking about in a year after the Cubs targeted the position in international free agency the last two summers.
That lack of depth really started to show last year and was especially evident after the trade of Isaac Paredes. Aramis Ademan still remains at the top, followed by Zack Short, but the rankings have changed just a little bit from where they were a year ago.
1. Aramis Ademan held his own and succeeded at Eugene before struggling just a bit at South Bend, but that's to be expected of an 18-year-old. Ademan actually got off to a horrible start at Eugene as the leadoff man. Once he was moved down in the order, however, his bat began to flourish. Even though he didn't tear it up at South Bend, I expect him to begin 2018 at Myrtle Beach. You want to hold him back at this point, so let him play a full season in the Carolina League. It is known as a pitcher's league, but he should be just fine and it should challenge him to improve. I don't see any rush in trying to get him to Tennessee this year unless he just destroys the ball at Myrtle Beach.
2. Zack Short provided glimpses of power in 2016 when he was at Eugene, which was somewhat expected. What I don't think many recognized was just how good an approach he had at the plate. He led the Midwest League in walks before his promotion to Myrtle Beach, where he did extremely well. Short's plate approach, fielding skills, and ability to hit for power will be put to the test in a big way this coming season. I hope he is up for it and I also hope to see him play some more second and third base to make him more versatile as a utilityman.
3. Luis Vazquez had an up-and-down rookie season for Mesa last year. The 2017 13th round pick came on like gangbusters in July, struggled in August, and rebounded in the playoffs. He has a lot of work to do at the plate, mainly when it comes to recognizing pitches and laying off of them. However, his fielding skills are already at an elite level. I was watching the video below on one of the pitchers the Cubs took in last year's draft and Vazquez comes out of nowhere at the 1:29 mar, to make the play behind him. Baseball America already touted Vazquez as having the best arm and being the best defender among all the infielders in the Cubs system.
4. Delvin Zinn would be number one on this list if these rankings were based purely on athleticism. In addition to shortstop, I could see him playing second — which he did quite often in 2017 — and even outfield. Like many in rookie ball, Zinn had an up-and-down year. What I like to take away is that he started strong and finished stronger by making adjustments in the middle of the season. He should be at Eugene to begin the year.
5. Andruw Monasterio played all over the infield last year for Myrtle Beach and South Bend. After being sent down a level in late June, he hit .281 with an outstanding .351 OBP during the second half and I liked his hit tool and aggressiveness at the plate. Even though he played three positions in the infield last year, his weakness right now would have to be his fielding. I hope he goes back to Myrtle Beach, but Ademan's assignment will take precedence over his.
Ones to watch
Christopher Morel's name has been bandied about for several years now thanks to the late John Arguello. He's only 18 and has a big frame that has yet to fill out, but he did hit 8 home runs with 40 RBI in the Dominican Summer League this past season. A mere .220 average isn't super encouraging, but Morel also walked 35 times in 61 games for a .332 OBP.
Luis Verdugo is a 17-year-old the Cubs signed out of Mexico last summer as an international free agent. Here is what MLB Pipeline had to say about the youngster, who should be in Mesa to begin his career:
He's athletic with good instincts on both sides of the ball, but he is a below average runner right now. Verdugo is a contact hitter, shows a good bat path through the strike zone and puts the ball in play. However, the belief is that he could still improve on his overall hit tool and that he will once he enters a team's academy.
Verdugo has been praised for his solid defensive actions and footwork. He has quick hands and makes all of the plays. Scouts also like his makeup and maturity level.
As you can see, there's plenty of potential in the lower levels of the system, which is fine since it's not as though the Cubs have much of a need at shortstop for the next several years.
Other previews:
Catcher
First base
Second base
Third base