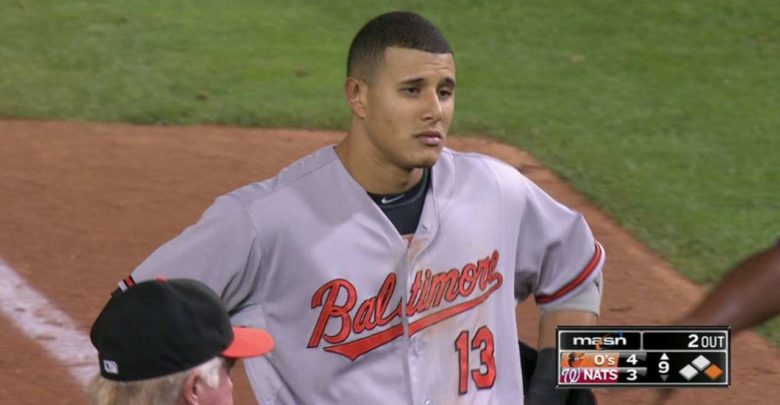 The Rundown: Free Agent and Trade Predictions, Cubs May Be Interested in Yelich, Machado Rumors Not Going Away
I am officially saying goodbye to 2017 with this post, and before I go any further I just wanted to thank everyone for reading and commenting. When I met up with Evan at a Cubs game earlier this season and asked him if I could return to writing a daily column he didn't hesitate in welcoming me back. It's been a welcome diversion from real life. I'm probably the least qualified writer on staff when it comes to baseball knowledge, but I enjoy doing this and I'll continue as long as my contributions are welcome.
Also, I am ending my first full year of living in Chicago after a decade in Milwaukee. In full disclosure, the Brewers are my second favorite team, but that predates the time I spent living in Wisconsin. I've been hooked since the 1982 World Series. If you experience one thing this summer, by all means take the Amtrak Hiawatha Line from Chicago to Milwaukee for a Cubs-Brewers series. It's a 90-minute party from departure through arrival, a truly mobile tailgate affair for fans of both teams, and I hope this rivalry continues to grow. If Milwaukee signs Jake Arrieta, things will get awfully intense. That being said, if the Cubs' former ace doesn't return to the Friendly Confines in 2018, I'd love nothing more than to see him taking the bump every fifth game for the Brew Crew.
I am taking a few days off as this great planet of ours finishes it's current lap around the sun, but I do expect some player movement before I return on Tuesday morning. So, I thought I'd make some completely uninformed free agent and trade predictions to start 2018;
Free Agent Signings
Yu Darvish – Cubs
Jake Arrieta – Brewers
Alex Cobb – Twins
JD Martinez – Red Sox
Wade Davis – Astros
Mike Moustakas – Cardinals
Eric Hosmer – Royals
Lorenzo Cain – Braves
Greg Holland – Rockies
Addison Reed – Cardinals
Trades
Manny Machado to the Cubs, but for way less than you'd think. Evan has already explained how this could make sense. Don't hate.
Christian Yelich to the Brewers.
J.T. Realmuto to the Nationals.
Andrew McCutchen to the Giants.
Gerrit Cole to the Yankees.
Jake Odorizzi to the Red Sox.
Alex Colome to the Twins.
Chris Archer to the Braves.
If you look at those lists, there isn't a wide variety of teams acquiring new players. I believe this to be the main driver behind current market stagnation. Right now, 60 percent of organizations league-wide are either rebuilding or on the fence, and the Yankees, Dodgers, and Nationals aren't likely pursuing big-ticket free agents. There's just not a lot of movement to be expected when there are scores of available players and only 12 teams competing for them. I am not here to give a lesson in macroeconomics, but in any economy in which aggregate demand for goods and services does not meet supply, a general glut occurs and unemployment is the result.
And that doesn't just affect free agency. It throttles the trade market, too, because alternatives remain available to those teams that intend to be competitive. So the Orioles can foolhardily ask for the solar system and more for Machado, but market conditions dictate that won't happen. For the Cubs, that might mean eventually giving up Addison Russell and lower-level pitching prospects. Indeed, the Orioles alleged deadline for trading their SS/3B seems to be nothing more than a weak attempt to enforce price. They've basically overplayed their hand and have to trade him now, unless GM Dan Duquette decides the compensatory draft pick that will be tied to Machado's free agency justifies keeping him.
The Yankees are exercising similar patience in their pursuit of Cole. The common denominator here is that both the Orioles and the Pirates are on the fence regarding a rebuild, and that may be hurting their abilities to maximize return value for their star players. There is simply no harm in calling their bluffs because so many options exist. In this baseball economy, the best thing that savvy GMs can do is wait for the market to come to them. The cycle favors competitive teams that can exercise control over the market and its abundance of riches, and allows those teams to further strengthen their positions through value purchases.
Cubs News & Notes
Sean Sears reported the Cubs are interested in Christian Yelich, but I'd bet 15-20 teams could have a shot at acquiring the Marlins outfielder.
Forbes offers insight to what a Machado-Russell trade would look like in MLB The Show.
Could left-handed reliever Tony Watson be on the Cubs' radar? Maybe the team should look at other options, though I don't see the front office moving Mike Montgomery.
Brendan Miller prefers Russell to Javy Baez as the team's starting shortstop.
Despite lack of overall demand, the price to acquire starting pitching may still be a bit expensive for the team's current financial state. Theo Epstein's long term goal is to keep the current championship window open for as long as possible, and that could mean saving money for big financial commitments down the road, such as Bryce Harper.
Thursday Stove
Miguel Sano has been accused of sexual misconduct by Betsy Bissen, a sports photographer who snaps pictures for Twins Daily. The Twins denied knowledge of the incident, but reports had surfaced recently that the team had dangled Sano in an attempt to acquire starting pitching. Sano has also denied the incident occurred.
The Astros World Series victory cost Las Vegas sports books over $11M, a new record. It nearly doubled the previous record set in 1999 when the Yankees won the World Series over the Braves.
The Brewers have reportedly signed Boone Logan.
Cut 4 looks at the five most anticipated rookie debuts for 2018.
The Mets, Blue Jays and Yankees are interested in Pirates infielder Josh Harrison.
Ichiro still wants to play but has found no bidders for his services so far. The outfielder was quoted as saying that he feels "like a big dog at a pet shop that hasn't been sold."
Commissioner Rob Manfred is looking logistically at adding two new teams to the league, though nothing is imminent. Potential expansion and realignment plans have been discussed a number of times since last season's All-Star break.
Friday Walk Up Song
Green Onions by Booker T. & The MGs. A great video to boot. Happy New Year everybody.