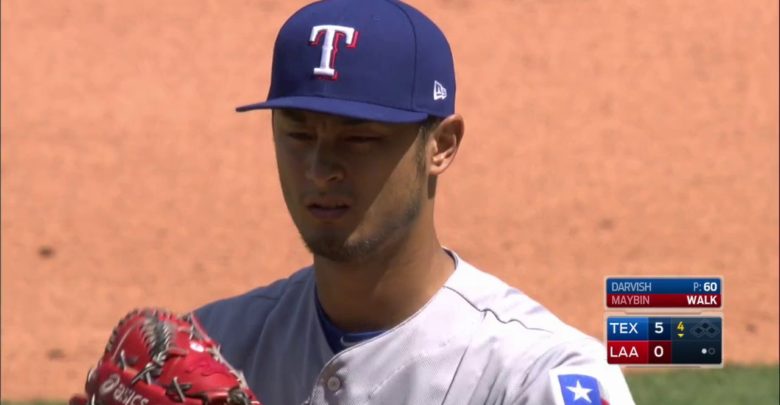 Yankees Still Interested in Darvish, Need a Rube Goldberg Device to Land Him
It's been roughly 15 minutes since I wrote anything about Yu Darvish and I was starting to get the shakes, so here I am with an update on his market that may or may not impact the Cubs. When we last left our hero, he was correcting a Nikkan Sports report that he and the Cubs were in a "honeymoon relationship" and that he'd make a decision on his new team before Christmas.
A subsequent correction from the online publication stated that "both teams are negotiating contracts on 'flat,'" which is a translation of the idea that they're on an even playing field. The "both teams" part was interesting, though, since that makes it sound like it's down to just the Cubs and Astros, the other team with whom Darvish met earlier in the week. But we've also heard that the Twins were interested, and Ken Rosenthal mentioned (requisite subscription warning/offer) both the Dodgers and Yankees as well.
Those two behemoths have been at the periphery of our posts for quite some time now, whether it's as competition for the same players the Cubs are after or as examples of how MLB's new economics are changing offseason strategy. It's hard to see the Dodgers really being in on Darvish, what with one massive salary purge just completed and a certain lefty ace possibly opting out next season, but the Yankees may have earnest interest. If, that is, a bunch of things break the right way.
Like the Dodgers, the Yankees once again exceeded the luxury tax threshold this past season. Nothing new, right, this is the 15th straight year — every single one in the existence of the luxury tax — they've gone over and they've never seemed to care. But with escalating surcharges that can reach up to 95 percent of a team's overage, not to mention dropping draft picks back 10 spots and losing international pool money, etc, the penalties are much stiffer now.
And I don't care how much money you're printing, no business owner is cool with seeing $341 million — that's how much the Yanks have paid over the last 15 seasons, an average of $23 million each year — just go up in smoke. So the Yankees are really working to get under that tax threshold for 2018.
Even though they got Giancarlo Stanton for much less than market value, his $22 million average annual value (assuming the Marlins' tax credits work out) still has an impact. Adding even more than that in Yu Darvish would effectively ruin their chances at getting under the limit and could muck up the chance to sign a major free agent next winter.
That's why, as George A. King III of the New York Post reports, the Yankees are "sniffing around in case the price drops." King figures that the Yankees have roughly $182 million already committed for 2018, so even getting Darvish at a lower-than-expected cost of $20 million AAV would push them over the $197 million luxury threshold. And that's not even considering mid-season acquisitions or earned incentives.
In order to make a play for Darvish, or any significant free agent, New York would have to find a taker for Jacoby Ellsbury and the $68.5 million he's owed over the next three seasons. There's no way they're getting a team to take on the entirety of what comes to $21.86 million AAV for the 34-year-old outfielder, which would mean eating a big chunk of that money. Oh, and that's all considering that Ellsbury would waive his no-trade clause to allow the Yankees to move him.
Okay, let's review the Rube Goldberg-ian sequence of events that must take place in order for the Yankees to be legitimate suitors for Darvish:
Darvish's asking price has to drop closer to $20 million AAV
A team has to think a 34-year-old outfielder with questionable health and eroding skills is an upgrade
Said team has to take on a large percentage of that aging player's contract
Ellsbury has to waive his NTC
Hell has to freeze over
Hal Steinbrenner has to remain steadfast in his desire to stay under cap
So that's kind of a lot. This doesn't necessarily increase the Cubs' odds of landing Darvish, but it does seem to eliminate the Yankees from being anything other than a very distant bidder for his services. However, it would still behoove the Cubs to act quickly if this is indeed the direction in which they want to move.