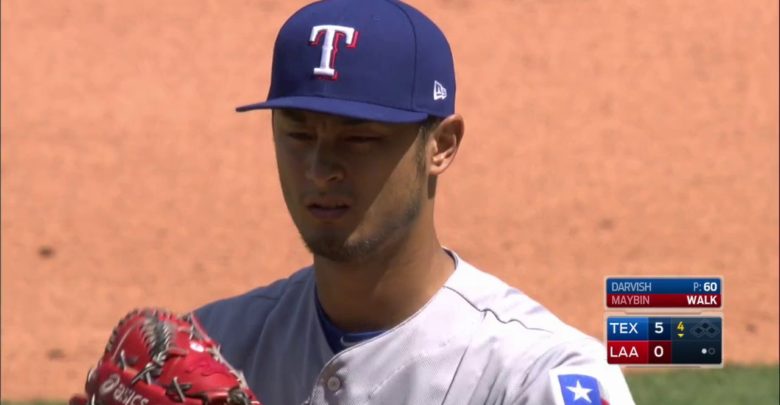 Though Unexpected at First, Cubs' Pursuit of Darvish Makes Perfect Sense Now
When I first saw the MLB Trade Rumors predictions for Yu Darvish, my immediate reaction was to wonder what kind of mind-altering substances Tim Dierkes had consumed prior to writing that the Cubs would give the free agent $160 million over six seasons. Now, however, I'm thinking about hitting Dierkes up for a line on the kind of stuff that can give me the same prognosticatory prowess.
Not that Darvish to the Cubs is a sure thing, mind you, but the recent meeting between the two sides indicates that the high price tag isn't a barrier. We've already looked at the various factors that led the Cubs to alter the course they'd set for the offseason, but I think the topic bears revisiting at least once more here.
Part of that is admittedly self-indulgent, since the urgency of this medium often means glossing over or leaving out salient information. It's also a matter of recalibrating our points of view based on distance from the topic at hand, kind of like looking at the eye chart while the optometrist adjusts the phoropter and asks you whether No. 1 or No. 2 is clearer.
[Insert joke about how most of my work is No. 2]
Alex Cobb's cost
Viewed as the Cubs' top target since the moment the season ended, if not before, Cobb fell out of favor at the Winter Meetings due to his asking price. And while there have been conflicting reports on exactly what that price is, the fact that Cobb remains unsigned tells us that he's moved well past the four-year, $60 million estimate that had been making the rounds earlier.
What must also be noted is Cobb's status as a qualifying offer turn-downer, which means the Cubs would forfeit $500,000 in international pool money in addition to their second-highest draft pick. That pick is probably an even bigger factor than the IFA money, since there's some serious potential value in those upper rounds.
What it ultimately came down to is that, while Cobb is still far less expensive than Darvish in terms of both years and annual cost, he's a much worse value relative to talent. If you're going to pay big, you may as well go after the best on the market.
Trade market
Many lamentations have been sung about the plodding pace of free agency, some of which stemmed from the availability of so many trade options. Turned off by Cobb's price, the Cubs first sought refuge in a controllable starter from another team. Alas, the cost there was also deemed exorbitant, and that's in spite of Theo Epstein and Jed Hoyer publicly acknowledging the reality that they'd probably have to move a current position player at some point.
But preparing to do something and actually following through on it are two different things, and it's not as if a willingness to trade players away means that you're looking to trade everyone. And when what other teams are asking just doesn't make sense, you've got to walk away.
Every three years
So now we're back to why the Cubs are actually in on Darvish, a man whose projected contract seemed way too rich at first blush. Not in terms of the salary cap, mind you, the Cubs are fine there. I've been intentionally conservative in my estimates of how much they could spend and my initial figures were based on retaining Hector Rondon and his $6 million, but it looks like the Cubs actually have around $37 million left under the 2018 tax threshold.
For what it's worth, I think Kris Bryant and some of the other arbitration-eligible players could get more than what Cot's Baseball Contracts estimates. Still, adding in another $4 million or so from that allows for around $33 million in elbow room.
Darvish getting $25-27 million per season does not preclude the Cubs from adding more this winter or making a mid-season move. It also affords leeway for future arbitration raises over the next several seasons. But the willingness and ability to spend big on a starter don't always work in concert like this, which is why the Cubs have avoided it for the most part.
"We try to work hard at every way to find pitching," Epstein told The Athletic's Peter Gammons (subscription required/recommended – that link gives you 15% off) at the conclusion of the Winter Meetings. "It can be dangerous to go all in on the biggest names in the pitching free agent market every year. I'd say once every three years is probably the limit [emphasis mine]."
Every three years, you say? Let's see, Jon Lester was signed [scribbles out some quick math] three years ago this past Sunday, so that makes a little sense. And when you realize that Jose Quintana, Kyle Hendricks, and Tyler Chatwood are all under control though 2020, it figures that the Cubs will need to reload again three years from now.
That's not an indictment on the organization's development of in-house pitchers, though Epstein was quick to admit the obvious shortcomings in that area.
"But I will be the first to admit that since we've been here, we haven't done a good job signing and developing pitching, and that starts with me," Epstein said. "It's something we're trying to address in a number of ways, and we spend a lot of time sharing ideas and thoughts and concepts about how we get better."
A move for Darvish is less about what the Cubs don't have and more about what they can have, which is a top-of-the-rotation stud whose diverse pitch mix and historical consistency bode well for his long-term future. It could also mean moving an electric arm like Adbert Alzolay to the bullpen, at least for the time being, thereby giving him the ability to really leverage his limited repertoire.
And maybe, just maybe, it could mean using Mike Montgomery as a trade chip, though not as a sweetener to a Manny Machado deal. Or maybe Monty maintains his swing role, which would be particularly worthwhile if the Cubs look to flex into a six-man rotation at some point(s) this coming season and beyond. That's been an oft-discussed topic at Clark and Addison over the last year or more and could come into play as a means of protecting the five core members of the staff.
Wow, okay, that was way more than I intended to cover. In any case, it seems pretty clear that going after Darvish really does make a ton of sense for the Cubs. Now watch them turn back to Cobb and render this whole thing moot.