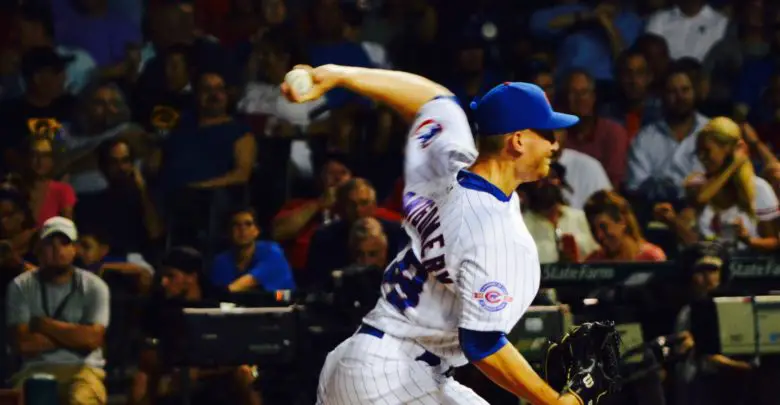 Rosenthal Proposes Manny Machado Trade Featuring Addison Russell…and Mike Montgomery…and a Prospect
If you thought four years of Addison Russell was way too much to give up for a year of Manny Machado, you're gonna haaaaaate what Ken Rosenthal has proposed. In his latest piece for The Athletic (subscription), the bow-tie-sporting baseball insider suggests the Cubs add Mike Montgomery and his four years of control, along with a prospect, to bring Machado to Chicago.
I mean, I can see how swinging a deal for Machado might make sense, even if Russell is at the center of it. But my theory is based on a few moving parts and would really only pay off if they all fell into place. No matter how unhappy he may be with his role, Montgomery has enough value on his own to anchor a pretty significant deal. Maybe not for Machado, of course, but those years of cheap control as a starter make Monty more than just a sweetener.
As if that's not enough, Rosenthal is suggesting the Cubs should add a prospect on top of that. Bruh. But here's the real problem with this deal from the Cubs' perspective, and Rosenthal mentions it immediately after proposing the deal:
The ever-creative Theo Epstein-Jed Hoyer management team would need to find additional pitching [emphasis mine], but otherwise, they would be covered.
I'm sorry, they'd need to find what? Additional pitching? Additional cost-controlled pitching, ideally.
That's already an issue for the Cubs, one that would only become worse by trading away a man who has worked well in both the bullpen and rotation. I don't care how much of a malcontent he might become (and, for the record, I don't think he will), the Cubs aren't going to jettison Montgomery just because he wants to start. And who's to say he doesn't still get that opportunity in Chicago?
Even with the Cubs pursuing a big-ticket addition to the rotation, they'll need a fallback in case Alex Cobb and Yu Darvish fall through. While that could mean turning to Jhoulys Chacin or Lance Lynn, among others, such a pursuit would add way more to the payroll than simply sliding Montgomery into the No. 5 spot. Then you have to factor in the additional $15 million that Machado is set to make as compared to Russell in 2018.
What I'm saying is that, in addition to failing the smell test, trading away both Russell and Montgomery for Machado makes no sense for the Cubs from either a personnel or payroll perspective. I'm willing to give Rosenthal the benefit of the doubt on this one because he was not doing a deep dive here. Rather, he was snorkeling in the shallows with potential packages for six different contenders.
A deal was unlikely enough with just Russell involved, but throwing Montgomery in there as well? Hard. Pass. But hey, at least the idea gave me something to write about this morning.
Ed. note: While this post obviously focused just on the proposal Rosenthal made, there's a possibility that it could actually work if the Orioles included a pitcher. As I've been discussing on Twitter following this post being published, righty Kevin Gausman could balance the books a bit. Not only does he have three years of control remaining, but his peripherals and a pair of big changes last season could signal a breakout.
Gausman's career 4.18 ERA and 4.08 FIP don't scream "ACE," neither does his 2.99 K/BB ratio. But after tweaking his release point and reintroducing his slider in late June last season, Gausman posted a 3.39 ERA and 3.78 FIP with 3.68 K/BB. Not huge improvements, though the fact that he seemingly made the changes on his own says a lot for his understanding of both his body and his craft. And we've all seen how getting out of Baltimore can improve a pitcher's production.