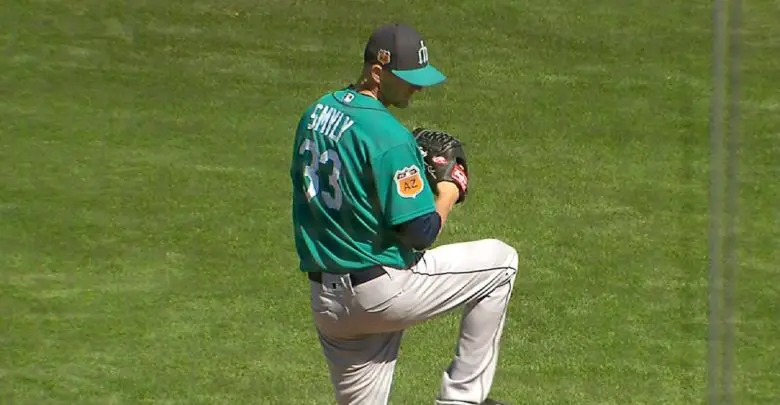 Cubs Sign LHP Drew Smyly to Two-Year Deal, Expect Him to Miss Most or All of 2018
Whoa, that came outta nowhere. Deals that involve players who will miss the entire season tend to do that, though. That's why there was pretty much zero heads-up on the Cubs agreeing to terms with former Rays lefty Drew Smyly, who is expected to miss at least most of 2018 after undergoing Tommy John surgery.
Ken Rosenthal reports that the deal is for $10 million guaranteed with over $7 million more in performance bonuses. No word on how much he'll get if he receives a Cy Young vote next season.
Smyly deal with #Cubs is two years, $10M plus the potential to earn more than $7M in performance bonuses, source tells The Athletic. Pitched with #Rays for Maddon and Hickey.

— Ken Rosenthal (@Ken_Rosenthal) December 13, 2017
The 28-year-old Smyly was selected by the Tigers with the 68th pick in the 2010 draft and was traded to Tampa in 2014, where he pitched for Joe Maddon and Jim Hickey. The southpaw was then traded to Seattle prior to the 2017 season, but opened the year on the DL and underwent Tommy John surgery this past summer. It's possible that Smyly could return for the back end of the 2018 season, though that's wishful thinking.
Far from a power pitcher, Smyly's fastball sits around 90 mph and is complemented by a curve, cutter, and change. Like Kyle Hendricks, Smyly has been able to locate the four-seam well enough to set up his other stuff. Regaining a feel for those pitches could be difficult, but at least we're not talking about a power pitcher who's got to learn a whole new strategy.
I don't blame you if this signing conjures thoughts of Scott Baker, the former Twins pitcher to whom the Cubs gave a $5.5 million deal to pitch 15 innings in 2013 after he had missed all of the previous season. Ah, the halcyon days of Dale Sveum.
This is obviously a different situation, if only for the fact that the Cubs have Smyly for an extra year. It's a fairly expensive insurance policy, but I think we can all agree that there's no such thing as too many pitchers. Smyly's got a lot of experience in the bullpen too, having made 63 relief appearances for the Tigers in 2013. You figure that's where he'll slot in if he's indeed able to make it back in 2018.
But you don't pay an injured pitcher up to $17 million to work out of the 'pen, so the Cubs are most likely hoping he can crack the rotation in 2019. How's that going to work if they add another starter this winter and have five guys committed for at least three seasons? That, my friends, is a bridge we'll have to cross when we get to it.
The only thing we can be sure of for now is that it's a good time to be a former Rays pitcher and/or to have undergone TJS.
***Update***
Jed Hoyer confirmed that this move was made solely with 2019 in mind, but that Smyly could work out of the 'pen this coming season if possible.
https://twitter.com/CarrieMuskat/status/940780469997752321