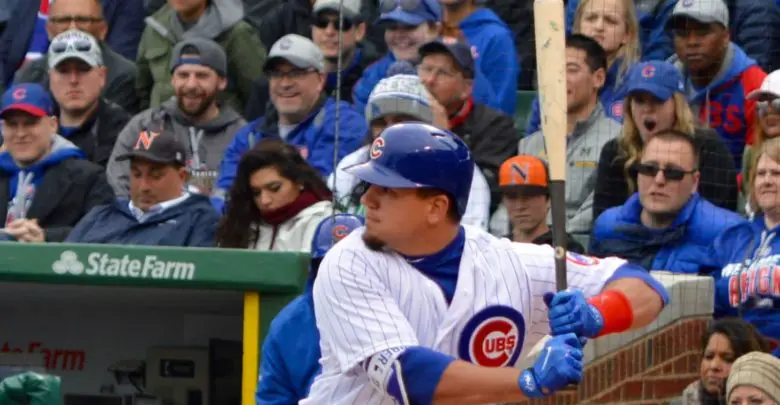 Cubs Rumor Roundup (12/5): Ohtani Meeting, Kintzler Interest, Schwarber Trade Proposal
We're finally starting to see a little movement in the offseason market, so it seemed like the right time to do a quick rumor roundup for the day that was. Which means like three more things will break as soon as this is published. The Cubs have been relatively quiet to this point, but that's likely to change here very soon. In fact, some of Tuesday's activity may precipitate moves on the North Side.
Cubs meet with Ohtani
Ken Rosenthal reported on Twitter that the Cubs had met with Shohei Ohtani in LA Tuesday, which no one really knew about otherwise. That's been par for the course in this whole saga, but the Cubs seem to be operating even more steathily than others.
I wrote in an earlier piece that it might be best to go last when it comes to these in-person meetings, but it appears that honor is going to the Padres. Seen by some as the favorites to land the two-way superstar, San Diego may have him all to themselves Wednesday, if indeed they're meeting with him then.
The Giants, Dodgers and Angels met with Ohtani Monday, with the Rangers and Mariners joining the Cubs as Tuesday presenters. Well, they didn't join join the Cubs, but all three teams did give their respective pitches. We don't know what was included in any of them, but something keeps sticking out to me about the Cubs here.
If you haven't already, check that link to the Rosenthal tweet and tell me if you notice anything about it. What did you see? While attribution for the reports of all the other meetings was given to various reporters, the credit for confirmation of the Cubs' meeting was listed only as "sources." I'm not sure there's any greater significance to that, other than it reinforces just how under-the-radar Theo Epstein and Jed Hoyer have been.
But that's really been the case for everyone other than the Giants, who we know brought most of their front office, manager Bruce Bochy, and Buster Posey to their powwow. It's been pretty much radio silence across the board from the other teams.
We have no further confirmation on what the next steps are, but it figures that this round of meetings will lead to another cut prior to further meetings and/or site visits. And since the last week or so has served as a hometown date for both the Dodgers and Angels, it would figure that Ohtani might like to check out Chicago for himself. Provided, that is, he feels good enough about the Cubs' pitch to take that step.
This whole thing is steeped in intrigue and I'm really digging the whole cloak-and-dagger feel to all of it.
Cubs interested in Kintzler
Jon Paul Morosi tweeted that the Cubs "have shown interest in free agent reliever Brandon Kintzler, but talks are not at an advanced stage." After missing out on Mike Minor, who got a chance to start with the Rangers for more money than what Chicago wanted to spend, we could see the Cubs showing a little more urgency in what is a very deep market for relievers.
Kintzler has a great story that starts in 2006 when he was released by the Padres organization as an A-ball pitcher in need of shoulder surgery. Jobs scooping ice cream at Cold Stone, chauffeuring celebs in an Escalade, selling season tickets for the Winnipeg Goldeyes, and giving pitching lessons to Canadian youngsters finally led to a shot with the Brewers' AA squad in 2009.
The longshot righty made his MLB debut the following season, but battled though a stress fracture in his pitching arm in 2011 and being DFA'd in 2012 before finally sticking for good at the big league level in 2013. A partially torn left patella tendon limited his 2015 season, after which he signed with the Twins and got a chance to close.
Kintzler finished 2017 with the Nats following a trade, totaling a career-high 71.1 innings over 72 innings. An extreme sinker-baller, Kintzler used the two-seamer — which he developed following shoulder surgery with the help of Greg Maddux — for an astounding 74 percent of his pitches this past season. And that's actually down significantly from 81 percent in 2016.
The 33-year-old uses that signature pitch to avoid hard contact and keep the ball on the ground, both of which are necessary for a guy who doesn't miss bats. Seriously, he has no swing-and-miss in his game. Only one qualified MLB reliever had a swinging strike percentage lower than 7.0 in 2017, and that would be Kintzler with his 5.7 mark. That's the lowest of his career and an overall downward trend offers no reason to believe it'll improve significantly in the future.
As scary as the whole pitch-to-contact thing can be, Kintzler has only given up 0.72 HR/9 over the past two seasons and only six qualified relievers have recorded fewer than Kintzler's 1.72 BB/9 in that same time. We know that the Cubs are looking for strike-throwers, so he could fit the pedigree. He's also unlikely to command more than two years, which mitigates both commitment and risk.
All things considered, I could see the Cubs going for this as a bullpen depth move. Though Kintzler's got 9th inning experience, he feels more like a replacement for Tsuyoshi Wada, in that he's a reverse-split veteran righty who knows the ropes and can bring a little experience to the table.
Schwarber trade proposal
The onslaught of trade proposals was inevitable, and we've got one of our first with John Harper of the New York Daily News calling for Brian Cashman and the Yankees to acquire Kyle Schwarber to serve as DH. While he kind of stumbles through Schwarber's statistical shortcomings en route to his conclusion, Harper brings it together and presents a decent case toward the end.
Given the Cubs' need for pitching, Harper posits, perhaps they'd be willing to swap Schwarber for reliever Dellin Betances and starting prospect Chance Adams. It's actually not awful, but it's not really the kind of deal that seems to make a whole lot of sense for the Cubs.
Betances is projected to earn $4.4 million in his second time through arbitration, which is pretty good for a guy who's tallied 15+ K/9 over the past two seasons. But he also notched 6.64 BB/9 over nearly 60 innings in 2017, which is pretty not good. Like, very bad. As in, the highest in MLB among pitchers with at least 50 innings.
Strike. Throwers.
Adams is solid, just not really the kind of can't-miss prospect who really helps the Cubs with their much-publicized lack of pitching. Is he good enough to slot in at the top of their current crop of minor league pitchers? Maybe. But maybe isn't really the type of return the Cubs would like to get if they're going to part with Schwarber.