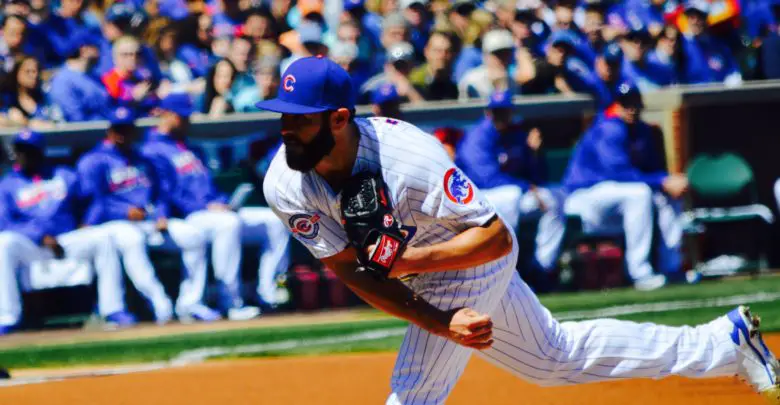 Arrieta Has 'a Lot of Nuts in His Tree,' One Destination Makes Too Much Sense
Leave it to Scott Boras to say something a little wacky while promoting a client, particularly one who looks to be the most coveted starting pitcher in a top-heavy market.
"He's a big squirrel," Boras said of Jake Arrieta. "He has a lot of nuts in his tree."
While that's different from saying that Arrieta has big balls, the super agent is certainly touting the pitcher's brass pair when shopping around for a big deal. Just so we're clear, I'm talking about mettle and not metal. You know, because you might say that a dude who comes up big in big situations has brass ba…anyway, I'm sure you get it.
With Arrieta free to choose his destination for the first time in career, there are a few spots — the nuts of which Boras spoke — that make a lot of sense. St. Louis has long been a rumored suitor and the Cards have the money and desire to make it happen. The Yankees are a given in any conversation about top free agents and they could be looking for a veteran starter. Then you have the Dodgers, who have all kinds of motivation after losing in the World Series.
The other thing LA has is a potential vacancy in the rotation and a sour taste in their collective mouth after fighting back the gorge of Yu Darvish's last two starts. As Patrick Mooney pointed out (link above), SoCal also has the appeal of sunshine and glamour. For a guy used to how Austin keeps it, maybe Hollyweird is the perfect landing spot.
New York has plenty of appeal too, not to mention the pervasive smell of stale urine Arrieta is no doubt used to from his days at Wrigley. Oh, c'mon, I'm only kidding. Wrigley doesn't smell nearly as bad as the Big Apple. The Yankees have tradition for days and a young team that resembles the 2015 Cubs in terms of breaking out a little ahead of schedule.
And the Cardinals, why, they just do it the right damn way in front of the best damn fans in baseball. And St. Louis has some of Chicago's Midwestern wholesomeness with a big undercurrent of that "I'll help you pack" mentality Arrieta can identify with.
A case could be made for any of them, really, though I think the key will be the cases against two of them. Would a guy who became one of the best pitchers in the league by just being himself really be too keen on heading to a place that seems to actively stifle originality? Dexter Fowler is one of the few to make it through the Cardinals' indoctrination process with his personality intact, and look how he was treated.
I mean, are the fine folks of Missourah really going to embrace a guy who embraces Pilate(s)? Okay, that was too esoteric and obscure to even be considered a pun. Now I feel bad, as well I should. Setting shame aside, I'll try to carry on with the rest of this.
My point is that I just don't see Arrieta in St. Louis. They could certainly be competitive and they're probably willing to spend the money, but the Cards lack that certain je ne sais quoi that I believe the pitcher is looking for. The coastal cities, man, that's where it's at.
Money's a big factor, though I'd be willing to be it's more about what that money represents than it is a naked pursuit of material wealth. If you take Arrieta at his word, and I've got no reason not to, his desire for a big contract is more a matter of stature and respect than anything else. There's also the matter of being on the big stage.
Whether it's Broadway or Hollywood, Arrieta loves being out there with the spotlight shining down. We've seen that time and again from his big performances in the biggest games, not to mention his no-no in Chavez Ravine a couple seasons ago. If choosing between LA and New York, personal history could well factor into the decision.
There's another factor as well, that of the home parks of Arrieta's prospective employers. While the player himself may be supremely confident in his ability to pitch well anywhere, his agent may steer him toward the softer landing. Consider that Yankee Stadium had the second-highest home run factor in MLB last season, meaning balls leave the yard there more than in almost every other park, relatively speaking.
And lest you be quick to Judge, you should realize that that monolithic structure in the Bronx rated highest in HR factor in 2016, fourth in 2015, and first in 2014. So, you know, not much of a pitcher's haven and maybe not the best spot for a guy who showed a tendency to give up more fly balls and who was mashed by lefties this past season.
Dodger Stadium, on the other hand, boasts a much lower HR park factor and would be more amenable to a big-time pitcher. Unless we're talking about the other big free agent pitcher on the market, which might actually play into the Dodgers' desire to pursue Arrieta with more gusto.
Yu Darvish didn't exactly come up big in the World Series and may have lost his luster in La-La Land. While you and I both know that small samples are hardly worthy of providing the foundation for a new deal, you can imagine how even an executive as enlightened as Andrew Friedman might prefer a proven playoff pitcher.
Arrieta to LA just makes too much sense, which is why it's going to happen. And by making such a definitive statement, I've essentially guaranteed that it won't happen.