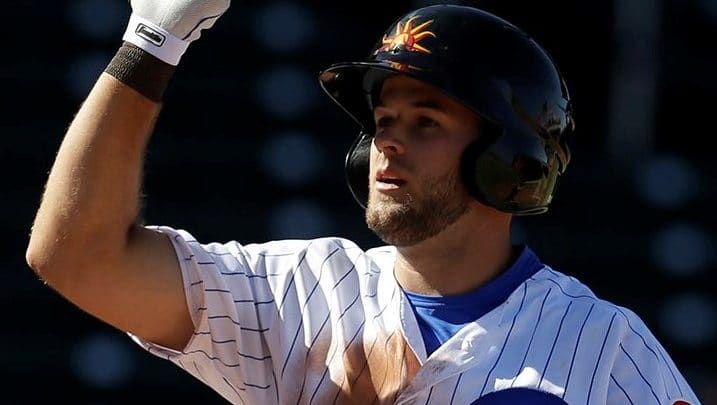 Revisiting Upcoming Rule 5 Draft, 40-Man Roster Changes
The Cubs have to turn in their 40-man roster by November 20, prior to the Rule 5 Draft. I had initially looked at which prospects they'd protect back in the middle of the summer, but a lot has changed in the four months since. Some of those locks are not so certain anymore, and I think the Cubs might even gamble on leaving a few touted prospects off the list.
I think there are four prospects that definitely will be added to the 40-man: Oscar de la Cruz, Adbert Alzolay, David Bote, and Pedro Araujo. Reliever Matt Carasiti could be in the discussion, as he has had success at AAA in the Rockies' system and again at Iowa. Then again, Carasiti has yet to sign a contract for next year and could be an MiLB free agent if he chooses.
Pitchers Trevor Clifton and and Jake Stinnett are borderline candidates to be added, along with infielders Chesny Young and Jason Vosler and outfielder Charcer Burks.
2017 was such a strange year for Clifton. He looked like a certain 40-man candidate at the end of May and again at the break, when he was a Southern League All-Star. Things fell apart for him in the second half, though, when he had an ERA of over 9.00 in just nine starts.
Stinnett did not see any action until late in the summer and that was in a relief role. Another team could take a huge gamble and select him, but the Cubs could/should end up protecting both.
Young and Vosler both had disparate years. While Vosler hit a system-leading 21 home runs, he only managed to hit .211 in the second half (albeit with a .313 OBP). Young, meanwhile, had a roller coaster year that included the following batting averages by month: .224, .367, .240, .300, .188. I don't know what to make of those, as they seem a bit unreal.
Burks has plenty of potential and could get the 40-man call. He's only 22, an outstanding defender, and was one of the Cubs best hitters in the first half of 2017 with a .313 average and a .406 OBP. He slipped in the second half but still wound up with double-digit homers for the first time in his career. He got off to a slow start in the Arizona Fall League but seems to be coming on strong after just playing in only seven games.
The Cubs have over 40 players eligible for Rule 5 selection this year and many will go unselected in the MLB portion of the draft. The trick will be to protect prospects they value. With eight spots soon to be available, the Cubs could protect a few now and leave some spots open to acquire a few players this offseason. Given all the movement a what we know of the front office's desire to improve the team, it'll be very interesting to see how they choose to allocate those roster spots.