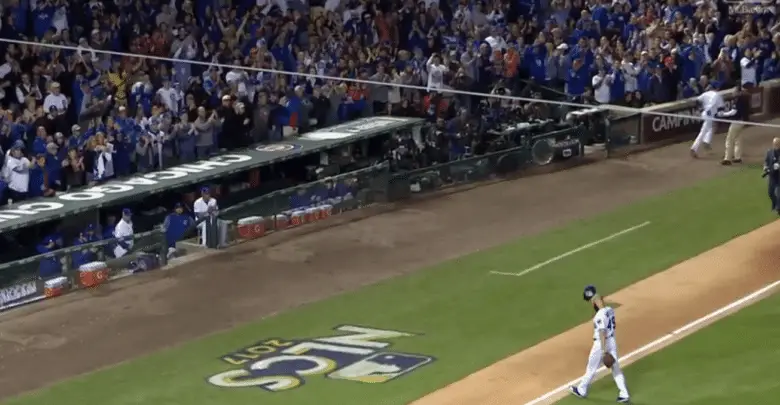 The Rundown: Home Run Happy, Insanely Awful Call, Jake's Last Stand, Rizzo's Funk
For the fourth time in the series, the Cubs scored first on the strength of a home run. This time it was a 491-foot monster from Willson Contreras that left the yard at 111 mph and hit his face on the big video board in left. Two batters later, Javy Baez gave the Cubs the first run they'd scored in the series following a homer. Fitting that it came on a homer.
Later in the game, Baez provided just enough cushion with his second bomb of the game. So that made three solo homers, which accounted for all the Cubs' scoring on the evening. They've now scored a whole seven runs in the series, all of which have come on home runs. And since Albert Almora Jr's two-run shot in Game 1, all of the home runs have been of the solo variety.
Sure would be nice to change that trend a little bit tonight. Whether it does or not, anyone know the record for most consecutive games in which a team's only scoring came from home runs?
Worst call ever?
Okay, maybe it wasn't the worst ever, but my God, was it ever terrible.
Curtis Granderson swung and missed at strike three, but he and Dodgers manager Dave Roberts argued that he had tipped the ball. It was obvious from the replays that that wasn't the case, but home plate umpire Jim Wolf had enough doubt in the call that he got together with his fellow umpires to discuss. Somehow, despite have zero evidence to support the call, they determined that the ball had indeed been tipped.
This was just an insanely terrible miscarriage of the rules and was wrong on every level. They were making a judgment call after the fact on something none of them had actually seen. A very heated Joe Maddon came flying out of the dugout, imploring them to watch the video of the play — which they could not — and eventually earning himself an early trip to the showers.
Maddon said after the game that the explanation he was given was not good and that the process was wrong. He was told that the call was "based on two sounds" in the midst of 40,000 fans and his main gripe was that none of the umpires actually saw a foul ball. It's the process that he was so upset about, and rightfully so.
Foul tips aren't reviewable, which is why the looping slo-mo footage on the massive high-def boards and TV screens at home served only to incite fans and mock the terrible decision-making from the men in black. Luckily for the Cubs, and the umps, Granderson ended up striking out for the second time in the same at-bat and no further harm was done.
The outcome was also fortuitous for everyone watching, as things would have gotten really ugly had Granderson gone yard or something.
"I might have come running out of the clubhouse in my jockstrap," Maddon said in his postgame presser.
To his credit, Wolf admitted after seeing the replay that he was "dead wrong," but there's no reason he should have been asked the question at all.
Arrieta the Stopper
Jake Arrieta, man, what a start he put together. He should have finished the 7th inning, but what should have been a called third strike to Chris Taylor was ruled ball three. Two pitches later, Taylor trotted to first with a walk and Arrieta strode like Lester (as in Lester Strode and not Jon Lester, who has also strode from the mound, so I guess both are apropos) to the dugout for perhaps the last time.
"Hopefully, it's not a goodbye," Arrieta said after the game. "I still intend on having another start in this ballpark. But, you know, if that's where it ends, I did my best and I left it all out there."
Sure, he'll be in the dugout again for at least one more game, but this might have been it for Arrieta in Chicago. It was a fantastic effort against a great lineup with his own team up against the ropes. He allowed only one run on three hits and five walks, striking out nine with sick movement on all of his pitches.
The breaking stuff was particularly nasty and the hump on his curveball was anything but dry. If that was really his last outing as a Cub, he made it a memorable one.
Davis goes long
After logging his longest outing as a Cub in Game 5 of the NLDS, Wade Davis was called upon for another marathon save. He ended up exceeding that previous high of 44 pitches by four, ruling him out for Game 5 of this series. Most of those offerings, 34 to be exact, came in an 8th inning in which he allowed a leadoff homer to Justin Turner before walking Yasiel Puig and later dealing with that Granderson mess.
Davis's control was incredibly spotty and he appeared to be in danger of pitching himself out of the opportunity to take the bump in next inning at all, but he rallied to strike out Chase Utley. The closer even got an at-bat in the top of the 9th, acquitting himself pretty well by fouling several pitches off before eventually going down on strikes.
On his 14th pitch of the 9th inning, Davis got Cody Bellinger to ground into a double play to end the game and give the Cubs their first win of the series. Gutty effort, that, and quite a nice complement to Arrieta's start.
Rizzo in a rut
It's painful to watch Anthony Rizzo at the plate right now. Literally. He's swinging through fat fastballs and is so jumpy that he actually struck out on a pitch that ended up hitting him. There was some mild controversy surrounding that result, much like with the Granderson at-bat, since it appeared as though Rizzo might have fouled the ball off.
I, for one, thought he missed and the camera angle showing the ball hitting his thigh made it look as though he'd fouled it. Either way, it was a very bad swing at a pitch that was never even close to the zone and I'd have been inclined to ring him up on sheer principle. After going 0-for-3 with three strikeouts, Rizzo is now 1-for-21 with 11 strikeouts since his infamous "Respect me!" single.
Not that the hit or his resultant celebration is even ancillary causation for the funk, just that the hit provides a convenient line of demarcation for his performance. Through those first three DS games, the first baseman was 4-for-12 with five RBI and only three strikeouts.
Rizzo is no stranger to these streaks and it's not uncommon to see him go through droughts in which his plate approach and swing make you wonder what the hell's wrong with him. When he pulls out of them as he inevitably does, he usually goes on a white-hot tear. The Cubs have a very improbable task ahead of them in this series and they'll need Rizzo to heat up if they have any hopes of heading back to LA.