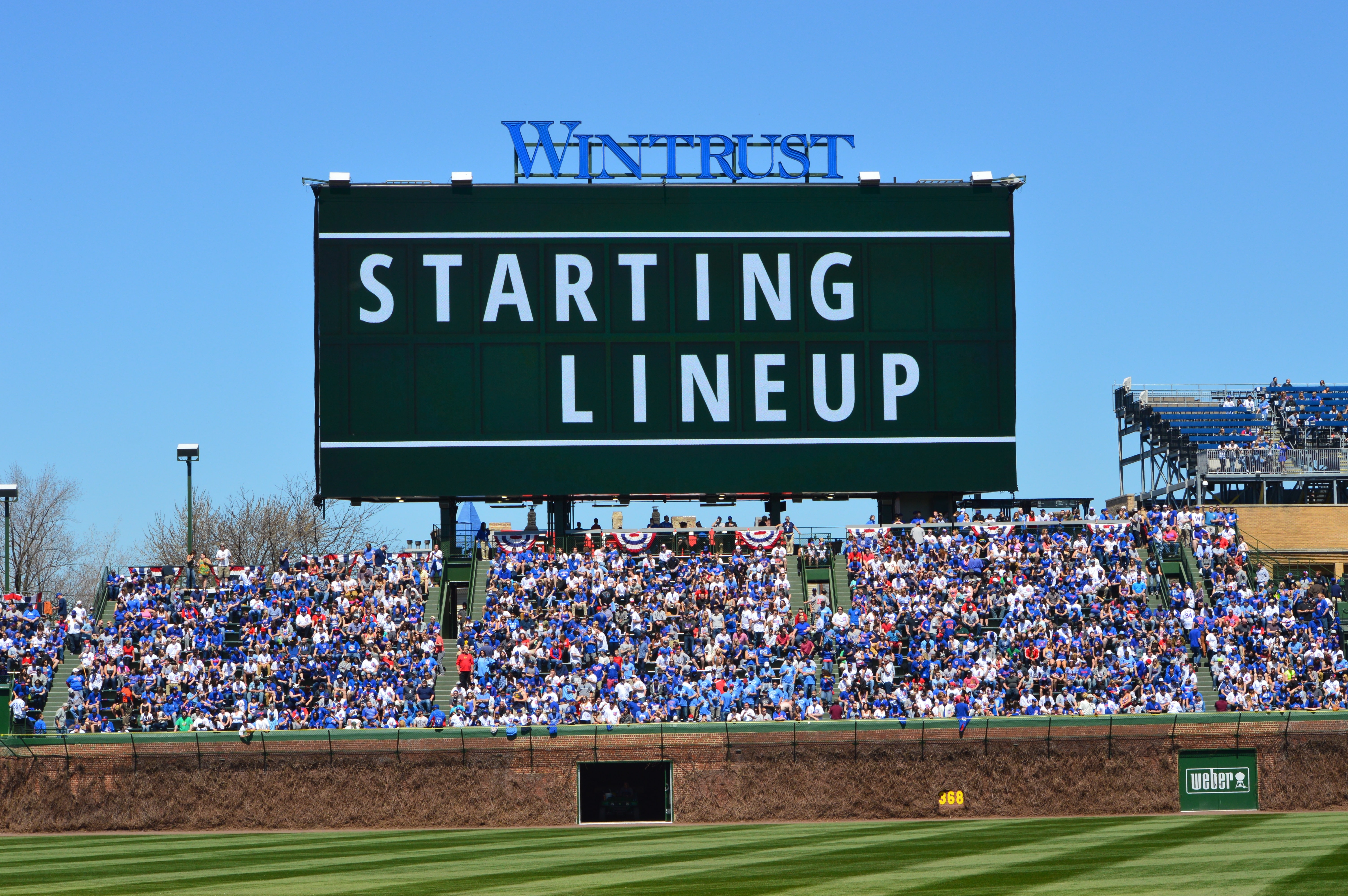 Chicago Cubs Lineup: Jay Leads Off, Almora in Center, Zobrist Sits in Series Finale
After a strange couple days in Chicago, the Cubs head back to Washington to face the Nats in a do-or-die Game 5 to determine who gets to make a cross-country flight to LA. The Cubs' offense has been stagnant in the previous four games, even in wins, so Joe Maddon is looking to spark some things tonight.
And in what comes as a shock, Ben Zobrist will not be part of that spark. Jon Jay leads off in left, followed by Kris Bryant, Anthony Rizzo, and Willson Contreras. Lefty-killing Albert Almora Jr. is in center, Addison Russell, is at short, and Jason Heyward completes the outfield.
Javy Baez will be playing second and batting eighth, solidifying the defense and giving a chance for some El Mago fireworks. I wouldn't be surprised at all to see things shift once the Nats go with a righty pitcher, but I like how things are starting out.
Kyle Hendricks has been excellent since coming back from finger tendinitis and his Game 1 effort in Washington was no exception. Hendricks went toe-to-toe with Stephen Strasburg, eventually leading the Cubs to a 3-0 win. He may not be quite as dominant as he was last week, but a repeat performance sure would be nice.
The real key to the game will be limiting the Nationals' power and keeping the ball in the yard. Of the 12 runs Washington has scored in four games, nine have come from three home runs in their two wins. Whew, that's a lot of numbers. Hendricks needs to do what he's know for, which is keeping the ball down and inducing soft contact.
After playing coy once more, it was announced at around 1:30 pm CT that Gio Gonzalez would get the start for the Nats. The Cubs got to Gonzalez early the last time they faced him, scoring three runs on a pair of homers before entropy and the 8th Inning of Death took over. I'd expect them to be able to barrel the lefty up once again tonight, though he's going to be on a very short leash in this win-or-go-home game.
Tanner Roark held the Cubs down in his start against them earlier this season, and he might make sense in relief tonight based on the results Stephen Strasburg got with the changeup. While certainly not as devastating as Strasburg's version, Roark's change has looked better since he modified his grip earlier this season. It generates a nearly 20 percent swinging-strike rate despite only finding the zone only about 36 percent of the time.
I don't want to say it's imperative that the Cubs jump out early, but Max Scherzer lurking in the 'pen makes early scoring important. The bottom line is that their hitters need to get better results at the plate regardless of the pitcher. The heart of the order absolutely must step up and do some damage after a night in which Bryant and Rizzo combined to go 0-for-7 with six strikeouts. I'd love to see them getting aggressive on the bases as well.
Good luck waiting for first pitch at 7pm CT on TBS and I hope you've got your radios synced up to the TV broadcast.
Here is tonight's #Cubs starting lineup.

NLDS Game 5 preview: https://t.co/laC2P5VspB #FlyTheW pic.twitter.com/xgAyxcoe3A

— Chicago Cubs (@Cubs) October 12, 2017