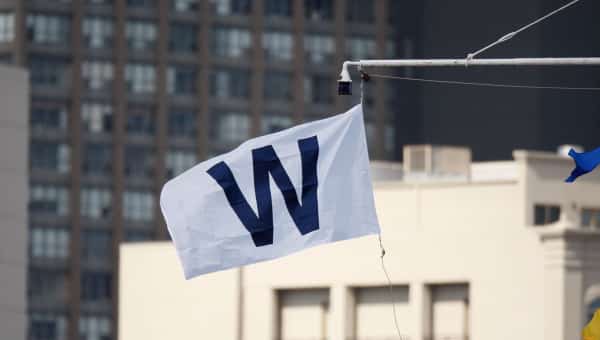 CI Recap (NLDS Game 1) – Cubs 3, Nationals 0: The Professor Teaches Nats a Lesson
Both starting pitchers dominated Game 1 of the NLDS at Nationals Park. As it turned out, Chicago's ace was able to out-duel his counterpart for a crucial road victory. (Box Score)
Why The Cubs Won
Kyle Hendricks was simply outstanding against a loaded Nationals lineup on Friday. He didn't allow a hit after the 2nd inning and was able to deftly pitch around the few baserunners the Nats were able to muster. The Cubs also took advantage of a costly Washington error to take the lead against the very stingy Stephen Strasburg.
Key Moments
Javy Baez hit a ground ball that third baseman Anthony Rendon dropped for an error to open the 6th inning. Hendricks bunted Baez to second and Ben Zobrist flew to center for the second out. Kris Bryant singled to right-center for the Cubs' first hit of the game to score Baez. Bryant advanced to second on the throw and scored when Anthony Rizzo singled to right to make it 2-0.
Jon Jay punched a double to left to open the 8th and advanced to third on a Bryant groundout with two down. Rizzo slashed a double down the the left field line to score Jay with a key insurance run.
Kind of an odd play happened in the bottom of the 9th inning. Closer Wade Davis got Ryan Zimmerman to chase strike three in the dirt, but Willson Contreras' throw to finish the strikeout hit Zimmerman square in the back. Home plate umpire Corey Blaser called the runner out for being inside the baseline and it looked like the correct call on replay. The next hitter, Jason Werth, fouled out to Contreras to end the game.
Stats That Matter
What else is there to say about Kyle Hendricks: 7 IP, 0 R, 2 H, 6 K, and 3 BB. He kept the Cubs in the game while Strasburg dazzled early. Joe Maddon showed confidence in the Professor, letting him pitch the 7th, and Hendricks rewarded that confidence by finishing strong.
Kris Bryant is more than just big hits in clutch spots (suck it, clutch narrative). His baserunning on his game-winning hit set up Rizzo to knock home a key insurance run. He also made a slick barehanded play to rob Jason Werth of a hit in the 7th.
Anthony Rizzo had two RBI hits with two outs Friday night. That is the kind of thing that is huge in low-scoring playoff baseball.
Bottom Line
The Cubs did what they needed to do, they won one of the games in Washington. Now is the chance to get greedy and win Game 2 as well. Hendricks once again proved he can be relied on for big games and that he can go deep in said big games.
On Deck
The Northsiders look to take a 2-0 lead Saturday afternoon at 4:30 CT. Jon Lester duels fellow lefty Gio Gonzalez in a game that airs on TBS.