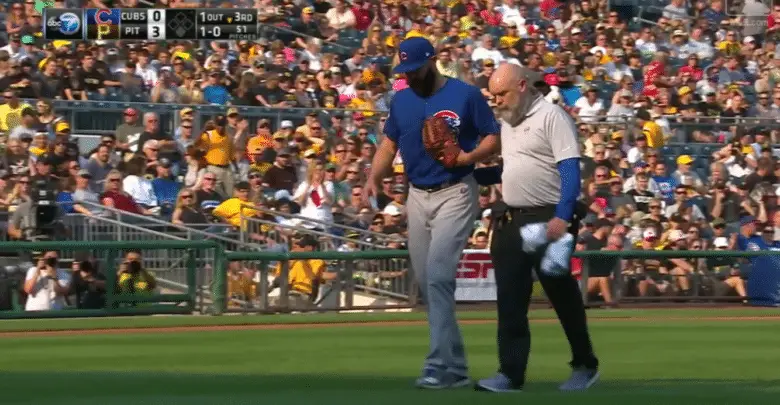 The Rundown: Arrieta Skips Sim Game, Scherzer Reportedly Targeting Game 3
It was a case of "no news is who-knows news" when we learned that Jake Arrieta would not be pitching in a scheduled sim game during the Cubs' full-squad workout Tuesday at Wrigley. Some of that was no doubt due to the light drizzle that dampened Chicago into the early afternoon, but it sounded as though the Cubs were sort of looking for an excuse to hold him back anyway.
That's not something to be concerned about, or so Joe Maddon wants us to believe.
"It's just an indication that we don't want to push him right now," Maddon told the media. "We thought we could control it more in a sidepiece as opposed to a sim game, which we didn't think was that impactful."
"A sim game's not a real game, either, There's no way to replicate a real game other than a real game.
So that makes sense, particularly in light of the weather conditions out there. But have you ever been in a situation where someone is trying to cover things up and they just keep on rambling to the point where they start to sound suspicious? That's kind of how Maddon was.
"A sim game's not a real game, either," Maddon justified. "There's no way to replicate a real game other than a real game. So we just thought a more controlled environment meaning a bullpen as opposed to a simulated game.
"The simulated game, a lot of it is more for the hitter than the guy pitching, quite frankly. Like in spring training, it's pitcher's practice where pitchers need to throw to hitters and hitters don't need to face pitchers."
He reiterated that it's more important this time of year for hitters to face pitchers, which I buy, and he confirmed that Arrieta had not reaggravated the hammy and would be ready for the NLDS, which I want to buy. All things considered, it does make sense for the Cubs to continue to take it easy with Arrieta to ensure that he's able to go.
When exactly he'll be able to go, though, is very much up in the air. He and Quintana were already going to be the starters for Games 3 and 4 in Chicago, with Arrieta likely being slotted in for the first of those. Q didn't pitch Tuesday either, but he hasn't been dealing with an injury and has been able to maintain his standard routine this whole time.
If the Cubs really are confident that Arrieta's healthy enough to take the bump, he'll probably end up with that Monday start. While the playoff roster will be announced Wednesday, they may choose to hold off naming the back half of the rotation until later. I'm on the record as saying Quintana should get that start, but it's not really my call to make.
Scherzer reportedly targeting Game 3
Like the Cubs, the Nats have a top starter dealing with a tweaked right hammy and aren't revealing their plans for the rotation. Like the Cubs, the Nats had a Tuesday workout that may have offered a clue as to what they're planning.
The Washington Post's Chelsea Janes reported that Max Scherzer played a little catch on flat ground, which was a good sign in terms of his health. The bigger sign was Stephen Strasburg throwing a bullpen session, something he typically does two or three days prior to a start. Janes considered Friday only two days from Tuesday, but I count it as three since a Friday evening start is more than 72 hours from said bullpen workout.
That would indicate that Strasburg is taking the bump for Game 1, with Scherzer pushed back to at least Saturday. Manager Dusty Baker said his ace is supposed to throw a 'pen Wednesday, though he qualified that with "hopefully." And Scherzer himself cast a little doubt on his ability to go.
As Janes reported, Scherzer admitted that he feels some discomfort when he really cuts it loose.
"That's where I said this is confusing because it only shows itself when I'm actually throwing a baseball near 100 percent," Scherzer said. "That's where we're trying to do everything we can to treat it and strengthen it and do everything we can to make sure when I do get off a mound and when I'm pitching, that this is going to hold."
The perennial Cy Young candidate stated that he was absolutely going to pitch in the NLDS, then he repeated the claim. A competitor of the highest order, you know Scherzer wants to be out there at least by Game 2, which would enable him to pitch again on short rest in a potential Game 5 back in Washington. But is it really a good idea to put that kind of stress on a balky hammy?
The likely course of action at this point is for the Nats to exercise discretion and bump Scherzer to Game 3. FanRag's Jon Heyman reported as much, citing sources claiming that Scherzer is indeed targeting Monday at Wrigley for his postseason debut (the same was said of Arrieta, though that was prior to his vacated sim start). Better to limit him to one start than to push too early and lose him for the rest of the playoffs.
Not that Johnnie B. Baker Jr. would ever do anything to jeopardize an ace pitcher. Sorry, that was was sitting on a tee.
More news and notes
Despite seeing their starter, Luis Severino, forced from the game after allowing three runs with only one out recorded in the 1st inning, the Yankees came back to win the AL Wild Card game. They'll move on to face the Indians in a series that begins Thursday.
Josh Donaldson is said to be a Cardinals target, which is bad news for the rest of the NL Central. He's still under contract, but only through 2018.
Whether in the Donaldson trade or otherwise, the Cards might look to shop Randal Grichuk.