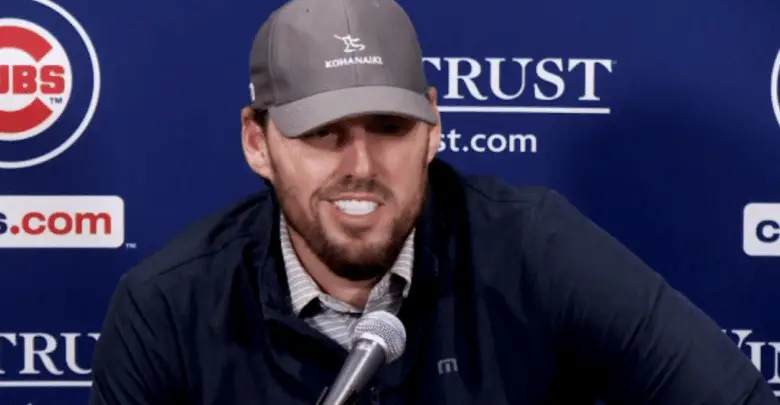 The Rundown: Lackey Relieves in Playoff Preview, Scherzer Says He's Fine
Sunday's game had another spring training-y feel to it as starters were removed early and players shifted positions all over the field like Andrew Romine, but there was perhaps some significance to one of the moves. Mike Montgomery went only three innings filling in for Jake Arrieta, who will throw a simulated game alongside Jose Quintana on Wednesday. And the first reliever into the game was none other than the Barber of Wrigleyville himself.
With his jewelry already secured, John Lackey looks willing to take a haircut in terms of his usage moving forward. Unless it was a way for Joe Maddon to give the veteran one more appearance — unlike Matt Cain and Glenn Perkins, there were no evident signs of that being the case — this was about Lackey getting familiar with coming out of the pen for the first time since July of 2004.
The big righty gave up a pair of runs on two hits in an inning of work against the heart of the Reds' order, though it's hard to make much of the appearance. One one hand, he came out sharp with a strikeout of Zack Cozart and finished by stranding a runner in scoring position with one out. On the other, he gave up back-to-back doubles and got behind three of the five batters he faced.
It's hard to knock anyone for giving up a hit to Joey Votto, who's an MVP candidate yet again this season. And I'm guessing Lackey's adrenal glands weren't necessarily on high alert in this one, so it's not as if he was going out there with anything extra. All in all, the appearance did little other than tell us the starter is willing to work in relief.
"Not a chance," Lackey said after the game, but more as a humorous (for him) preemptive strike on speaking about his playoff status. Surely a competitor like him will want to be out there in some form or fashion.
Maddon confirmed as much after the game, saying that Lackey coming out of the pen is "an option" and that the pitcher is "amenable" to such a role. He could also serve as a starter should things not go well for Arrieta Wednesday, which is when we'll find out how the Cubs plan to set up the rotation. It's basically a lock that Kyle Hendricks and Jon Lester will take the first two games in Washington, with the sim game providing insight into Arrieta's readiness.
The decisions will be a group effort, with the coaching staff and front office all putting their heads together to determine the best course of action. I've already shared this a couple times, but I'd start Hendricks in Game 1 and then go with Lester. And while I've been saying that I'd probably bump Arrieta back to Game 4, I'm guessing he'll be the pick for the opener back in Chicago (pending health). Quintana lacks the playoff pedigree and will have more opportunities to pitch in future postseasons.
That isn't to say that the Cubs would put legacy over competitiveness or that they don't think Q will get plenty more chances this postseason, just that various factors will contribute to the decision. And the decision to carry Lackey on the roster might impact the rest of the staff and how many arms the Cubs choose to carry. With a week or more of rest for most of their pitchers and two relievers capable of working starter's innings, it's possible they could go with only 11 on the staff.
It isn't as though the Cubs need to worry about position-player flexibility, but going with a 14/11 split is really the only way they'd be able to squeeze a guy like Leonys Martin onto the roster. That seems like a bit of a stretch, so I'm thinking we still see a 13/12 split.
Take it to the Max
There was quite a disturbance in the Force when Washington ace Max Scherzer left Saturday's contest in the 4th inning with a hamstring issue. Chelsea Janes of the Washington Post wrote that the pitcher and team are referring to it as a "tweak" and she reported that Scherzer was able to play his normal game of post-start catch with no problems.
"[The MRI] showed exactly what we thought. Nothing major. More of a tool to help know we need to treat it," Scherzer said. "… The good news thing about this is, I can walk and run around on this. It's not a major strain or anything, where it's debilitating. So I'm pretty upbeat and positive about going forward here."
Dusty Baker had not committed to a Game 1 starter prior to all this, so Scherzer certainly wasn't going to do so just a day after his early exit. Still, everything is pointing to this being a very minor issue. Scherzer said that he would not have come out had it been a playoff game, a claim that's easier made than backed up, and sounded confident that the doctors would concur with his assessment of his readiness.
The Cubs are pretty familiar with hamstring issues this season, including one to an integral starting pitcher, which no doubt led to cautious optimism regarding that the Nats might be underselling the severity of Scherzer's tweak. Most everyone will tell you that they never want to see anyone injured, but give them a little truth serum and they'll tell you they'd love to see the perennial Cy Young candidate sidelined. I know I'd be fine with the Cubs not having to face him.
Scherzer's opponent doesn't have that luxury and must plan as though he's going to be perfectly healthy from the outset. Even knowing how finicky hamstrings can be and hearing how Scherzer spoke of still being able to get two starts even if he pitched Game 2, I'd be willing to bet he's out there Friday.
More news and notes
Start times for the first two games of the Cubs/Nats series have been announced. Game 1 starts at 6:31 p.m. CT and Game 2 goes off at 4:38 p.m. CT, with both airing on TBS. The odd times are likely due to TV stuff and things.
With the regular season having reached its conclusion, the Cubs finished with a 92-70 record that was good for seventh in MLB. That means they'll have the 24th pick in the next draft, a position that will remain the same in subsequent rounds. I think the new market inefficiency the front office will try to exploit is finishing with as bad a record as possible while still winning the division. They managed to do a great job of that this season, finishing behind every other division winner and one Wild Card team. And they even dropped three games to the Yankees, who still managed to finish a game behind the Cubs overall.
Shohei Otani continues to be one of the best stories in baseball and Dylan Hernandez of the LA Times has one of the best stories I've read on the Japanese phenom. Not only does he throw as hard as any MLB pitcher and hit as far as any slugger, but he's also been timed going home to first in 3.8 seconds, which is Billy Hamilton territory. He is also known as a "yakyu shonen," which Hernandez says is Japanese for "a kid who lives, eats and breathes baseball." Which is to say that he really may not care at all about money or the hype or any of it. Which is also to say that the Cubs really might have just as good a shot as anyone when it comes to landing him on the cheap.