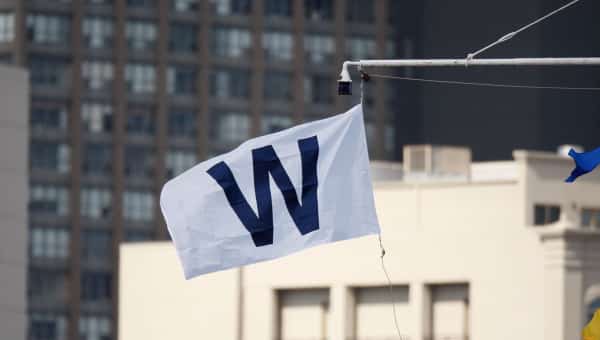 CI Recap (9/30/17) – Cubs 9, Reds 0: On The War(Bear) Path
In a game that had the feel of a spring training contest, the Cubs crushed the Reds at Wrigley Field on Saturday afternoon, 9-0. Several players that will be crucial to a deep playoff run had encouraging performances. (Box Score)
Why The Cubs Won
Jon Lester pitched well in an abbreviated five inning start, and the bullpen was also effective. Kyle Schwarber provided the first four RBI of the game — including a two-run homer — and the bench added five more.
Key Moment
Willson Contreras singled off of pitcher Jackson Stephens to open the bottom of the second inning. Schwarber followed by crushing a 437-foot home run to dead center, putting the Cubs ahead 2-0. That ended up being the game-winning hit.
Stats That Matter
Lester looked pretty good against a powerful Reds lineup: 5 IP, 0 R, 4 H, 7 K, and 0 BB. He did allow a few hard hit balls, but he exhibited better control and even struck out Joey Votto twice.
Schwarber hit his 30th home run in the second inning and singled home two more runs in the third. After a brutal start to the season, War Bear has finished strong — he's 14 for his last 32. Schwarber could make a huge impact with the bat in October.
Rene Rivera had a two-run single and a solo-homer after entering the game in the fifth inning. Rivera has raked since coming to the Cubs, hitting nearly .500 at Wrigley Field.
Bottom Line
Only one game is left before the Cubs can totally focus on the playoffs. It seems unlikely that the starters will play too many innings on Sunday. If Lester and Schwarber can continue these performances in postseason, it would be a big boost to the Cubs' chances.
On Deck
The Northsiders close out the 2017 regular season at 2:20 CT on Sunday. Left-hander Mike Montgomery will start against someone named Deck McGuire, and the game will be televised on WGN.