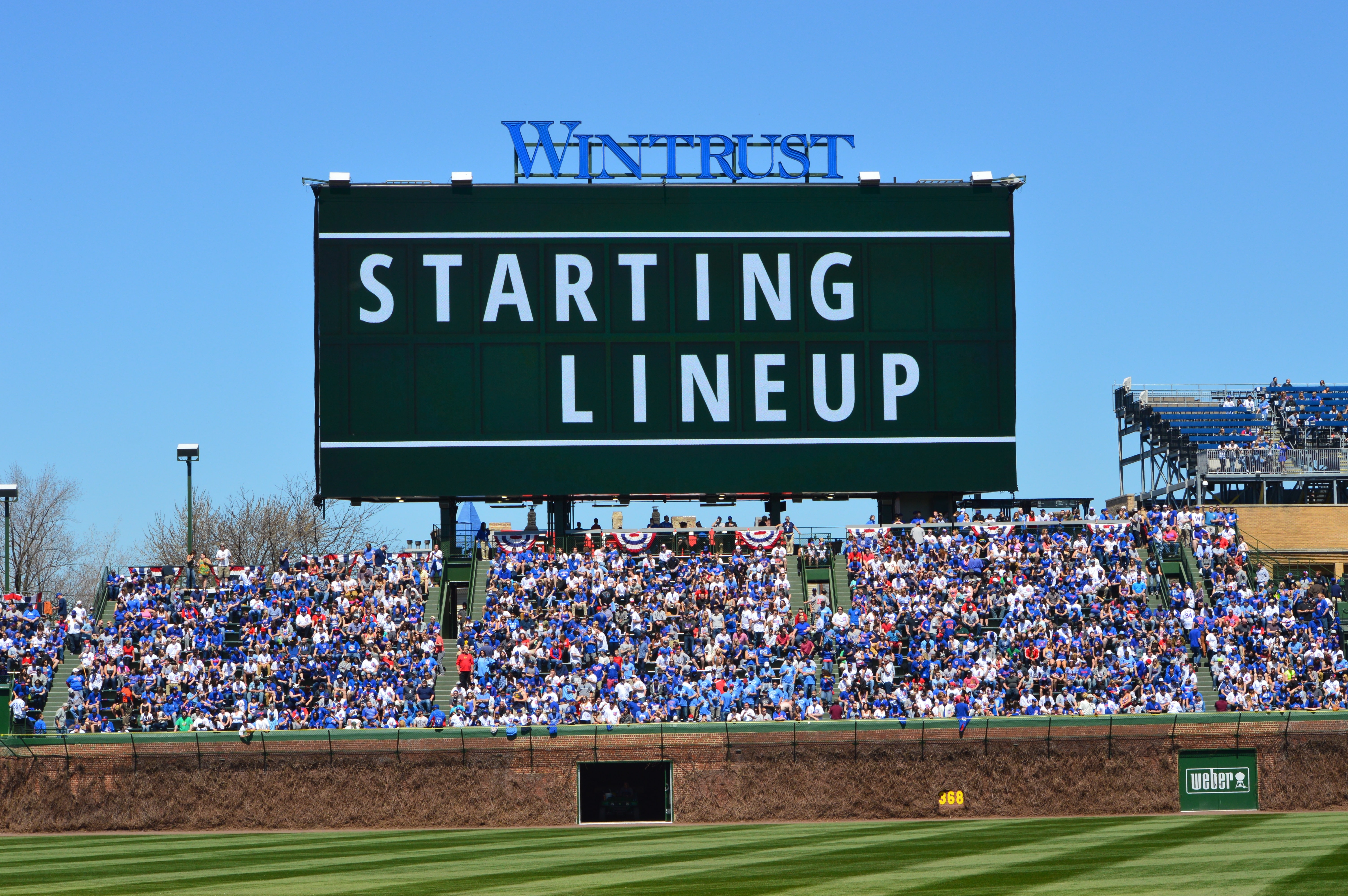 Chicago Cubs Lineup: Jay Leads Off, Zobrist Cleans Up as Cubs Try to Sand Down Woodruff
By know you've probably heard enough of my complaining to know how I feel about Jon Jay batting leadoff, so I won't make further comments about how I fail to understand why it keeps happening. But adding to my consternation today is Ben Zobrist hitting fourth. Gah!
Kris Bryant and Anthony Rizzo are the rocks in the lineup, with Alex Avila batting fifth and taking the start behind the plate with a righty on the mound. Kyle Schwarber, who is pounding the ball in the second half, is batting sixth in left, Jason Heyward is in right, and Javy Baez is at short, presumably to give Addison Russell a break as he eases back in from his foot injury.
If given my druthers, I'd rather see Zobrist atop the order, Schwarber batting fourth, and either Ian Happ or Albert Almora Jr. batting sixth. Jay is a very good player and has been great on this team, but his second-half production does not merit an everyday role. Nor does his glove. I am mad online!
After a run in which his results belied what was actually pretty mediocre performance, John Lackey had a couple really terrible games and had then actually been pitching pretty well. Until, that is, an awful call led to him hanging a meatball and getting run from his last start against the Cardinals.
He's taking the bump for the first time since the ejection to face a Brewers team to which he has surrendered four combined runs in his last two starts. A home run is probably inevitable, maybe even two, but Lackey has limited damage from them to an impressive degree. He's given up a total of five homers in three games against Milwaukee this season, but has surrendered only eight earned runs.
As is always the case with Big John, it'll be a matter of getting up and getting warm early. If he can keep it in the zone and he doesn't get hosed by terrible calls, he should be able to keep the Cubs in the game even if the offense doesn't do what I think it will.
I've got this irrational belief that the Cubs struggle against rookie pitchers, though I'm not so sure there isn't something to that. Either way, I'm looking forward to them allaying my concern as they face 24-year-old Brandon Woodruff tonight with an eye toward trimming two more games off of a magic number that stands at six.
Woodruff is making only his seventh start for Milwaukee after being called up in early August. At first glance, there doesn't appear to be anything exceptional about his game. He has a mid-90's fastball that he offsets with a solid slider and decent change, but he isn't a big strikeout guy. The 3.28 ERA is solid, but he's maybe gotten a little lucky when it comes to the dearth of home runs against him.
Woodruff's a big strike-thrower, having walked only two batters in his last 19 innings. And he's given up only three homers over 35.2 innings, all of which have come at home. His game is pitching to contact and staying away from barrels, but the Cubs will be able to get to him if they can stay on that fastball and avoid the slider.
If the righties can do anything at all, this could be a very rough evening for the rookie. In limited action, he's held right-handed hitters to a .538 OPS and .235 wOBA at home while lefties have gone for .810 and .350 in those categories. Interestingly enough, though, righties are responsible for all three of those aforementioned home runs. Something tells me that's going to change tonight as the Cubs can really taste that division title looming.
First pitch from Milwaukee is 6:35 CT and you can watch locally on WGN or nationally on ESPN.
Here is tonight's #Cubs starting lineup.

Game preview: https://t.co/AYDWUjuYvd pic.twitter.com/NRSj4DQZxh

— Chicago Cubs (@Cubs) September 22, 2017