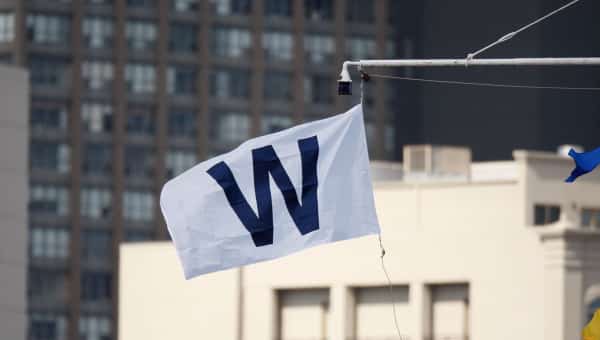 CI Recap (9/17/17) – Cubs 4, Cardinals 3: Wait Till Next Year, St. Louis
With wins in the first two games of the series, the Cubs had a chance to all but eliminate the Cardinals with a win on Sunday. Chicago jumped out to a 3-0 lead behind starter Jose Quintana, but a misplay in the field followed by a mistake pitch led to a three-run home run and a tie game. The Cubs would retake the lead with a clutch two-out, RBI single and they made it hold up in a 4-3 victory (box score).
Why The Cubs Won
As was the case all weekend, the Cubs were the recipients of strong pitching. Although Quintana failed to make it out of the 6th (more on him in a bit), the bullpen combined for 3 1/3 scoreless innings in relief, though they weren't without some drama.
If the Milwaukee series was a wakeup call of sorts, the Chicago offense must be pounding coffee and 5-Hour Energy because it has looked outstanding ever since. That trend continued on Sunday, as the Cubs were patient, worked counts, and got on base often. The Cubs probably should have gotten more than four runs considering they finished with 11 hits and five walks, but it's hard to be too upset when the approach at the plate is on point.
Key Plays
The Cubs held a 3-0 lead heading into the top of the 6th, as Quintana was cruising through the St. Louis lineup. Matt Carpenter led off the inning with what appeared to be a routine fly ball to left, but Kyle Schwarber misread the ball and allowed it to drop in for a leadoff double. A walk sandwiched between two strikeouts set the stage for Dexter Fowler, who hit a game-tying three-run shot to left-center to tie the game.  While it's impossible to say how things would have played out had Carpenter's fly ball not been misplayed, the mistake led to the Cardinals neutralizing the score and putting an unexpectedly early end to Quintana's afternoon.
After blowing a first-and-third, no-out situation in the bottom half of the 6th, the Cubs retook the lead in the 7th. With two outs and runners at the corners, Jason Heyward worked a full count before lining a single to left for a 4-3 lead and the final margin of victory.
Stats That Matter
If you judged Quintana's day solely by the box score, you would think he was just okay. After all, he went 5 2/3 innings, allowing three runs on six hits and a walk while striking out eight. If you did that, however, you would be mistaken. The Cubs' lefty pitched very well on Sunday, as he made short work of the St. Louis lineup through the first five innings. It wasn't until the 6th before the Cardinals finally got to him, aided by Schwarber's misplay and a poorly-timed mistake to Fowler.
Heyward's offensive production has been receiving a bit of attention lately, and not in a good way. It's no secret he had been struggling at the plate, leading many to wonder how long his defense would be able to justify keeping his bat in the lineup. If even for just one day, his bat helped carry the load on Sunday, as he finished 3-for-4 with a double, an RBI and a run scored. Yes, the double probably would have been caught by anyone not named Randal Grichuk, but his hits were well-struck and any offensive production from Heyward is a welcome sight.
In his first start since coming off the disabled list, Addison Russell looked fantastic at the plate. After hitting a solo home run as a pinch hitter Saturday, Russell reached base in all four trips, finishing his day with a single and three walks.
Working in his third game of the series, Wade Davis came on in the 9th to pick up his 31st save in as many chances.
Bottom Line
Unlike last weekend in a similarly important series against Milwaukee, Chicago took care of business against St. Louis. The win on Sunday and resultant series sweep pushed the Cubs' lead to four games over the Brewers and six over the Cardinals, all but eliminating St. Louis from the division race.
On Deck
The Cubs will have their final off day of the regular season on Monday before heading to Tampa to take on the Rays in a brief two-game series. Jon Lester will head to the bump for Chicago, while Tampa Bay will counter with one-time Cubs farmhand Chris Archer. First pitch is set for 6:10 p.m. CT and will air on CSN.