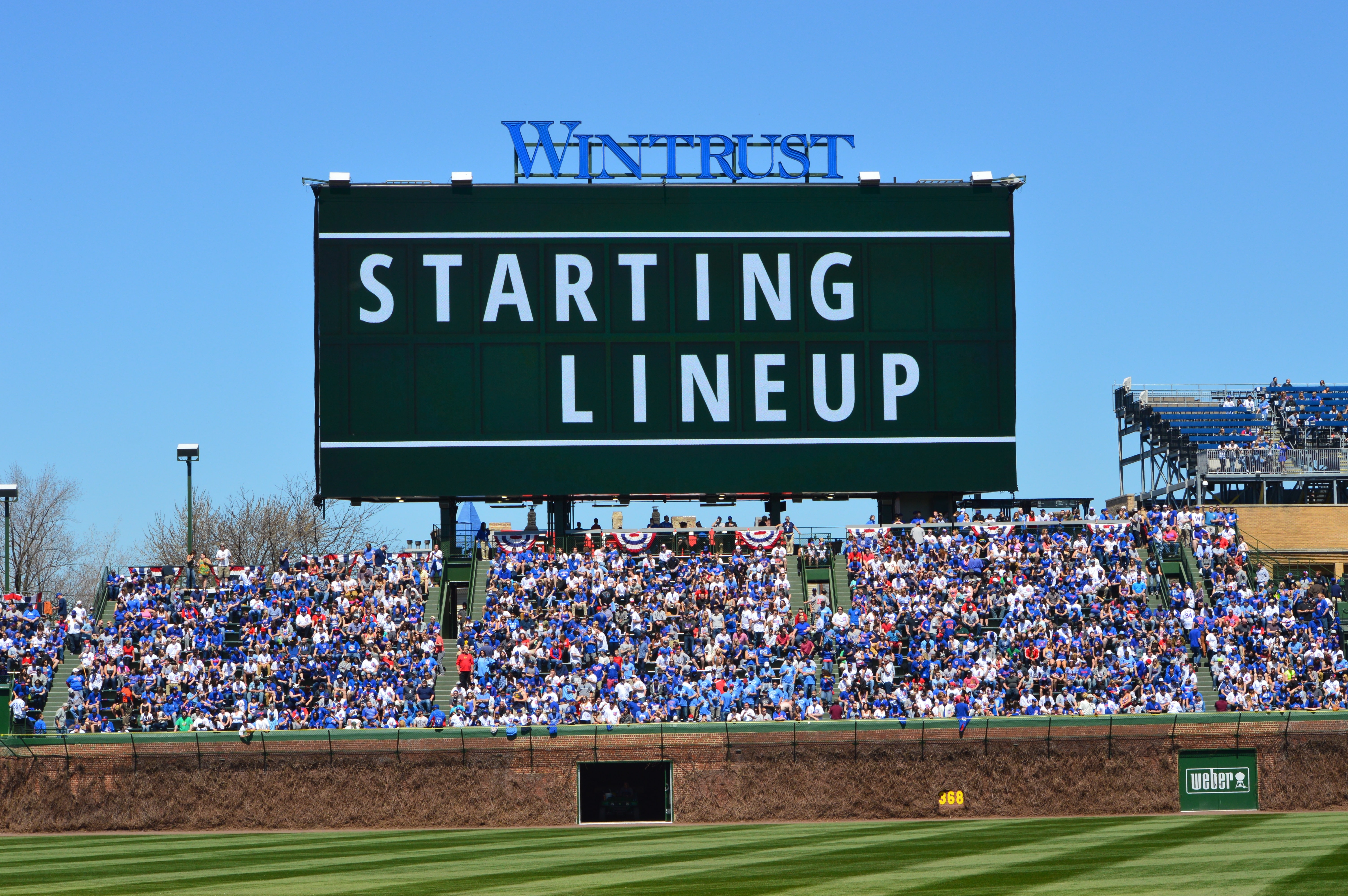 Chicago Cubs Lineup: Maddon Sticks with Same Bat Men to Face Dark Knight
In what comes as something of a mild shock, the Cubs are going with the exact same lineup for the second straight night. Ben Zobrist leads off, Kris Bryant hits second, Anthony Rizzo third, and Willson Contreras cleans up.
The recently-returned catcher walked in his first three plate appearances in his first start off the DL and it's really encouraging that he's right back in there tonight. While seeing WillCo on the bases was a good thing, there was a scary moment as I kept envisioning that hammy seizing up when he got caught in a rundown and started cutting and breaking back and forth.
Ian Happ is in center and batting fifth, followed by Kyle Schwarber, who was 3-for-3 with a home run last night. Both Happ and Schwarber, along with Rizzo, homered the last time they faced Matt Harvey, so here's to hoping we see more of that.
Jason Heyward and Javy Baez once again comprise the bottom of the order.
Jon Lester shut down the Pirates in his last start and will be looking to do the same against a Mets lineup that doesn't necessarily jump off the page. Prone to the occasional hiccup outing this season, Lester really needs to put up another strong effort and let the offense get out in front early.
Chicago was used for the backdrop in Christopher Nolan's Batman trilogy, so Harvey may feel like he's right at home in Gotham tonight. His recent run of bad health has him looking a little like the broken-down version of Bruce Wayne we saw at the beginning of The Dark Knight Rises, but his off-field antics have him resembling the joker.
Assuming he doesn't skip the game with a headache or plant a dildo in a teammate's locker, the 28-year-old righty will be out on the mound to face the Cubs for the second time this season. That earlier outing was actually what prompted his most recent DL stint, as he gave up three home runs over only four innings while displaying alarmingly low velocity numbers.
Harvey has seen a steady decrease in his strikeout numbers over the last five seasons and now sits at a mere 6.75 K/9. His walks have gone up at the same time, spiking at a career-high 4.18 BB/9. His 20.7 percent home runs per fly ball and 1.98 HR/9 are more than double his career averages and his 5.82 ERA is 2.5 runs higher than his career average. To make matters worse, Harvey's 6.10 FIP tells us that he may actually be the recipient of some good luck this season.
None of this comes as a surprise given that Harvey is only a little more than a year removed from thoracic outlet syndrome survey that cost him the second half of 2016. Tyson Ross, who had the same surgery last year, was recently released by the Rangers after struggling to regain his own control. But Ross was always known for walking guys, Harvey was not.
As you can probably guess, Harvey has lost a couple ticks on the fastball over the last few seasons. He still sits at almost 94 mph, but the margin for error has gotten much thinner. He has also gone with the slider more often this season, perhaps as a way to offset the decreased velo. Because opposing batters have absolutely teed off on his four-seamer, Harvey needs to lean on the breaking stuff for grounders and swinging strikes.
In order for the slider, change, and curve to work, though, Harvey has to establish the fastball. That has been very difficult for him as he tries to work the four-seam off the plate and away to hitters. His misses tend to be up in the zone and out over the plate, which is why the pitch has resulted in a 1.014 OPS this year. The slider has been moderately effective, but can hang from time to time and is little more than a mediocre pitch. And while Harvey's change is actually pretty solid, he doesn't always have a feel for it and sometimes abandons it completely.
When pitching away from Citi Field this season, Harvey has allowed a .302/.370/.491 slash that is roughly the midpoint between righties (slightly worse) and lefties (better). There's no reason to believe tonight will be any different as the Cubs look to prove that this past weekend was an aberration.
First pitch from Wrigley is 7:05 CT and will be carried by WGN.
Here is tonight's #Cubs starting lineup.

Game preview: https://t.co/bRgeOVG71s pic.twitter.com/2s6dRzzNjJ

— Chicago Cubs (@Cubs) September 13, 2017