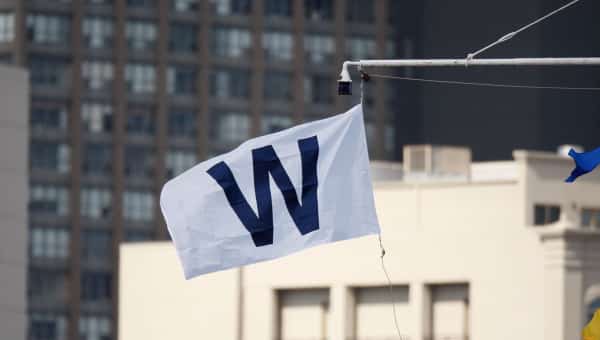 CI Recap (9/7/17) – Cubs 8, Pirates 2 : No Rain on Cubs Parade
The Cubs are like a box of chocolates, you never know what you're going to get. After a rain delay that lasted almost an hour, the Cubs earned themselves an 8-2 victory and split the four-game series with the Pirates. After scratching out just three hits and one run in Wednesday night's victory, the Cubs exploded for 13 hits Thursday, seven of which were doubles.
Why the Cubs Won
Jon Lester was by no means at his best tonight, but he still pitched one heck of a ballgame. After allowing multiple baserunners on in his first four innings of work, it seemed that Lester would not come out for the 5th. Not only did he pitch that inning, but he came out for the 6th and set the Pirates down in order. Lester worked six solid innings, giving up only one run on five hits. He also walked four batters while striking out five.
The Cubs offense came through in key situations tonight, scoring six of their eight runs without benefit of the longball. If Jon Lester's pitching performance wasn't enough for you, he picked up his sixth RBI of the season on a double in the 4th inning that brought home Jason Heyward.
Key Moments
In the 2nd inning, Pirates starter Jameson Taillon singled with a runner on second. Ian Happ was able to reel that ball in and throw a bullet to catcher Rene Rivera to nab Jordy Mercer at home and prevent the Pirates from scoring. Had Mercer scored, that inning would have continued and who knows what could have happened.
Stats That Matter
The Cubs hit seven doubles in the game, six of which came off of Pirates starter Jameson Taillon. The last time the Cubs rung a starter for six doubles was Ross Detwiler in the 2013 season.
Ian Happ batted leadoff for the first time in his career and went 3-for-5 with a single and two doubles.
Anthony Rizzo had himself quite the night by reaching base four times. He went 2-for-2 with two walks and two runs scored.
Bottom Line
The Cubs have showed that they know how to win in these final two games against the Pirates. This momentum must continue as they open up a critical nine-game homestand Friday night with three games each against the Brewers, Mets, and Cardinals. If the Cubs want to add onto their five-game division lead, they need to have everything going for them, from solid starting pitching to a sturdy bullpen, and consistent offense.
On Deck
The Cubs and Brewers will play the first ever Friday night game at Wrigley Field as John Lackey will take on Jimmy Nelson at 7:05 CT. Fittingly, you can catch it all on WGN.