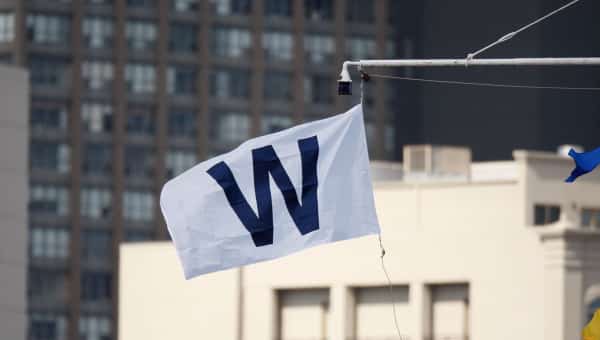 CI Recap (8/30/17) – Cubs 17, Pirates 3: Cubs Obliterate Pirates in Sweep
The Cubs sought to sweep their division rivals from the Steel city, and that is just what they did. After a nerve-wracking top of the 1st inning, the Cubs broke out the bats and drubbed their opponents into submission. It was like that time a UFC fighter tried to box one of the best to ever step into the ring (box score).
Why the Cubs Won
After allowing three hits and two runs in a shaky 1st, Jose Quintana allowed only one hit the rest of the way. It was one of his best starts since he he first donned the blue pinstripes.
The Cubs offense exploded for five runs against Ivan Nova, then continued their onslaught to score 12 runs against the hapless Pirates bullpen. They collected 20 hits (a season high) and drew only one walk while striking out nine times. They also slugged eight extra-base hits (four doubles and four homers). Seven of the Cubs batters had multiple hits tonight, three of whom had three hits apiece.
Key Moments
In the bottom of the 2nd, Javy Baez stole home. He started running before the pitch, deked like he was going back to third to get the catcher to throw, and safely reached home without a throw. It was an incredible play from a truly special player.
Jon Jay did some great work in the field, especially in the top of the 3rd. He successfully tracked down an Andrew McCutchen line drive that had Jay spinning around. The fly ball had a 75 percent hit probability, which means it was a very good defensive play.
Anthony Rizzo hit a tie-breaking RBI double in the bottom of the 3rd. Ian Happ followed with a long home run to right to pad the Cubs' lead. After that, it was smooth sailing for the boys in blue.
Stats that Matter
With Ian Happ's homer, the Cubs now have six players who have hit at least 20 this year. That is a franchise record, folks.
Every batter in the starting lineup either scored or drove in a run. The only batters to not drive in a run were Kris Bryant and Rene Rivera.
The Cubs have scored 72 runs since 8/22. According to my math, that is really, really good.
Bottom Line
The Cubs swept the Pirates pretty easily and continued their dominance against NL Central foes. They are currently 32-22 against their division (72-60 overall). The Cubs sit at the top of the division with a 3.5 game lead over the Milwaukee Brewers and their magic number to clinch sits at 27 games.
On Deck
The Cubs welcome the Braves to town for a four-game series as Kyle Hendricks squares off against Sean Newcomb. The game will be broadcast on CSN and will begin promptly at 7:05 CT.