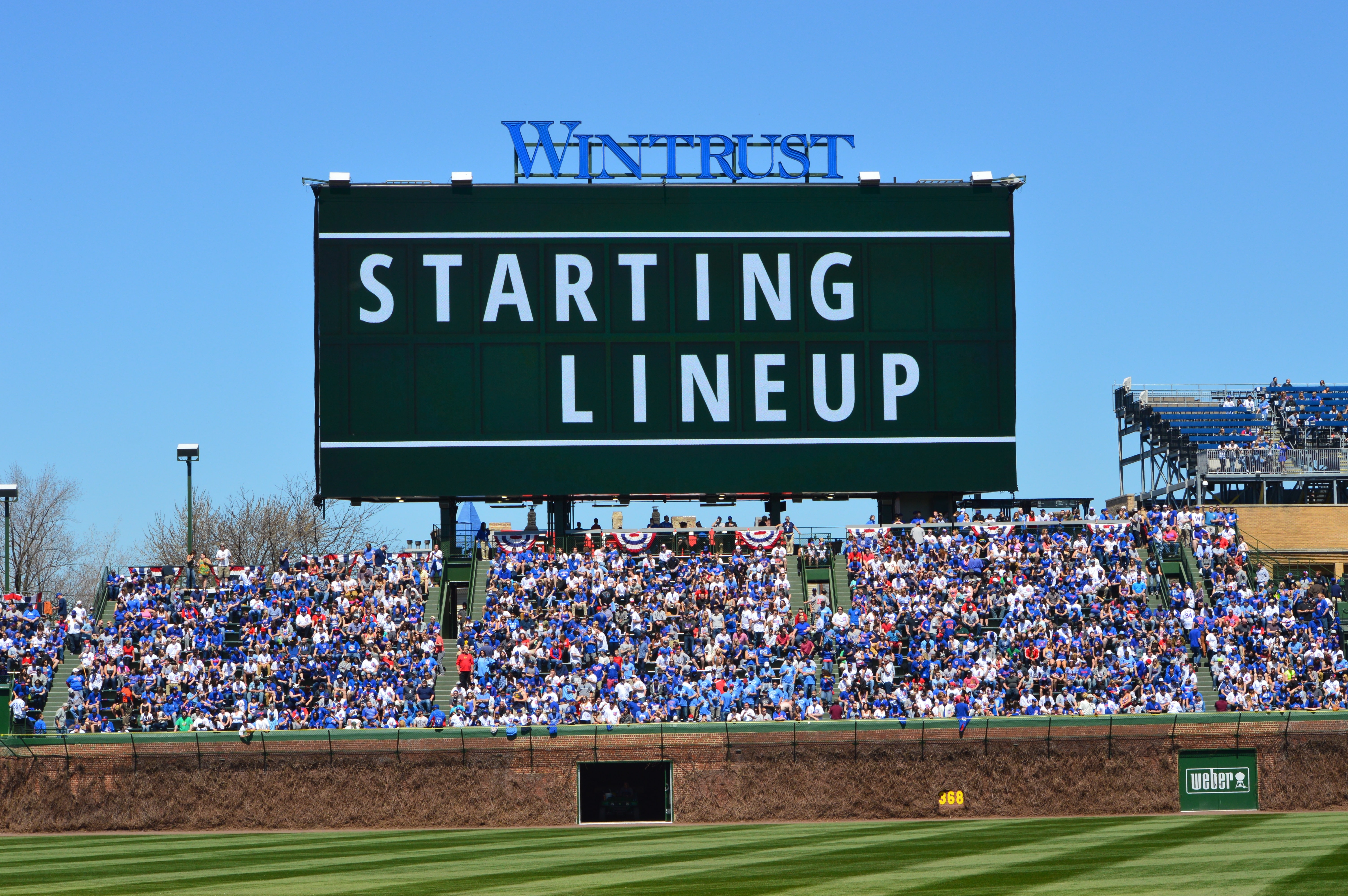 Chicago Cubs Lineup: Jay Leads Off, Happ at Second, Rivera Catching as Cubs Go for Sweep Against Nova, Bucs
Jon Jay is leading off tonight and playing center as the Cubs look to take all three games from the Pirates. Kyle Schwarber will be roaming left field with Kris Bryant at third and the red-hot Anthony Rizzo is in his familiar position as well. Ian Happ is getting his first start at second base in the last week.
Jason Heyward is back in there in right and looking to put up his third consecutive two-hit game. I'd like to say that's a product of me openly questioning his presence in the lineup, so I'll ask again, "Why the hell is he in there?" Fun fact: Heyward has collected hits in only four of his last eight games, but has at least two hits in each of those. He still has only one extra-base hit (Monday's double) in his last 70 plate appearances.
Javy Baez, braided hairdo and all, will move up from his traditional seventh spot to accommodate Rene Rivera in the eight-hole.
Jose Quintana has looked prettay, prettay rough in five August starts, posting a 6.00 ERA and allowing five home runs over 27 innings. He's got a good chance to right the ship tonight against a Pirates team that is fast taking on water and that hasn't fared well against left-handed pitching.
The Cubs can distance themselves from at least two of their Central opponents tonight and a good start from Q would virtually ensure that. He had put together two really nice starts prior to that last stinker, so here's to hoping he's got things dialed in.
Pay attention to his pitch mix tonight, specifically the sinker. Since he's gone with that pitch as his primary offering, his curveball has suffered significant fall-off. And it's not like the sinker has been a good weapon for him either, what with him giving up tons of home runs with it. We'll probably know how Q's outing will go after the first two innings.
Ivan Nova will be trying to bail water from the capsizing Jolly Roger, but he'll have to be a lot better than he has been over the last month or so. Since July 23, the 30-year-old righty has a 6.23 ERA (5.36 FIP) and has surrendered nine home runs in 39 innings. He's allowing a robust .358 BABIP in that time, a direct product of nearly 44 percent hard contact against him. Woof.
Nova works off of a sinker/four-seam combo, both of which can touch mid-90's but sit around 93 mph. The sinker has a little arm-side run and has a tendency to stay up in the zone, hence the .800 OPS against it. He'll elevate the four-seam as well, working mostly from the middle of the zone and up to allow hitters to post an .849 OPS.
The curve accounts for nearly 20 percent of Nova's pitches and has easily been his best offering in terms of run value. It has roughly 1-7 break and will move down and away from righties, generating an overall .430 OPS and only 61.3 percent contact. A firm change with a little arm-side fade is also in the mix, though he throws it primarily to lefties.
Nova's home/road splits are nearly as stark as Arya or Sansa and favor the Cubs, particularly if we look at the last two months. Since the start of July, Nova has allowed a .295/.352/.571 slash line to opponents when pitching away from PNC Park. And though his platoon splits generally favor lefty batters, they're very similar in this more recent set of games.
The Cubs haven't been able to get over on the burly right-hander in two previous tilts — one each in Chicago and Pittsburgh — this season, though they have gone past the wall twice in each of those games. Jake Arrieta and Addison Russell authored the first two of those, so I don't think we can count on any repeats there. But Schwarber and Happ went yard for the Cubs' only runs in a 4-2 loss on July 8, so there's hope.
The change for a sweep begins at 7:05 CT on CSN Chicago.
Here is tonight's #Cubs lineup for the finale vs. the #Pirates.

Game preview: https://t.co/5wkmhyJeaq pic.twitter.com/WGHu7ZVkET

— Chicago Cubs (@Cubs) August 30, 2017