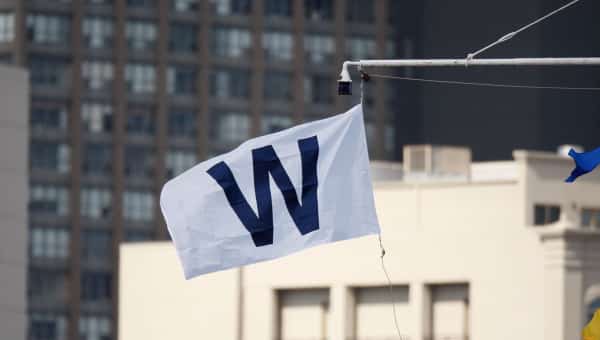 CI Recap (8/26/17) – Cubs 17, Phillies 2: Cubs Bludgeon Phillies with Six Home Runs
The Cubs came into tonight's game after a lopsided loss Friday night to the Phillies, their second loss in a row. As much as two losses can feel really bad, it was only their second in six games. Tonight, sporting those cool Player's Weekend jerseys, all the big bats showed up, and then some, including Kyle Hendricks and Tommy La Stella, as Chicago romped to an easy win. (Box Score).
Why The Cubs Won
The offense was unstoppable tonight. The team hit six home runs, driving in 10 runs via the long ball. Kyle Hendricks was on his game, tossing seven innings of two-run baseball, and he also had two hits…in one inning, including a double.
Key Moments
With the Phillies leading 2-1 in the 3rd inning, Jon Jay drew a walk against Ben Lively. Next up, Kris Bryant was hit by a pitch. Anthony 'Tony' Rizzo came up to bat and smashed a hanging curve to dead center for a three-run bomb.
Hendricks led off the 7th inning with a single against reliever Drew Anderson. Between his two at-bats in the inning the Cubs scored five runs. When 'Hendo' batted again in the inning, he smoked a double to the right-center gap scoring Albert Almora and Javy Baez.
Stats That Matter
Kyle Hendricks struggled early giving up a homer to Rhys Hoskins, but settled down nicely: 7 IP, 2 R, 6 H, 0 BB, 8 K, HR allowed.
Kris Bryant got on base four times and cracked a long homer in the 5th – 2-for-3, 3 R, RBI, BB, HR
Tony had a monster game, with two absolute bomb home runs and a total of 5 RBIs – 3-for-5, 3 R, 5 RBI, 2 HR
Tommy La Stella hit two home runs and neither one was a cheapie – 3-for-5, 2 R, 4 RBI, 2 HR
Bottom Line
The Cubs left no doubt about the outcome Saturday, after a pair of losses they bludgeoned the Phillies.
On Deck
Chicago looks to secure a winning road trip on Sunday as they close out the series against the Phillies at 12:35 CT. John Lackey battles rookie Nick Pivetta, and the game will air on CSN-Chicago.