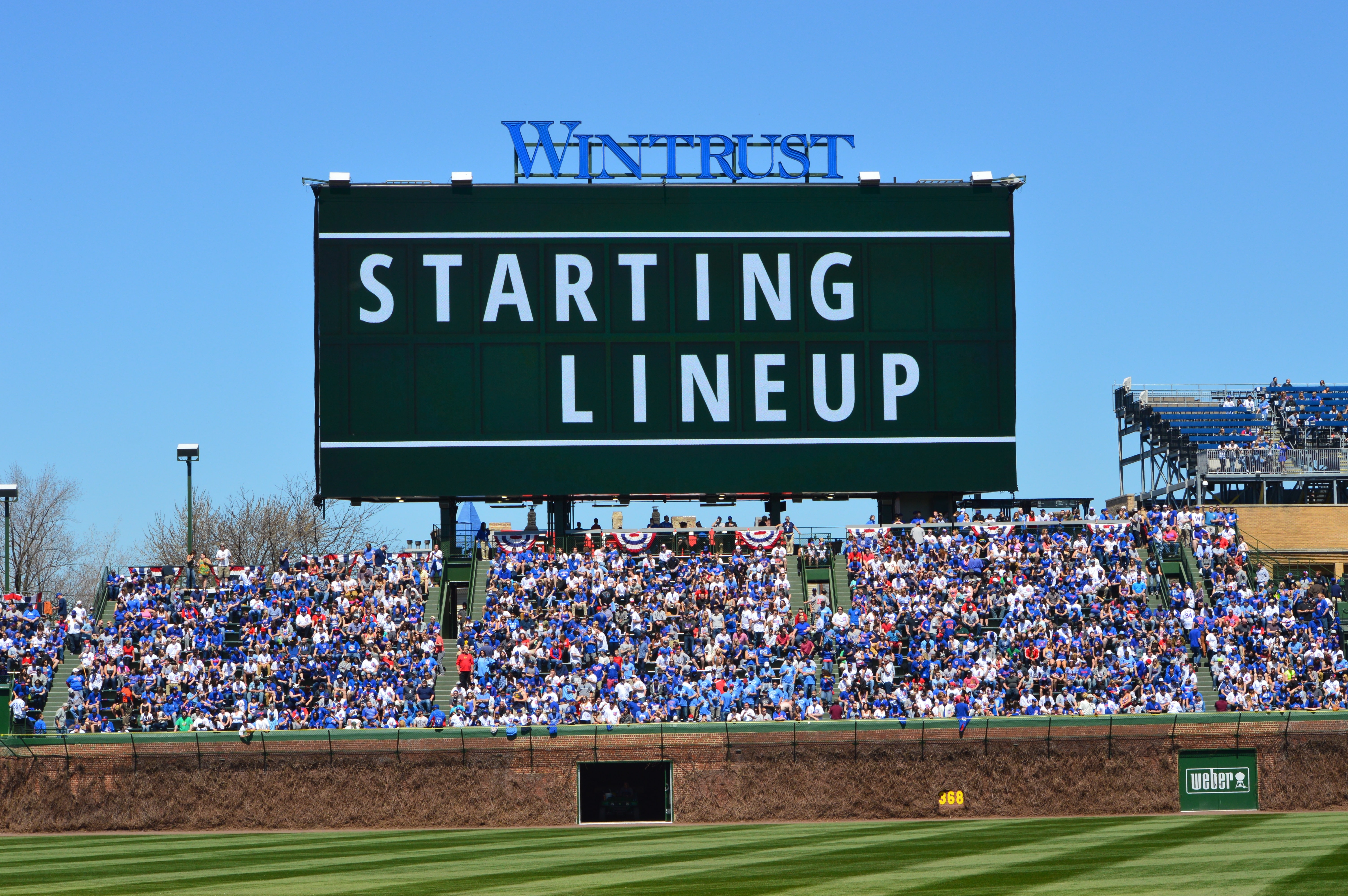 Chicago Cubs Lineup: Jon Jay Leads Off, Zobrist Bats Cleanup, Schwarber Fifth
***Update***
Ben Zobrist has been scratched with a stiff neck and has been replaced at 2B by Tommy La Stella. TLS slots into the two-hole, with Bryant and Rizzo dropping down one spot each.
The Chicago Cubs begin their four-game set against the Cincinnati Reds by sporting a familiar lineup. Leading off is Jon Jay, followed by Kris Bryant and Anthony Rizzo. The struggling Ben Zobrist will bat cleanup, while the also struggling Kyle Schwarber tailgates. Alex Avila, Jason Heyward, and Javy Baez finish the batting order in front of starting pitcher Jose Quintana.
The 36-year-old Zobrist has had a rough stretch since hurting his wrist, putting up a 45 wRC+ with the tender joint. But Joe Maddon believes Zobrist's best days are ahead, based on his willingness to keep the veteran in the four-spot.
Schwarber looked particularly off against the Diamondbacks. Though he hit a mammoth homer in the first game of the Chase Field set, he struck out in seven consecutive at-bats and has a K-rate north of 56 percent since July 28. Visually, too, he looks as if he's not tracking breaking pitches as well as he has in the past.
After coming off a 13-for-15 stretch in Arizona, Bryant will have a great opportunity to continue his tear against Asher Wojciechowski, who owns an extremely low 28 percent grounder rate (more below). Bryant has been dealing with a pinky injury that he described as "brutal," but the discomfort hasn't stopped his stellar offensive production. Now perhaps we will start to see the power come back after he launched a ball in Sunday's game against the D-backs.
Rizzo hit the ball extremely well in Arizona, spraying line drives and deep fly balls to all parts of the diamond, except doing so right at the defenders. I'm expecting a big series for the first baseman. And I will quote this on Twitter when he goes off.
Quintana will take the mound for the first-place Cubs to face a Reds team with a seventh-best .327 wOBA. In fact, the Reds offense production has been better than the Cubs' team .325 wOBA. Quintana has been throwing more sinkers than four-seamers lately, possibly in an attempt to induce more grounders. In his two most recent starts in which he threw 40 percent sinkers, for example, Quintana got more than 50 percent grounders. Look for that trend to continue tonight.
Wojciechowski, whose name I look forward to Pat Hughes announcing, is a 28-year-old righty who has pitched out of both the bullpen and rotation in 2017. In total, his ERA and FIP are 4.23 and 4.50, respectively. By throwing mostly four-seamers (64%) and sliders (24%), the Reds starter has recorded an above-average 9.27 K/9, but such a repertoire of pitches limits his ability to keep the ball out of the air. As a consequence, the Cubs might be able to poke a few longballs, especially if the wind is howling tonight.
First pitch is 7:05 CT on WGN.
Here is tonight's #Cubs starting lineup against the #Reds.

Game preview: https://t.co/kPBsondCYL pic.twitter.com/1TPuDcDjIm

— Chicago Cubs (@Cubs) August 14, 2017