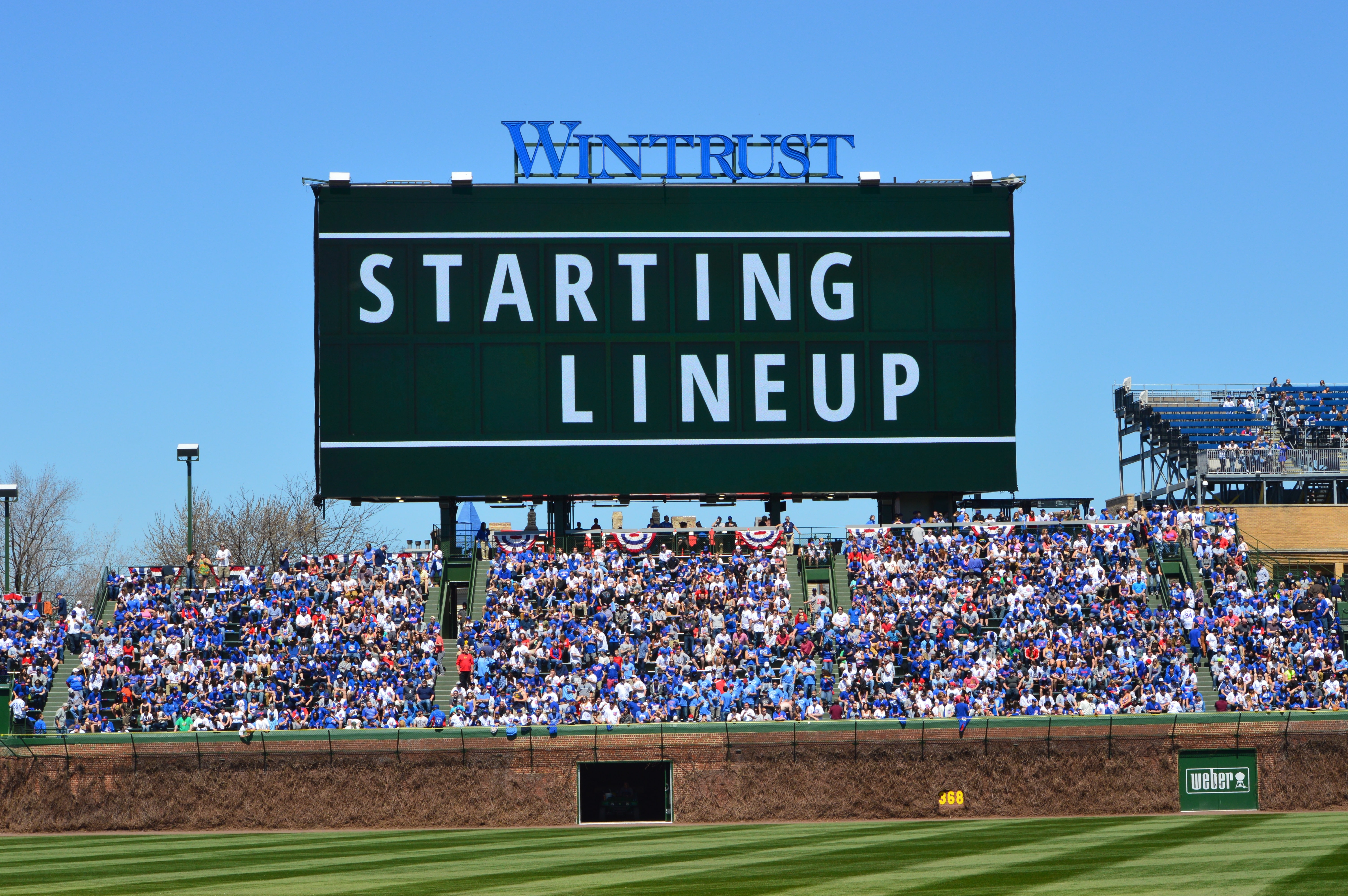 Chicago Cubs Lineup: Jay Leads Six Lefty Batters Who'll Try to Tie One On Walker
Jon Jay plays center and leads a Cubs lineup that features six batters who will start out hitting from the left side. Noted Bryce Harper fan Kris Bryant moves back up to the two-hole with Anthony Rizzo back in the lineup.
Ben Zobrist bats cleanup, the spot that was being held down with great aplomb by the now-injured Willson Contreras. Kyle Schwarber hits fifth, followed by Alex Avila and Jason Heyward. Javy Baez slots in as the world's most dangerous eight hitter.
Either that or he's exactly what you'd expect from a bottom-of-the-order batter, depending on how his approach is that day. When it comes to guys looking like eight hitters, Avila is mired in a nasty slump that's been masked by a scorching early season performance. Since July 1, the new starting catcher has a .466 OPS and 26 wRC+ in 64 plate appearances against righties. He's going to have to make some marked improvements in that regard while Contreras is out.
I can't believe I'm saying this, what with my powerful karmic influence, but John Lackey has been pitching really not bad lately. He's 4-0 with a 3.33 ERA over his last five starts, dating back to just before the All-Star break. Taking it back a little further, the big Texan is 5-2 with a 4.06 ERA over his last eight starts. And he wore one of those losses despite allowing just a single run over six innings.
If you take out the eight-run disaster at the end of June, Lackey's got a 2.78 ERA in the other seven outings. But just as we can't ignore that start, we can't look past the fact that he's not exactly dominating out there on the mound. His FIP over the last eight games is 5.59 and it's still 4.50 when we narrow the sample to those five "good" starts.
Lackey's strikeout numbers have been falling off, though he's at least limiting walks to help make up for that. And while he's giving up a lot of contact, he's greatly reduced the amount of hard-hit balls, from 38.7 percent over his first 13 starts to 26.2 percent over the last eight. Add to that the fact that Lackey has been better on the road this season, and you've got reason for optimism.
Then again, the D-backs have an .842 OPS at home, MLB's third-highest mark, and have posted an MLB-best .216 ISO at Chase Field. Even if Lackey's able to maintain his current box-score results, Cubs fans could be in store for a white-knuckle ride.
Diamondbacks starter Taijuan Walker is on pace for the best season of his young career, thanks in part to a change in his pitch mix. He's been offsetting a mid-90's fastball with a power slider that doesn't get whiffs, but generates a lot of groundballs. Walker also throws a splitter and curve, neither of which are big strikeout pitches. But despite an 8.8 percent swinging-strike rate that's the lowest in his career, the 24-year-old is putting up a career-best 8.40 K/9.
That's not the only incongruity to be found in his peripheral stats, either. Though Walker is giving up more hard contact and less soft contact than ever before, his 10.7 percent home run/fly ball rate and 0.94 HR/9 rate are lower than ever and sit well below MLB averages (13.7 and 1.27, respectively). That goes back to the type of batted-ball contact he's induced, namely grounders.
Walker has also given up a lot less contact to the pull field, which could be partly responsible for the reduction in home runs. While he'll throw the slider to lefties on occasion, he uses it primarily against righties, pounding that low-outside corner to get those grounders and oppo contact. Because he throws the splitter mainly to the opposite corner, lefties will see healthy doses of it.
The four-seam has decent backspin, which gives it a little ride and keeps it pretty high and straight for the most part. Even so, Walker is able to locate it well enough to avoid real damage. In fact, he's done such a good job with the heater that it ranks 13th in MLB with 12.1 runs saved on the season. That mark actually puts him seventh among starters with at least 30 IP and his 1.14 runs saved per 100 pitches ranks ninth in that same group.
While the disparity in batting averages this season (.278 vs. .217) would tell you that righties have gotten to Walker more than their left-handed counterparts, there's only a seven-point gap in OPS (.710 vs. .703). We see more of the same in wOBA, where lefties actually boast a slight advantage (.302 to .299). Most of that comes from Walker's performance at home, where lefties have posted an .883 OPS and .366 wOBA.
Left-handed hitters have tagged Walker at Chase Field, producing 92 percent medium or hard contact, most of which has been in the air. And remember those low home-run rates: They jump to 2.18 HR/9 and 25 percent HR/FB when Walker faces lefties at home.
Paging Messrs. Rizzo, Schwarber, and Avila: Your poolside table is ready. Please proceed immediately to deep right and right-center. Thank you.
Gametime is 8:40pm CT and you can catch the action on CSN Chicago.
Here is tonight's #Cubs starting lineup against the #Dbacks.

Game preview: https://t.co/3aF5venweZ pic.twitter.com/cf0IKmDpuH

— Chicago Cubs (@Cubs) August 11, 2017