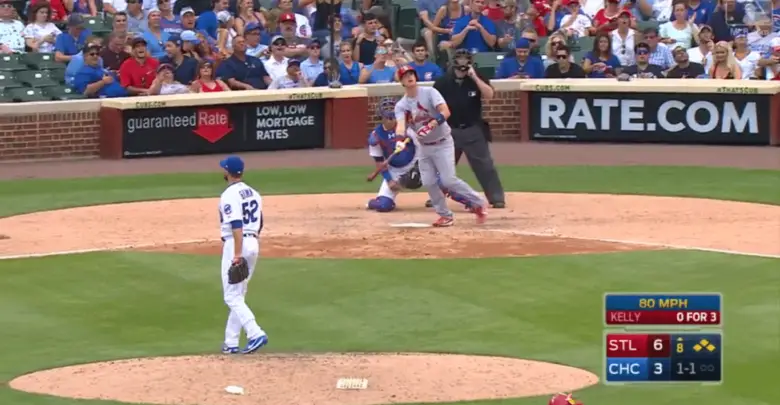 The Rundown: 61 Pitches, Trade Watch Continues, End of Line for Former Top Prospect
Sixty-one. No asterisk.
That's how many pitches it took three Cubs relief pitchers to make it through the 8th inning of Friday's game. We saw two pitchers enter with the bases loaded and no outs. We saw both of those pitchers allow two-run doubles, after which each walked the next batter to reload the bases. And that wasn't even the worst of it.
Carl Edwards, Jr., Hector Rondon, and Justin Grimm all completely imploded, sending the Cubs from a 3-2 lead to an 11-3 deficit before recording a single out. Had I no vested interest in the game, I'd have laughed my rear end off at the debacle that unfolded over the course of what felt like an hour. Hell, I did laugh.
That's about all you can do in the face of such an aberrant performance, really. No single inning is indicative of the greater season, and this is perhaps even less so due to the abject absurdity of it all. I do wonder, though, whether this says more about Justin Grimm's future than it does the other two. Of the dueling trio of duds, his was the least surprising.
Someone is going to be forced out by Kyle Hendricks' activation and Mike Montgomery's likely return to the bullpen. Then you've got the likelihood that the Cubs trade for another starter or reliever, which further tightens the roster. Grimm has already spent time at AAA this season and could be in line to head back shortly. If the Cubs keep him in the organization.
I've always been a big fan of Grimm, both as a pitcher and an individual, and really hope he figures it out. But all's fair in love and trades.
Scouting continues
The Cubs may have moved their top two prospects, but there are plenty of talented players remaining in the system, many of whom really won't have a shot to make it in Chicago. Jeimer Candelario, Mark Zagunis, and John Andreoli are among those who could be in play.
#Rangers, #Padres, and #BlueJays have had a scout at Principal Park this homestand watching the Iowa #Cubs. #MiLB

— Tommy Birch (@TommyBirch) July 21, 2017
And it might take those guys and then some to land one of the biggest names on the market. Well, if he really is on the market.
Sources: #Dodgers, #Cubs among teams scouting Yu Darvish in St. Petersburg tonight. He struck out 12 in 8 IP. @MLBNetwork @MLB

— Jon Morosi (@jonmorosi) July 22, 2017
Josh Vitters may be done
Cubs fans have been spoiled by an embarrassment of riches over the past few seasons. Young players have come up through the system and have immediately become impact big leaguers, and not just for a week or a month. There are ups and downs, sure, but the core of the roster is comprised largely of homegrown talent.
That wasn't always the case. There was a time not all that long ago when Cubs prospects were only exciting when they existed only in the form of Vine Line updates. Once they reached the bigs, it was as though the verdant confines of Wrigley Field acted as some sort of kryptonite.
One such player was Josh Vitters, the third overall pick in the 2007 MLB Draft. Tommy Birch of the Des Moines Register wrote an excellent piece on Vitters back in June that detailed what was probably the former can't-miss hitter's final attempt to hang on in independent ball.
Now comes word that Vitters is no longer on the Sioux City Explorers' roster, a sign that his career in baseball may have come to an end. You see a guy like Kris Bryant shoot through the farm system and become one of the best players in the game and you almost take for granted how difficult baseball really is.
It also makes you appreciate just how good a job the Cubs have done when it comes to establishing a comprehensive system. More than just scouting and drafting players with the right makeup and talent, it's a matter of fostering their growth as ballplayers and young men. Putting it like that makes it sound a little cheesy, but it's true nonetheless.
More news and notes
The Cubs are among the teams showing interest in the Marlins' AJ Ramos
Pablo Sandoval will rejoin the Giants
Jon Heyman lists 20 top starters who could be on the trade market
Vitters isn't only former Cub having issues; Steve Clevenger has signed with the Lancaster Barnstormers of the Atlantic League