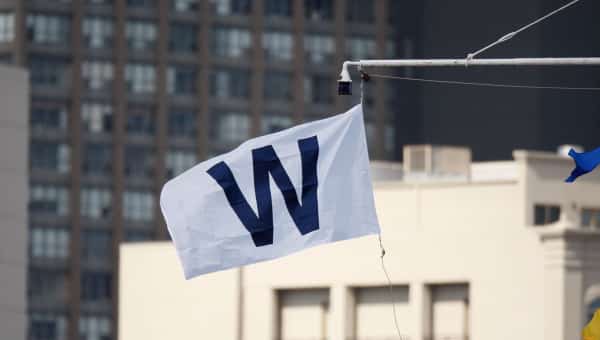 CI Recap (7/17/17) – Cubs 4, Braves 3: The Jon Lester Game That Almost Wasn't
The Braves tried hard to spoil my headline but it wasn't to be. Wade Davis made it interesting in the bottom of the 9th inning, allowing the Braves to close within one run with the bases loaded. A pop-up by Johan Camargo ended the threat and sealed the Cubs' fourth straight win (box score).
As for Jon Lester, he didn't score the Cubs winning run but he did nearly everything else in between.
 

Lester is first #Cubs pitcher with an extra-base hit, a stolen base AND A WALK in a game since Charlie Root 5/3/1930https://t.co/u4UjpG7O0G

— Christopher Kamka (@ckamka) July 18, 2017
Lester had a double off the right field wall in the 3rd inning but didn't score. He then walked in the 6th inning and stole second base. I mean, they weren't holding him on but still, it was a legit steal and it's sure to be on his list of accomplishments when he's old and gray.
In addition to his offensive prowess, Lester pitched a solid game too, tossing seven innings of three-hit baseball. The only run he gave up came in an inning that was kept alive when Javy Baez airmailed a throw to first base well into the Braves dugout.
The Cubs offense did what it needed to get the win tonight, but just barely.
They ended up 2-for-12 with runners in scoring position. Fortunately for the Cubs, both of those hits combined to score three of their four runs. The first came when Ben Zobrist singled in the 5th inning to score Jason Heyward and Baez, who'd both advanced on a wild pitch earlier in the inning by Julio Teheran. The second came when Addison Russell doubled in the 8th inning to score Baez, who'd doubled earlier to reach second.
Anthony Rizzo added a solo home run in the top of the 7th inning, a laser-shot over the center field wall that reached 59 feet at it's apex. Rope. Shot.
Stats that matter
Jon Lester looked like a new man tonight: 7.0 IP, 3 H, 1 R, 1 BB, 6 Ks, 1-for-2, 1 BB, 2B
Anthony Rizzo had a nice night: 2-for-4, 1 R, 1 RBI, 1 BB
Javy Baez got in on the action, as well: 2-for-4, 2 R, 2B
Ian Happ had another nice game and was just barely thrown out at second base as he stretched for a double in the 8th inning: 2-for-4, 2B
Bottom line
The Cubs made things a bit too interesting in the bottom of 9th inning but they managed to pull this game out. Closer than it needed to be, this was a well-played game and one they had to win to keep the momentum they've started to build after the All-Star break rolling.
The Cubs have guaranteed themselves a winning record on this road trip. The question now is how much steam will they build before they return to Wrigley on Friday to face the Cardinals.
On deck
The Cubs play the Braves again on Tuesday at 6:35 CT. John Lackey takes the hill for the Cubs against Sean Newcomb for the Braves.