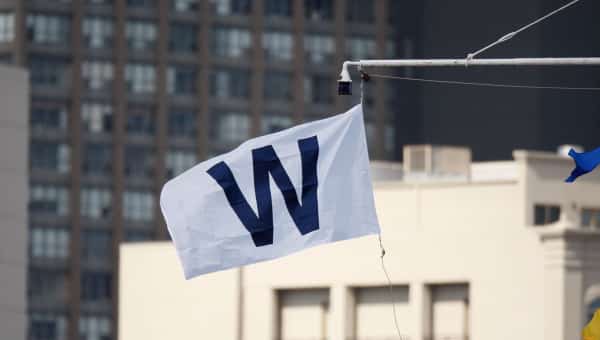 CI Recap (6/16/17) – Cubs 9, Pirates 5: Wait, What Happened Again?
The Cubs were trying to get back on track Friday night in Pittsburgh, and it looked like it was going to be another disappointing game before a late rally saved the day.
The top of the 1st inning got pretty weird, so this may take a minute to cover. Anthony Rizzo appeared to have led off the game with a homer to right, which would have been his third straight leadoff jack. It was indeed totally ruled fair, but after a discussion, the umpires called it (correctly) foul. Joe Maddon was then ejected for arguing the call.
Rizzo eventually walked and advanced to second on an Ian Happ hit. Kyle Schwarber then hit a blooper that dropped in right, but Rizzo couldn't get a read and was forced out at third.
A walk to Jason Heyward loaded the bases for Willson Contreras and a wild pitch allowed Happ to score the first run of the game. Contreras then ripped a double off of Gregory Polanco's glove to score two more before he was thrown out trying for a triple.
Eddie Butler, who had to have his white sleeves cut off because they were distracting the hitters, pitched well early, holding the Cubs 3-0 lead.
Things started to fall apart in the 5th, when Josh Bell crushed a long homer to left-center to make it 3-1. Adam Frazier singled and David Freese walked to put two on in the 6th.
Josh Bell later came through again, tripling off the Clemente wall in right to tie the game at 3-3. Pedro Strop relieved Butler and allowed the go-ahead run to score on an Andrew McCutchen infield single to third.
With Cubs fans lamenting their team's dearth of offense, Juan Nicasio came on for the save in the 9th. Jason Heyward hit a double to begin the inning and Contreras followed by slashing a double to right to tie the score at 4-4. A single by newly-recalled Tommy La Stella and an intentional walk to Kris Bryant (who entered late) loaded the bases with none out.
Tony Watson replaced Nicasio and immediately allowed a single to pinch-hitter Jon Jay to put the Cubs up 5-4. Rizzo then punched a single to left to score two more. Addison Russell then doubled to score two more (thanks to a creative slide by Schwarber) and end Watson's night.
Wade Davis came on to finish the game and things got pretty scary. The tying run eventually came to the plate, but Davis closed out the 9-5 Chicago win.
Stats That Matter 
Ian Happ had a good game in his hometown with a single and a double. He may be starting to get comfortable at the plate again, and with Ben Zobrist on the DL, Happ will get more playing time to show it.
Eddie Butler did not pitch badly Friday night: 5.2 IP, 4 R, 4 H, 0 K, 3 BB. If Kyle Schwarber hadn't lost Frazier's single in the 6th, Butler may have pitched 6 innings of one-run ball.
Willson Contreras had a very good night at the plate. He doubled twice (including the game-tying hit), walked, and had 3 RBI. Another double was stolen with a great catch by left fielder Frazier.
Bottom Line
This was a win the Cubs desperately needed to get. Another blown lead would have been devastating. I have no idea if this will amount to anything bigger, but it felt good.
On Deck
The Northsiders look to lock up a series win Saturday night. Ivan Nova takes on Jake Arrieta at 7:15 CT in a game that is an exclusive broadcast on FOX.