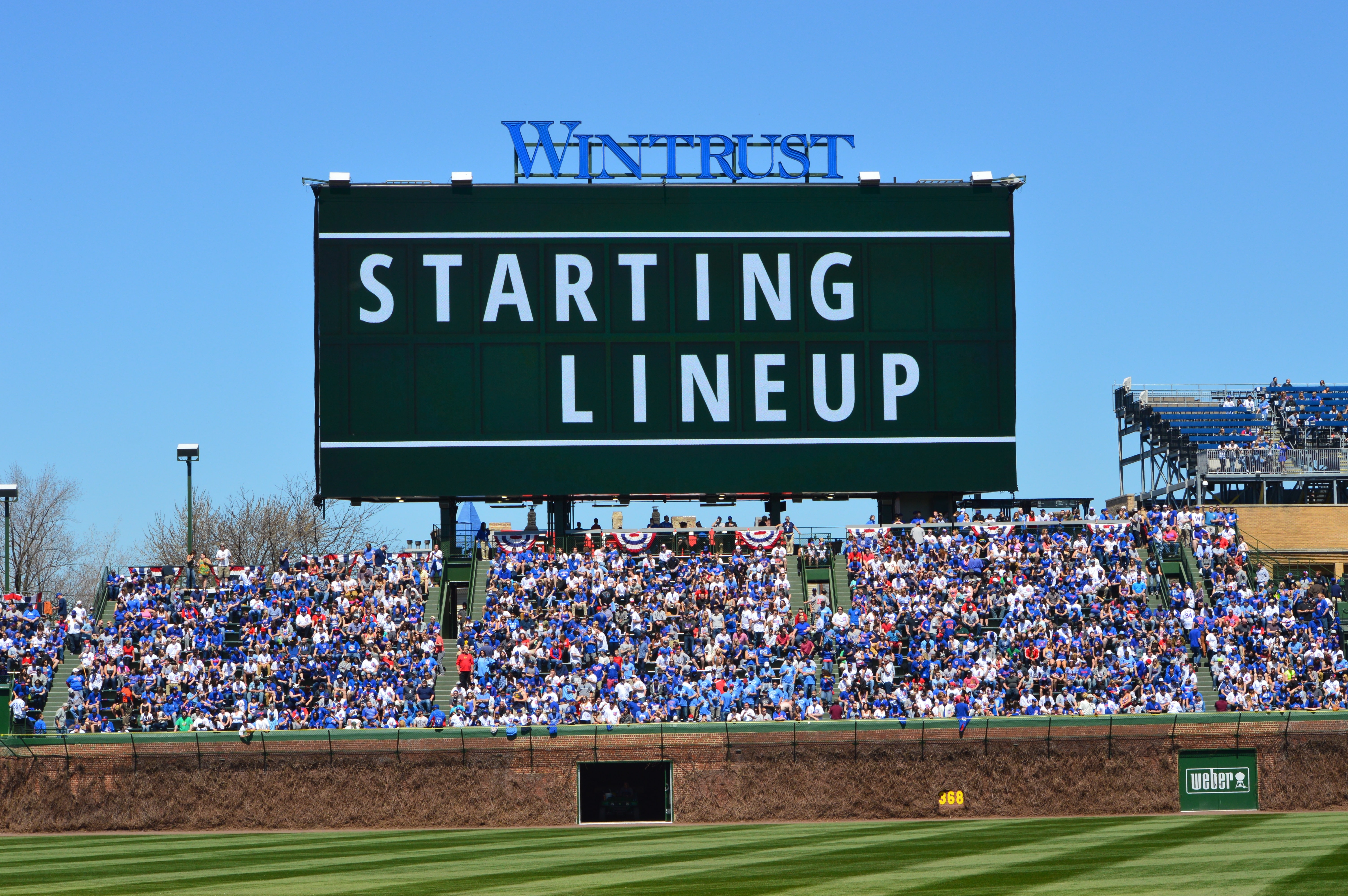 Chicago Cubs Lineup: Order Virtually Unchanged, Montero Catching Montgomery in First Start of Season
Surely yesterday's anemic performance is a sign that the Cubs are going to bust out. Right? Mark Grace always said the hardest thing to do was to play a day game after a night game, and this is the Cubs' first time under the afternoon sun since Saturday. Good thing Kris Bryant is drinking coffee now, I guess.
Remember when we told you the Cubs were probably settling into a more static lineup? With a gang of Rockies righties, not to mention the ongoing Addison Russell situation, we're probably going to see this setup pretty often moving forward. Ian Happ is starting in center, Ben Zobrist is cleaning up and playing second, Javy Baez is at short once again, and Kyle Schwarber is ninth.
The only real change from yesterday is Javy moving up one spot and Miguel Montero getting the start behind the dish. That's as much about breaking up the lefties in the lineup, as only Baez and Bryant will be hitting from the right side against a righty starter.
Mike Montgomery's rotation candidacy has been in question since last November and he's finally getting a shot after Kyle Hendricks was moved to the 10-day DL with tendinitis in his right hand. Monty has made some de facto piggyback starts with Eddie Butler of late and has looked great out of the bullpen all season, but it'll be interesting to see how he fares taking the bump first.
Though he came up through the Mariners organization as a starter, but inconsistent results and the general inability to turn over the order more than once led to a conversion to the bullpen. If Montgomery can command his plus stuff for more than 15-20 batters, he could be a real force to be reckoned with. Even if he does that, though, don't expect a long outing from him this afternoon.
That means we could see Seth Frankoff, who was called up to fill Hendricks' roster spot, making his MLB debut. A starter at AAA Iowa, it would make sense for Frankoff to serve as a piggyback starter to save the rest of the pen after a short outing from Jon Lester last night. The musical chairs in the bullpen meant that not only did Hector Rondon enter in the 6th, but that he actually went two innings in the loss.
Opposing the Cubs will be righty German Marquez, who dominated them when these teams squared off a month ago. That game represents the only time all season he's gone more than six inning and the three hits he allowed are the fewest he's given up in eight starts. Marquez has allowed two home runs in each of his last two starts, though, so the Cubs can definitely get to him. They just need to figure out that fastball/curve combo that baffled them last time.
Lefties have a better batting average and OBP against the Rockies pitcher, but righties have slugged better. But all things considered, hitters from both sides of the plate have been dead even against him when it comes to wOBA (.337).
Start time is 1:20 CT and the game will be broadcast on CSN Chicago.
Here is today's #Cubs starting lineup.

Game preview: https://t.co/HcHkGAylEz pic.twitter.com/hmzly0NcKw

— Chicago Cubs (@Cubs) June 9, 2017