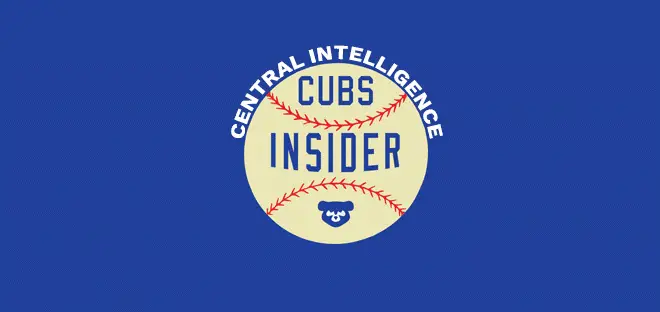 Central Intelligence: Week of May 21
With nearly two full months — almost one-third for the fractionally inclined — of the season is complete, it's time to start casting All-Star votes and ranking first-half MVP candidates. Maybe this look at the goings on in the Central for the last week will help with that (teams listed in order of standings).
Milwaukee Brewers
The Brewers seem to have fallen back to earth a little, posting a 1-5 record and going to 26-23 overall.
What a difference a start makes. On Sunday, Chase Anderson got absolutely boat-raced by the Cubs, giving up 6 ER in 4 innings. On Saturday, Anderson carried a no-hitter into the 8th inning against the Diamondbacks, snapping the Brewers' five-game losing streak.
The month of May has not been kind to Eric Thames, who has posted just a .194/.333/.328 line. That's a stellar OBP but the hits have disappeared and he will need to make some adjustments.
Jett Bandy may be having himself a breakout season. He is currently slashing .280/.345/.520 with six home runs.
Chicago Cubs
The Cubs went 4-3 this week and currently sit at 25-23.
Recently finishing a 7-2 homestand, the Cubs took 3 of 4 from the Giants. That homestand included a 470 foot moonshot from Kyle Schwarber and a near "Maddux" game from Jon Lester.
Wade Davis's scoreless streak is over at 17.2 innings. Mac Williamson gave Davis his first dinger allowed since 2015 on Wednesday night in a 5-4 Cubs win.
Eddie Butler has not been terrible during his short stint with the Cubs. Not great, either, but passable. His first masterful start against the Cardinals was followed up with a clunker against the Brewers. In his latest start against the Giants, Butler went 5 innings of one-run ball and is pitching to a 1.93 ERA.
St. Louis Cardinals
The Cardinals went 3-3 on the week, keeping them two games over .500 at 24-22
Mike Leake is dominating the NL, still, to the tune of a 1.91 ERA so far, the best in the NL among qualified pitchers (Alex Wood has a 1.69 but without enough IP).
With Dexter Fowler's struggles, Mike Matheny mentioned earlier this week he may move him down in the order. This is something to keep an eye on moving forward.
Tommy Pham is making the most of this big league stint, trying to make an impression. Pham was slashing .310/.382/.534 headed into Saturday's game and promptly got three hits along with a dinger.
Cincinnati Reds
Posted a .500 week, at 3-3, and they now sit at 23-25. The Reds just don't seem to want to go away.
Zack Cozart posted a four-hit game on Saturday for the third time in his career as his stellar year continues. Cozart has a .355/.433/.592 line. All are career high marks for him, though we're still at a very early point in the season.
The Reds, of all teams, gave Cody Allen his first blown save of the year on Wednesday. They fought back to score two in the 9th inning, defeating the Indians 4-3.
Scott Schebler's power surge continues. He sits at 14 home runs to lead the Reds entering Sunday's game.
Pittsburgh Pirates
Went 4-3, improving them to 23-27 on the year.
The Bucs accomplished one of the rarest feats ever on Wednesday night, launching back-to-back-to back home runs in extra innings. First, David Freese hit a two run shot, followed by solo shots from Jose Osuna and Jordy Mercer.
Those weren't the only heroics this week for Buccos, as John Jaso got the game-tying and walkoff hits on Saturday against the Mets, who continue to be a trainwreck in their own right.
Ivan Nova has had a career rebirth since becoming a Pirate. Nova currently sports a 2.83 ERA with a 3.19 FIP. The Pirates got a bargain on a three-year deal with Nova if he keeps this up.