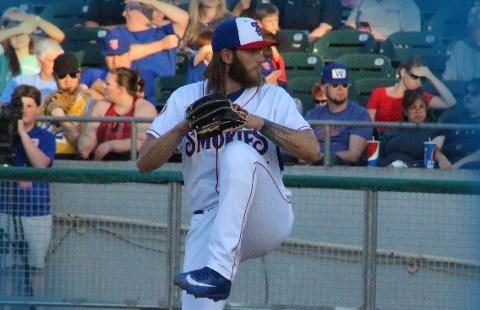 Prospect Update: Zach Hedges Getting It Done Again in 2017
I first saw Zach Hedges pitch live back in 2015 in Burlington, Iowa. It was a hot and muggy night and Hedges dominated for four innings before the Midwest humidity wore him out. I fell in love with his slider and command then, but Hedges has changed quite a bit as a pitcher and a prospect.
Back then, he was more arms and legs than anything. He had a plus slider, threw about 89-91 with his sinking fastball, and pitched down in the zone, mainly to contact.
After adding 10-15 pounds and a corresponding 3-5 mph on his fastball, Hedges is a different pitcher. He can work deeper into games and throw with a little more gusto, usually going into the 7th every night. He has added a four-seam fastball to vertically complement his slider and sinking two-seamer. He may not be a strikeout machine, but it's not uncommon for him to log five to seven K's in a given night.
Here are three things I am impressed with this season:
1. Hedges gets a lot of ugly swings
Oftentimes, fans get carried away with watching the radar gun to judge a pitcher. If Hedges is on, you will see hitters flailing at a balls down in the zone and being fooled by pitches up in the zone, keeping the right side of the infield working all night long. For the most part, that's what Hedges does every night. While he did give up two runs in his last start, he had six K's and nine groundball outs.
2. He is throwing inside and upstairs
I like the fact that Hedges is now using all of the zone when he pitches. In 2015, he used only the down and away quadrant. Now he is using it all. He may get burned going upstairs once in awhile, like he did in his last outing, but I think that makes him a better pitcher.
3. Mental relaxation
One thing I am most impressed with is how mentally strong Hedges is. The Cubs have emphasized a mental skills program the past few years in the Theo Epstein era and you can see it in pitchers in how they breathe in between pitches. From Carl Edwards Jr. in the major leagues down to Hedges' teammate, Trevor Clifton, breathing patterns are quite noticeable, along with the effect it has on calming each pitcher. I am sure there are other routines that are taught that are just as effective but not noticeable on camera.
After eight starts this year, Hedges has put up a 2.79 ERA in 48.1 innings. He has struck out 35 while only walking nine for the entire season. The Cubs have to be excited about that last stat. His 1.30 walks per nine innings is the lowest of his Cubs career. Last year, he got 3.13 ground balls to every fly ball. This year, he is only at 1.73 but that is improving after every start.
I don't know how much longer he is going to be at Double-A Tennessee now that he has put together almost a whole solid year of starts at there since the middle of last summer. He now stands at 95.2 innings and he likely will get another 20 to 30 before being bumped to Iowa. When he gets to Iowa, his ability to throw down in the zone in a hitter's league will be essential for the final phase of his life as a prospect.
I really like watching Hedges pitch, and his style is unlike anything the Cubs have in the majors right now. As a groundball pitcher from the right side, he could succeed in any wind condition at Wrigley. The velocity is there, the movement is there, and the efficiency is there. I think it's a just a matter of time before he gets his chance. Next Spring Training will be telling, as the Cubs could have as many as three rotation spots available.