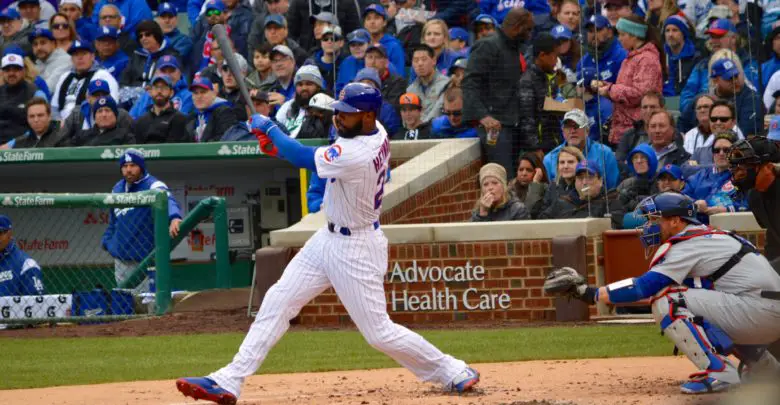 Who Goes Down When Heyward Returns?
Jason Heyward is about to rejoin the Cubs, which is very good for a defense that has been somewhat less spectacular than the unit we marveled at last season. It's also good for the offense, as Heyward has been hitting better now that his swing no longer makes him look like a character from Team America: World Police. One thing it's not good for is a roster that's already chock full o' Cubs.
It'd be one thing if the guys on the 25-man were all monopositional and they were just dealing with some rando minor leaguer who had come up to play right or pinch hit every now and again. Except that's, like, not at all how this thing works. Activating Heyward sets in motion a chain of events that promises to shake this Cubs team to its core.
Yeah, you got me, that's way more dramatic than the reality of the situation, which is simply that the Cubs are going to need to make room for Heyward. How do they do it? The answer might not be as easy as it seems, so let's quickly run through the options.
Tommy La Stella
At first glance, this looks like the easiest option. La Stella is a glorified pinch hitter who only plays the infield and has already spent some time at Triple-A Iowa this season. We're well past the whole mess of last year, so there's no need to worry about him going AWOL.
Heyward's return pushes Kris Bryant back to third full-time and lessens Ben Zobrist's rightfield timeshare, which means a lot less time for TLS in the positions he regularly occupies. Inasmuch as his occupation of second and third can be called regular, that is.
Albert Almora Jr.
This would have been unthinkable to me as recently as a week ago, but Almora could be seen as expendable — at least on a temporary basis — due to the presence of Jon Jay and Ian Happ, both of whom have started in center. Heyward has seen quite a bit of time in the middle of the outfield too, making that much less room for Almora.
Pierce Johnson
He only just came up and doesn't seem to be an integral piece of the bullpen, so a return to Iowa would cause zero ripples and wouldn't really impact the team. Then again, it'd mean carrying only seven relievers, which may not be a great idea when you look at how the rotation has been pitching.
Ian Happ
All Happ has done since coming up last week is be awesome, which is as true as it is simplistic. Thing is, this situation is a bit more complicated than just keeping the best players around. Wow, that sounds really weird when you actually type it and think it out loud. But the thing with Happ is that he needs to get as many at-bats as possible.
Heyward's activation means basically the same for Happ as it does for La Stella, just from a slightly different perspective. His time in the outfield is reduced, as is his potential for infield innings as a result of Zobrist being pushed in that direction.
Conclusion
On the surface, this looks like a matter of Happ vs. La Stella, in which case you're going with the rookie all day long. Since this goes below the surface, however, it's perhaps not as easy to say that Happ should stay up. With a reduced role comes reduced impact and a scaling down of the incremental improvement one player provides over the other.
I'm not alone in saying that Happ's call-up was both a reward and a showcase, though the latter could be a bit of a misnomer. I mean, it's not as though people don't have access to all these prospects outside of seeing them on semi-national television. But you're blind if you don't think the last week or so has elevated Happ's profile.
That said, he can return to Iowa fueled by the caffeine from this cup of coffee and can play every day moving forward. Major league roster construction isn't just about putting the best 25 players on the roster, as crazy as that seems when you put it that way. It's about weighing the needs of now against those of tomorrow and next week and beyond.
At the risk of being proven dead wrong in a matter of hours, I'm thinking Happ goes back down. If nothing else, it'll be super fun to follow all the takes about what a horrible decision it was.