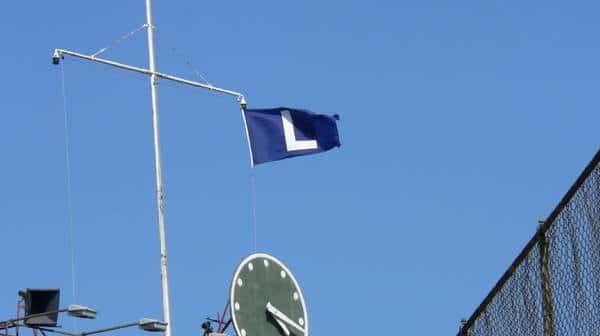 CI Recap (2/25/17): Cubs 6, Giants 8 – Prospects Do Damage in Untelevised Half of Split-Squad Action
Let's go ahead and dispense with the notion that I actually watched this game. Between accepting an offer on our current home and putting one in on another, not to mention pretending to care for two children who have yet to achieve a desired level of self-sufficiency, I just didn't have much time. Oh, what's that? This half of the split-squad game wasn't on TV, you say? It's even in the title, you say? Cool.
Most of the starters ended up getting three AB's in the game, though War Bear was lifted for pinch-hitter Eloy Jimenez in the 5th after grounding out to second twice. So much for the Schwarber-as-leadoff experiment, amirite?
Jimenez promptly singled and came around to score on a double off the bat of number-two hitter Javy Baez. Hehe, I said "number two," which Javy definitely is not. If we're talking about the stinkier half of this particular double entendre, that is. Baez singled in his first at-bat to join Chris Dominguez — good thing we use that B-Ref player linker, huh? — as the only Cubs with multi-hit games.
Jeimer Candelario tripled in the 1st to score Baez after the aforementioned base knock, but that was pretty much it in terms of production from guys most fans have heard of. Well, Mark Zagunis did drive in a run with a groundout and Victor Caratini doubled in Jemile Weeks to cap the scoring in the 9th. Taylor Davis and Todd Glaesmann also drove in runs, for what it's worth.
Pretty typical early split-squad game, as evidenced by the box score. Hell, I couldn't even get the Giants' full order on the screen of my laptop to get a screencap.
Stats that matter
Um, like, it was cool to see Javy get his

Wait, that's not a stat
Who cares

Every Cubs pitcher logged exactly one inning
Rob Zastryzny used to bullseye Womp Rats in his T-16 back home
Bottom line
This game means nothing, other than it's great to have live Major League Baseball back. And that's the bottom line, 'cause Stone Cold said so.
On deck
The Cubs send Jake Buchanan to the mound as they play host to the Indians Sunday in a rematch of the World Series. That the Cubs won in November. People forget that.