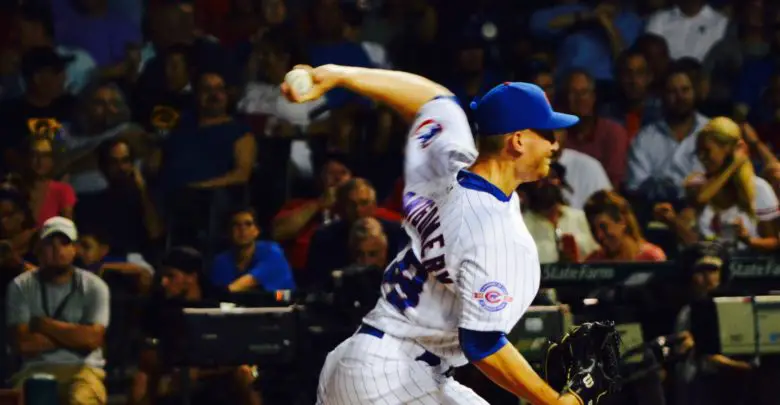 The Rundown: Cubs to Start Same Player in Both Split-Squad Games (Sort of), Bryant Weighs in on Rule Changes
Moving sucks, and I'm not just talking about prepping your house for the market. We were waiting on this site to migrate to a new host, which meant that I couldn't do any writing last night. Well, I could have, but it might have ended up stranded on the side of the Information Superhighway at Tommy La Stella. Oh, I'm also hopped up on cold medicine.
Between lack of sleep and low-grade buzz, this should be a great daily opener.
Cubs announce first round of Spring starters
We told you yesterday that the last man on the mound for the Cubs in 2016 would be the first one on it this year. Mike Montgomery was announced as the starter opposing the A's in the home half of Saturday's split-squad games, which isn't really a big deal. What is really odd, however, is that he's also starting the away game.
Sorry, let me explain that joke. In our talk at CubsCon, actual road-game starter Rob Zastryzny relayed a story about being mistaken for Montgomery by former Cub Ted Lilly. Good times.
In addition to the "lookalike" lefties, Jake Buchanan was named as Sunday's starter when the Cubs face the Indians. The Cubs will then send self-described sarcastic ass Brett Anderson to the mound to open the game against the White Sox Monday.
Again, not a lot to glean from these decisions, though it does give Cubs fan an introduction to Anderson. The regular starters will be in action during the second week of games, though even those outings will tell us little about what we can expect for the regular season.
Bryant shares thoughts on MLB's changes
To this point in his career, Kris Bryant has generally subscribed to the idea that it's often better to be seen than heard. Not because he's got nothing to say, but because knows how to pick his spots. With his credibility in the clubhouse firmly established, Bryant's increased notoriety likely means that he'll be asked to share a few more thoughts on topics that extend beyond the baselines.
For now, though, he's discussing MLB's rule changes and the potential fallout from them.
"The game's been the same to me since I was young, so I don't think there's anything wrong with it," Bryant said. "I think that's what makes our game great. It is a long game and we play 162 games a year and there's more strategy involved with it. I think it could be a slippery slope once you start changing all these things.
"The people you really need to ask are the fans. The diehard fans are going to be the ones who oppose more changes. They're the ones who pay to watch us play. Those are the opinions that you need [emphasis mine]."
KB knocks it out of the park on this one, and it didn't even take a swing adjustment.
As far as I'm concerned, the issue isn't so much about what is changing as it is why. Rob Manfred is citing all this overwhelming support for what MLB is trying to do and I just don't see it. Are there little kids who will now enjoy the game more because no-pitch intentional walks will shave 27 seconds from the average game?
Heck, can kids even watch a shortened game when it starts at 8pm local time? And do they need to be subjected to an endless parade of ads for beer and boner drugs if they do manage to stay awake? It's clear to me that the powers that be in baseball have lost touch with those fans they most want to reach.
I'm deeply embedded in the target demo for at least one of the products listed above, which means that I'm almost unqualified to speculate on what young people want. Even so, I'm imminently more credible in those matters than a septuagenarian like Joe Torre. But you know who's more credible still: the 23-year-old NL MVP.
More news and notes
CarGo and Rockies haven't really talked extension